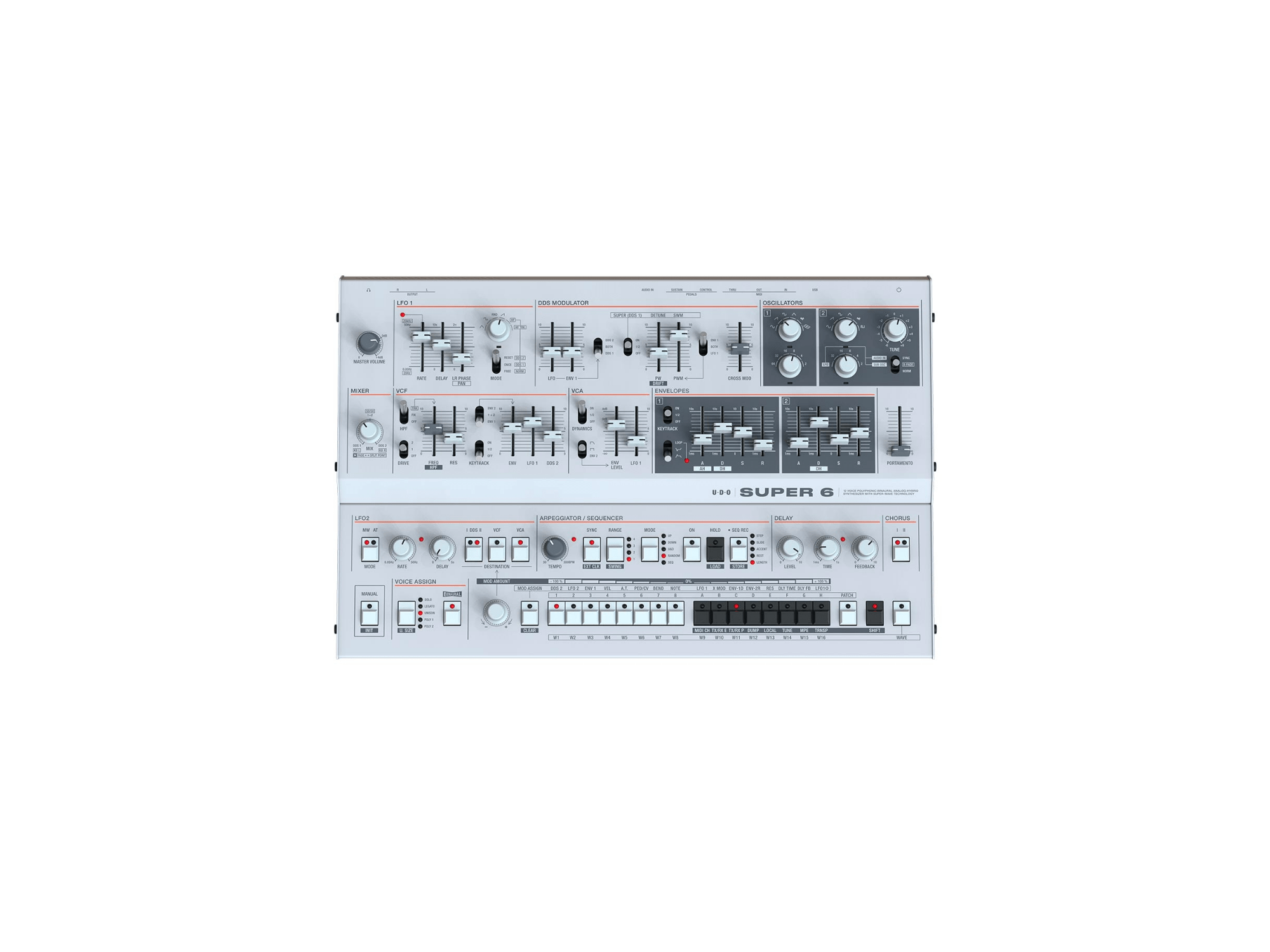 Bringing the ethereal, swirling atmospheric tones of the keyboard to an even more compact format, the UDO Super 6 Desktop is a sound designer's dream synthesizer. Trading the original keyboard for a rackmountable or tabletop design intended to fit into any workflow, the desktop Super 6 features the exact same sound engine as its forebears—so even if you aren't a keyboardist, you can now enjoy all the outright tactile textures and '80s-esque pads the Super 6 has to offer.
Super 6 combines classic Roland-esque aesthetics with an utterly cutting-edge synthesis architecture designed to marry the sounds of the past to the sounds of the future. With two FPGA-based DDS oscillators, you can create everything from traditional waveshapes to binaural "Super" shapes—utilizing dynamic detuning and phase separation to create sounds that expand what seems possible from a single stereo audio setup. The two oscillators can be cross-modulated and blended together before passing through an analog filter and amplifier section, complete with options for self-oscillation, keyboard tracking, drive, highpass, lowpass, and linked bandpass operation. The sound then passes into high-quality 24-bit, 192kHz digital effects, turning even the simplest patches into lush reverberant soundscapes. And of course, it features a three-mode chorus section clearly inspired by Roland synths of yesteryear, perfect for adding lush shimmering, swirling ensemble effects.
Unlike many polysynths, Super 6 is designed to run completely in stereo at its core. It features many niceties for creating stereo movement, from the rich effects section itself all the way back to the oscillators. When operating in "Binaural Mode," the synths' 12-voice polyphony is limited to six voices, allowing you to allocate pairs of voices to each note, which permits lots of tricks for peculiar panning at the sound source itself. If you need all of those extra voices, though, there's plenty of opportunity to coax stereo movement out of this synth using its clever modulation scheme: the LFO itself is designed for stereo modulation, allowing you to create phase offsets in the LFO's effect on many parameters in each of your ears—turning the filter into a binaural tremolo, or the VCA into a panning mechanism, or the oscillators themselves into a chorus-like swarm of ebbing and flowing detuned tones.
Super 6 has already proven itself a modern classic—and all of its capabilities (sans keyboard) are still present in this desktop form. Add in the ability to mount in a standard 19″ equipment rack or on a VESA monitor mount and you have one of the most powerful polysynths of all time right where you need it, ready to turn any mix into a swimming abyss of stereo motion.
SUPER 6 DESKTOP FEATURES
Desktop format version of the acclaimed UDO Audio Super 6 binaural hybrid polysynth
12 voices with FPGA-based oscillators, analog filter + VCA, and digital effects
192kHz 24-bit stereo delay and chorus
Binaural architecture allows you to sculpt complex stereo movement
"Super Wavetable" synthesis enables stereo detuning and phase offset for deep, rich sounds
Integrated arpeggiator and sequencer
Optional 19″ rack ears—and can additionally be used on a desktop or on a VESA monitor mount
Can be polychained with an existing Super 6
Same rugged build quality as the Super 6 keyboard
More information – UDO