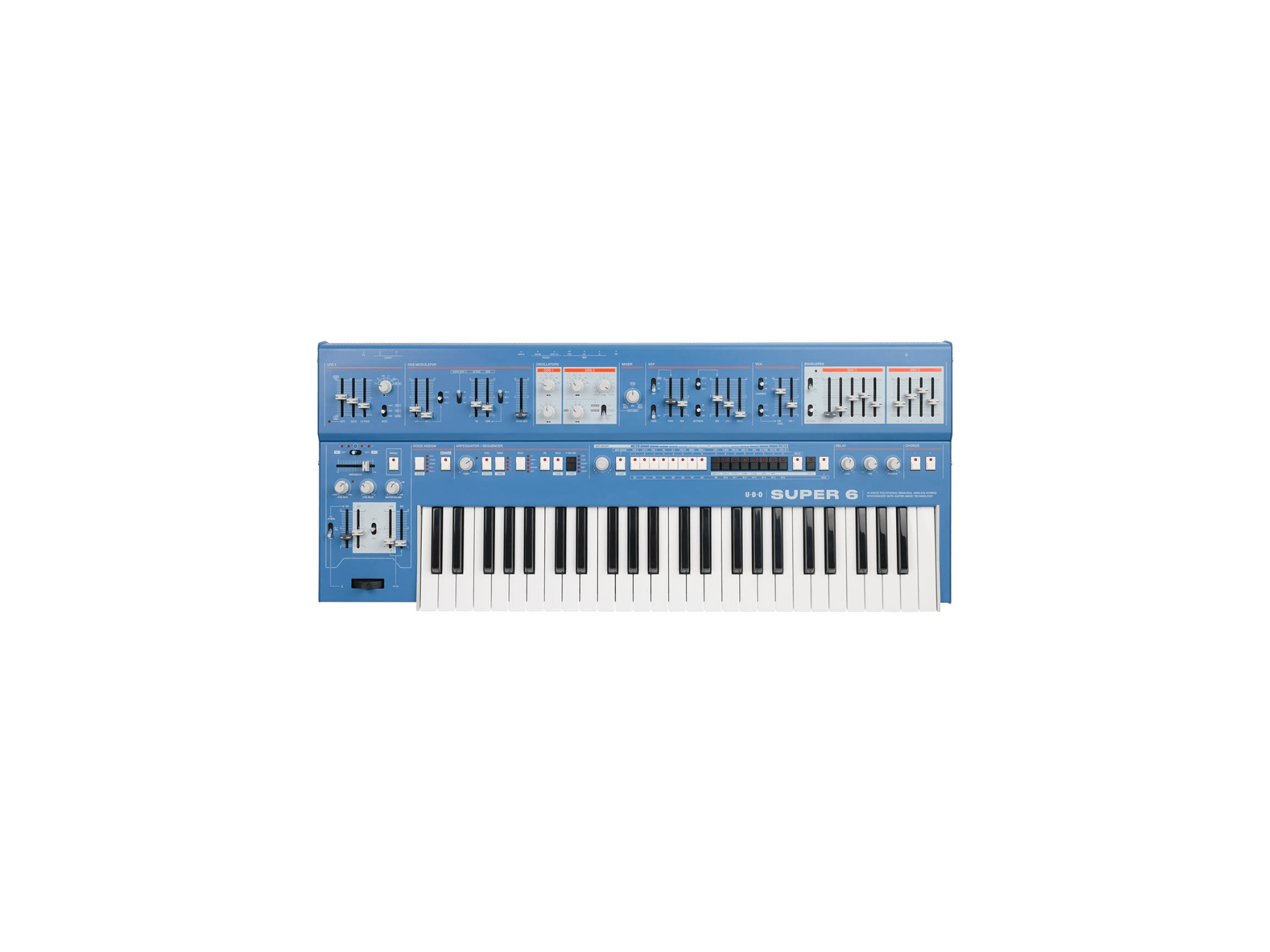 UDO's Super 6 is a Roland-inspired, hybrid twelve-voice polysynth with a fully binaural signal path, perfect for creating everything from classic pads and synth key sounds to rich, swarming stereo textures. Using FPGA-based oscillators, an analog filter section, analog VCA section, and 192kHz, 24-bit effects, the Super 6's voice architecture alone is uncommonly powerful and clean. Combined with an intense and well-considered modulation section, Fatar keybed with velocity and aftertouch, and an integrated arpeggiator and sequencer, the Super 6 feels like we're back in the early 1980s imagining what the future of synthesizers would be like.
Each voice's two oscillators are FPGA-based wavetable designs, each with their own special tricks and sound-making possibilities. Oscillator 1 (called DDS1 on the panel) employs UDO's super-wavetable engine: a sort of hybrid of wavetable and super-saw like techniques for creating absurdly huge stereo swarms. DDS1 is, in fact, a single centroid oscillator and six sister oscillators which may be phase-separated across the stereo field for intense, swirling spatial images. User wavetables are supported via import from a computer, so you can truly make the Super 6 sound like whatever you want. Oscillator 2, also DDS-based, provides easy access to traditional waveshapes along with classic synth sound design techniques like hard sync, suboscillator, PWM, and more.
The VCF and VCA sections are fully analog, allowing for classic manipulations of the truly unique sound source. The filter section provides resonant highpass and lowpass filters, which can be coupled together for more traditional bandpass response. The lowpass filter can self-oscillate and allows for key tracking, opening up the possibility for all sorts of gnarly filter FM and sound generation.
Envelope 1 is an invertible HADSR with option for looping, while the second is a classic ADSR. Each envelope can be sent to control multiple destinations, which, in combination with the LFO section and modulation matrix, can make for remarkably complex and singular sound design opportunities.
All of this combined with a velocity and aftertouch-sensitive keybed, sequencer, arpeggiator, MPE compliance, and an outright solid build quality serves to make the Super 6 one of the most compelling polyphonic synths around.
SUPER 6 FEATURES
Twelve-voice polyphonic synthesizer
Classic Roland look and workflow with advanced digital features
Hybrid architecture using a mix of FPGAs and analog processing
Binaural signal path for creating profound, lush stereo textures and movement
Main oscillator with "super wavetable" engine and downloadable waveforms
DDS-based second oscillator with FM, sync, suboscillator, and other classic tone shaping options
Flexible modulation with LFOs, envelopes, and extensive modulation matrix
Stereo 24-bit, 192kHz Roland-style chorus and delay
Fatar keybed with velocity and aftertouch control
Integrated arpeggiator and 64-step sequencer
More information – UDO