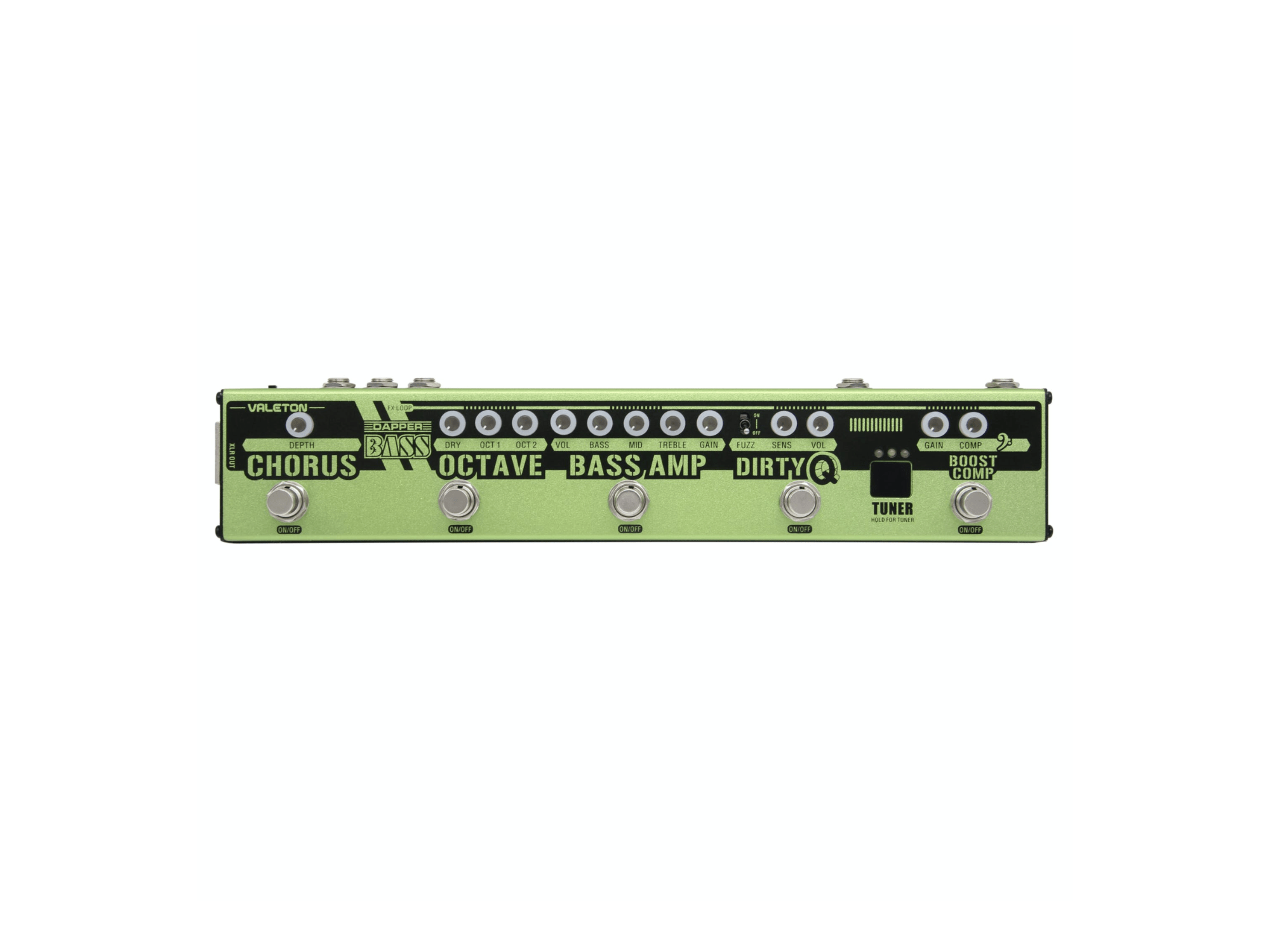 The Valeton Dapper Bass is an all-in-one multi-FX workhorse, offering various essential effects for bass players who want to liven up their playing and sound.
Split into a number of modules, the Dapper Bass is extremely easy to use and even boasts different outputs that allow you to run it through bass amps, audio interfaces, mixers and other gear!
Effect Modules
1. TUNER: First in line is a big, bright, fast and accurate tuner so you can play confidently in tune.
2. BOOST COMP: A booster and compressor combo; featuring no-nonsense, set-to-forget knobs.
3. DIRTY Q: An envelope filter with some interesting tricks. Tweak the knobs until you find the vocal tone that suits your playing style.
4. BASS AMP: Gives your bass the life it needs for every musical genre. The EQ is golden with cleans and highly responsive even with the gain up.
5. OCTAVE: Use this all-analogue monophonic module to beef up your low-end, create synthy leads, or make everything crash off the walls!
6. CHORUS: Creates a lush "doubled" sound, with the single depth knob letting you decide how deep into analogue chorus dimensions you want to go.
7. FX LOOP: Hook up your other effects and make the Dapper Bass the centrepiece of your rig
8. THRU & XLR Out: Use the THRU output jack to run through some parallel effects (rack processors, interfaces, etc.) or do some re-amping. The XLR OUT feeds a balanced signal to audio interfaces or mixers for recording and performance purposes.
Specifications
Power: 9V DC (Center Negative)
Current Draw: 85mA
Dimensions: 65mm (D) x 320mm (W) x 42mm (H)
Weight: 690g
More information – Valeton