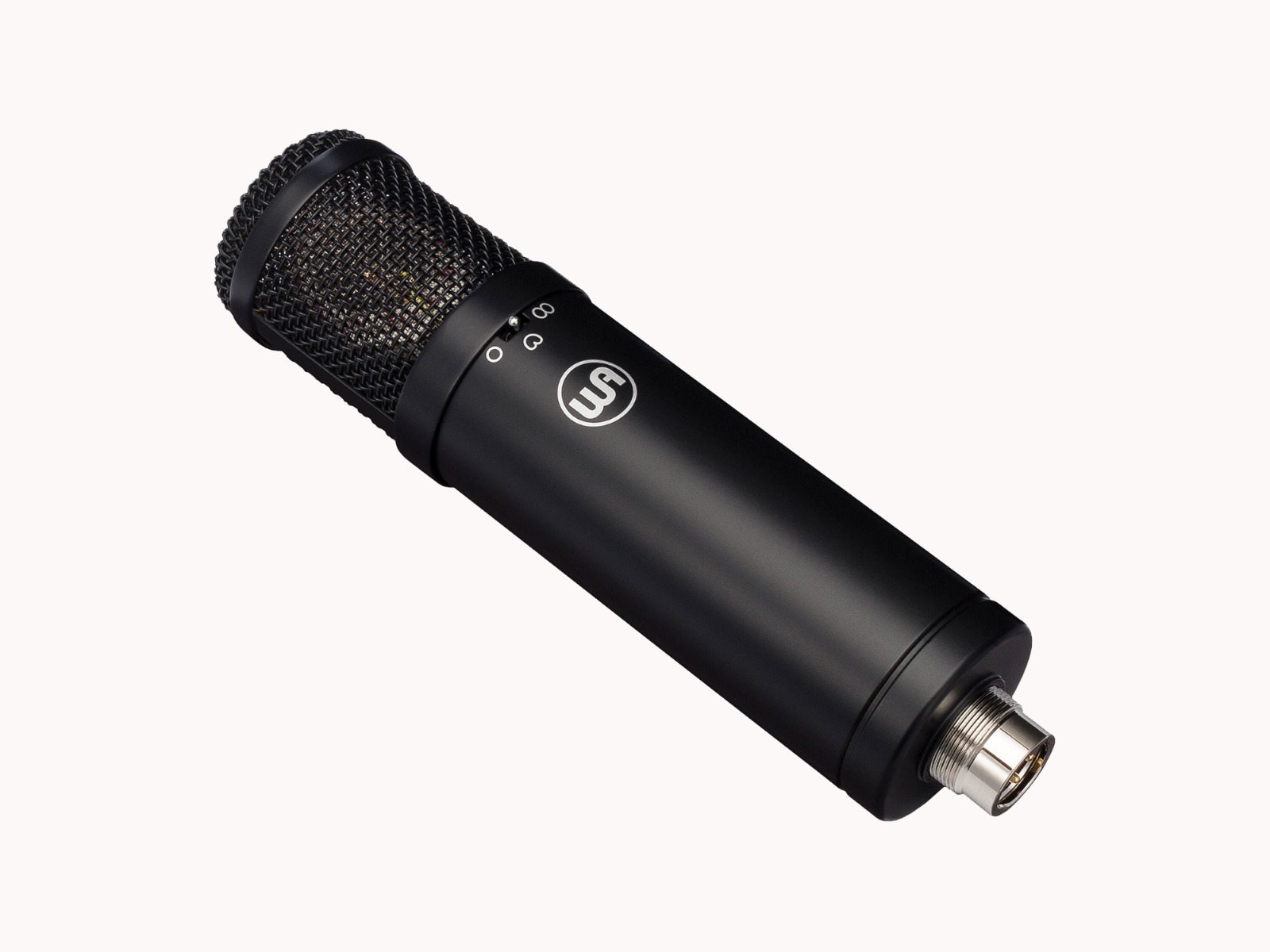 Son of '47
Compared to tube-based microphones, solid-state microphones like the Warm Audio WA-47jr are prized for their detailed sound and resistance to distortion. These are the reasons transformerless FET mics with a U47-style capsule are so popular on kick drums and other percussion instruments, capturing their power and intensity with amazing fidelity. So naturally, the WA-47jr shines on percussion. That said, it's also a go-to choice for acoustic instruments where capturing fast transients is critical, and it should be on your short list of mics to audition on vocalists, electric guitar cabs, and a whole lot more. Perhaps the more pertinent question is: what isn't it great on?
Three polar patterns = impressive flexibility
The WA-47jr's three polar patterns — cardioid, omni, and figure-8 — give you impressive flexibility when it comes to exploring different recording techniques. Cardioid, with its moderate side and near-total rear rejection, is useful for just about any studio task. Omni is great for capturing room ambience along with your source. Use a figure-8 technique to overdub a sax with natural slap or to record two singers on one mic (just be sure of the balance). And with two of these mics, you can implement stereo techniques such as spaced pair (A/B), XY (including Blumlein), ORTF array, and mid-side (M-S).
What can the WA-47jr do for you?
Every studio needs at least one pair of high-quality large-diaphragm condenser mics. You can use the WA-47jr on anything. It's great on vocals, acoustic guitars, double bass, electric guitar and bass cabs, piano, drums and percussion, strings, brass, woodwinds, and any other source you'd care to throw at it. Considering its amazing price, it would be wise to at least double your value and get two for recording tracks in stereo!
Warm Audio WA-47jr Large-diaphragm FET Condenser Microphone Features:
Fully discrete, transformerless signal path
Custom '47-style k47 34mm gold-sputtered, dual-diaphragm, single–back plate, 6 micron Mylar capsule
Toshiba FETs, Wima film capacitors, Panasonic electrolytic capacitors
Cardioid, figure-8, and omnidirectional polar patterns
10dB pad; 70Hz highpass filter
Self-noise: 9dBA
Dynamic range: 138dBA
Maximum SPL: 147/157dB (at 1kHz, 1 Kohm, 0.5% THD, 0/-10dB)
Frequency range: 20Hz–20kHz
Sensitivity: 10mV/Pa or -40dB
Output impedance: 100 ohms
Rated load impedance: ≥1 Kohm
Maximum output: 16dBu at 1kHz, 1 Kohm, 0.5% THD
S/N ratio: 85dBA (IEC651)
Equivalent noise: 9dBA (IEC651)
Dynamic range: 138dBA (IEC651)
48-volt phantom powered
3-pin gold-plated XLR connector
Includes shockmount, hardmount, and zipper storage pouch
Tech Specs
Microphone Type:

FET Transformerless Condenser

Polar Pattern:

Cardioid, Figure-8, Omidirectional

Diaphragm Size:

Dual large diaphragm

Frequency Range:

20Hz-20kHz

Max SPL:

147dB SPL, 157dB with pad

Output Impedance:

100 ohms

Signal to Noise Ratio:

85dB (A weighted)

Self Noise:

9dB (A weighted)

Low Cut Filter:

70Hz

Pads:

-10dB

Color:

Black

Connector:

XLR

Power Source:

48V phantom power

Dimensions:

8.2″ x 2.04″

Weight:

1.1 lbs.

Included Accessories:

Shockmount

Manufacturer Part Number:

WA47Jr Black
More info, https://warmaudio.com/wa47jr/