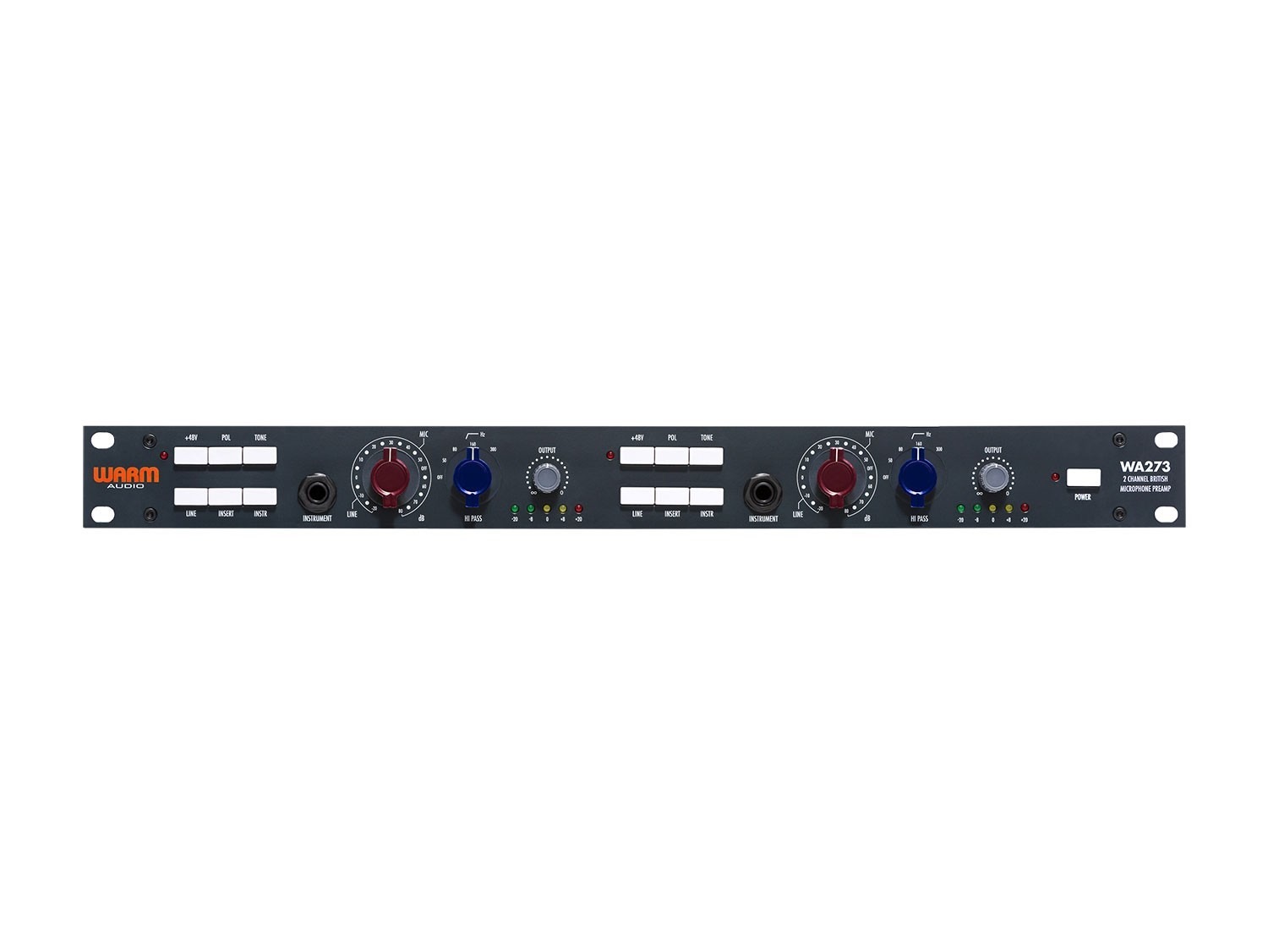 The 1073 Legend Lives in Warm Audio's Splendid WA273
The legendary 1073 wrote the book on characterful mic preamplification. This venerable circuit helped define the punchy sound of '70s rock — and countless recordings and live concerts ever since. Today, this coveted tone can be yours for a song, with the Warm Audio WA273 mic/line/instrument preamp. In both design and performance, the 2-channel WA273 pays homage to the revered British console lineage that started it all. Throughout the audio industry, the 1073 is considered the holy grail of preamps, with a rich, sweet, and bold tonality that's ideal for making audacious statements with your music. After years of R&D, painstaking reverse-engineering, and countless hours of listening, Warm Audio captured the sonic essence of this classic perfectly in their boutique WA273. With 80dB of gain and a fully discrete transformer-balanced signal path, the sound is a revelation: harmonically rich bottom end, focused midrange, and slightly resonant highs.
UK Custom Carnhill transformers
The 1073-loving engineers at Sweetwater perk up when the conversation turns to the component history of these classic circuits, and signal transformers are a frequent topic of discussion. Vintage 1073s used different transformer variants throughout their production run, but the most coveted were the very first ones made by Marinair Radar due to their fluid and forgiving nature that saturates sweetly when pushed. They have been known to bring engineers to tears when they hear how gorgeous their mixes sound through them! Warm Audio turned to Carnhill Transformers of Cambridgeshire, UK, to design meticulous replicas of these most desirable early 1073 transformers. The results are stunning, and — to our ears — tantalizingly close to early vintage 1073s.
Warm left no stone unturned
A vital, yet not oft discussed component of these classic British circuits is the different types of capacitors and output transistors used. To maintain the integrity of the original circuits, Warm decided to use high-quality tantalum and polystyrene capacitors in the signal path and an output transistor choice that delivers smoother results at higher gain settings than what is commonly found in today's 1073-style preamps. All considered, Warm Audio's monumental effort to design a no-compromise product has paid off handsomely. You'll appreciate this every time you plug into the WA273 and hit record.
Warm Audio WA273 2-channel Mic/Line/Instrument Preamp Features:
Handwired, hand-assembled 1073-style preamplifiers
Fully discrete, Class A, transformer-balanced circuitry
UK-made Carnhill Transformers
80dB of gain handles any type of microphone, including low-output ribbons
Resistor-stepped rotary gain switches for easy recall
Tone buttons change input transformer impedance for mic optimization and tonal shaping
Polarity switches
48-volt phantom power
4-position inductor-based highpass filters, selectable for Off, 50Hz, 80Hz, 160Hz, or 300Hz
XLR mic inputs
Line-level TRS inputs
TS Send/Receive insert jacks
XLR and TRS line-level outputs
DI instrument inputs
Output level controls
LED level indication meters
Rugged 19″ rackmount chassis
Ground lift switch
Internal IEC 115V/230V power inlet
More info, https://warmaudio.com/mic-pre-wa273/