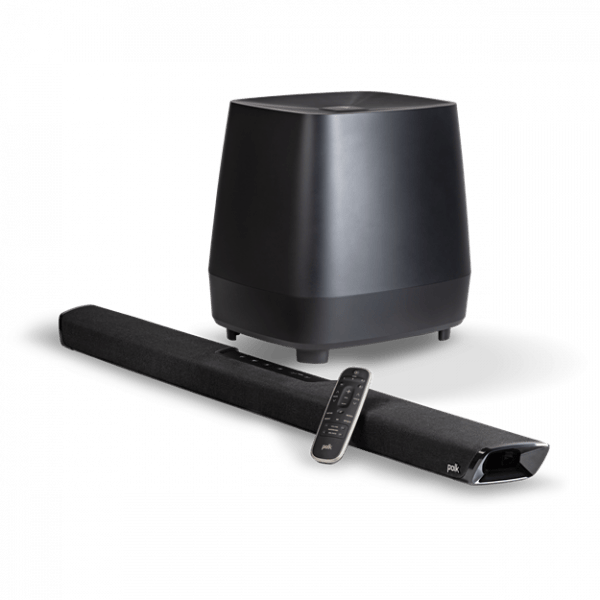 MagniFi 2
High-Performance Sound Bar System: The six-driver array and included wireless subwoofer deliver a sonic experience unmatched by traditional sound bars
Polk Patented Stereo Dimensional Array (SDA) creates an expansive, multi-dimensional soundstage, lifelike imaging and immersive surround experience
Polk Patented Voice Adjust Technology: Hear every word — customize dialogue levels to maximize intelligibility and clarity
3D Audio Mode combines the lifelike imaging from Polk SDA with height virtualization to create a truly immersive 3D surround sound experience
HIGH-PERFORMANCE HOME THEATER SOUND BAR SYSTEM WITH CHROMECAST BUILT-IN
Polk MagniFi 2 high-performance home theater sound bar and wireless subwoofer system provide bigger, more dynamic sound than traditional sound bars, and is optimized to make movies, TV, video games and music come to life. The MagniFi 2 features patented SDA surround technology for a wider, more immersive listening experience and Voice Adjust technology for crystal clear dialogue. Includes HDMI and Optical cables for quick and easy setup. Stream your favorite music with Chromecast built-in and Google Play Music, Amazon Music HD, Apple Music, Roon, Qobuz, Spotify, Tidal and many more. Compatible with HD and 4K TVs.
Rich, Immersive Home Theater Sound
A six-driver array and included wireless subwoofer combines to create immersive, multi-dimensional virtual surround sound. Compatible with 5.1 Dolby Digital, DTS and exclusive Polk SDA surround technology for an incredible room-filling listening experience.
Polk Patented SDA Surround Technology
Patented Polk Stereo Dimensional Array (SDA) surround technology creates an expansive soundstage and detailed stereo image. The natural multi-dimensional sound experience is unique to Polk MagniFi sound bars.
Polk Patented VoiceAdjust Technology
Hear every word. Customize the voice levels in the sound bar to reproduce clear, crisp dialogue and never miss a single word of your favorite movie, TV show or sporting event.
Polk 3D Audio Mode with Dolby Digital and DTS Decoding
Polk 3D audio mode can create virtual height channels from any soundtrack. When combined with Polk SDA technology, it delivers a truly immersive 3D surround sound experience.
Google Chromecast Built-in
Use Google Chromecast for audio to stream music from your favorite apps including Google Play Music, YouTube Music, Amazon Music HD, Spotify, Tidal, Pandora, Deezer, Qobuz, iHeart Radio and more over Wi-Fi. With a Google Home speaker.
Universal 4K Compatibility
Works with 4K and HD TVs — plus, three HDMI 2.0 inputs ensure 4k HDR and Dolby Vision content looks great.
Wall Mountable
2 keyhole slots on the back of the sound bar make it easy to mount to any flat surface.
Deep Bass Technology and Wireless Subwoofer
The MagniFi 2 sound bar and the included 8" ported wireless subwoofer provide a massive boost of core-pounding, deep bass impact that takes home theater and music listening to the next level.