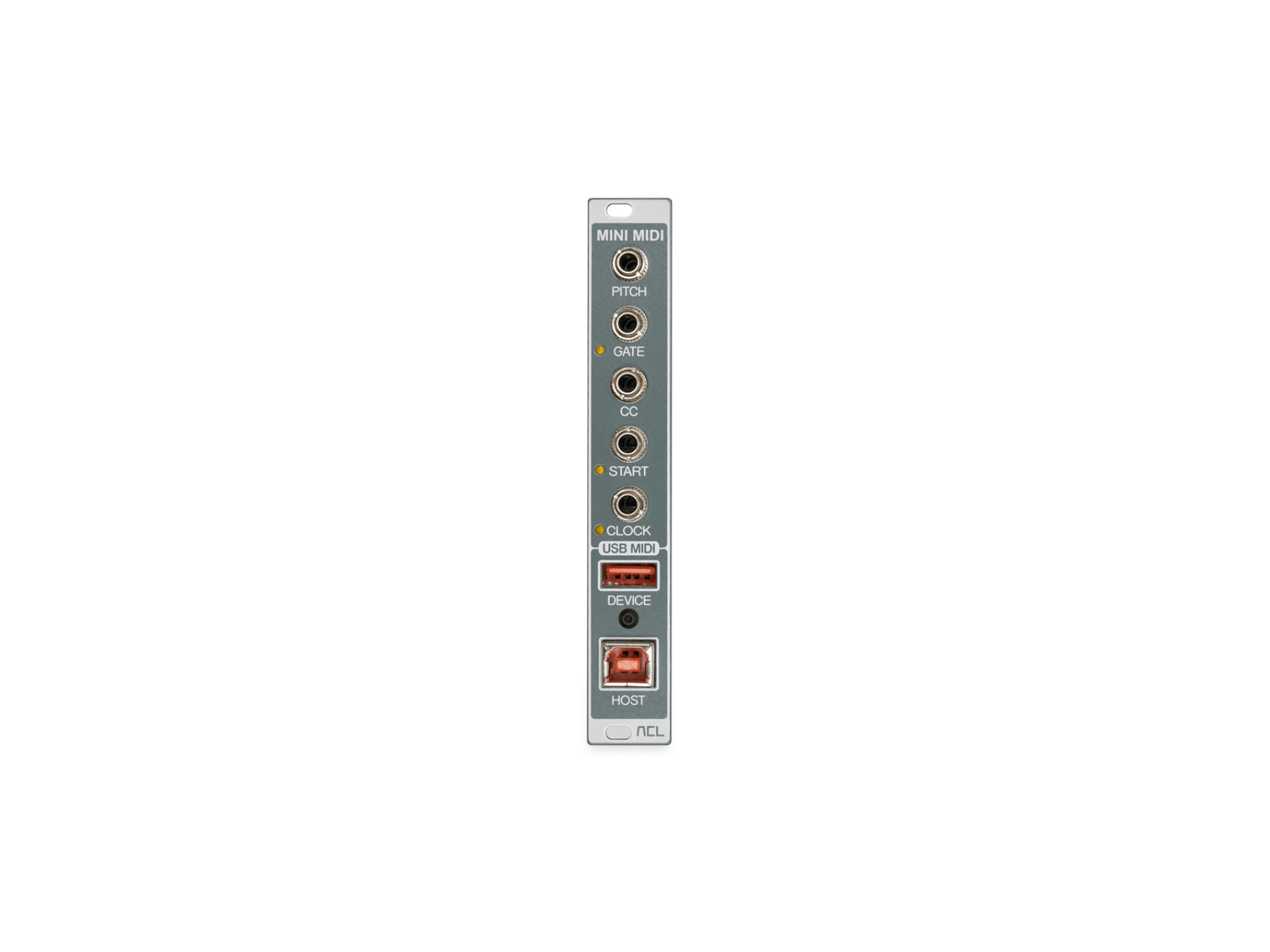 With over 20+ modules and three complete modular systems in our portfolio, you′d be forgiven for thinking we′re a bunch of purists, roaming the studios of Berlin by night, looking for unsuspecting copies of Ableton Live and Cubase to infect with viruses.
But nothing could be further from the truth. We love analogue hardware, and we also love the power and creativity of DAWs. We love the power and creativity of DAWs, so we′ve long dreamed of a module to bridge the gap between our computer, modular system, and USB MIDI devices. So we made one.
It′s small, and it′s MIDI
Mini MIDI draws aesthetic inspiration from a runway model… or a drumstick… or the Taipei 101. Basically it′s tall and thin. Nevertheless, this simple, space-saving format contains no less than seven connections: Pitch, Gate, CC, Start, Clock, USB Device, USB Host.
Specifications:
DAC: 16 bit
Pitch Output (1V / Octave): -3 V to 7 V
Gate Output: 0 V / 10 V
MIDI CC Output: 0 V to 5 V
MIDI Start / Stop: Active High (5 V)
MIDI Clock: Rising edge (5 V)
USB MIDI Host Interface output current: up to 500 mA
3U Eurorack module, 4 HP wide, compatible with Skiff cases
Current Draw:
+12V: ca. 22mA + current consumption of a connected class compliant USB Device , USB current supply available up to 500mA
-12V: ca. 10mA
0 mA 5V
Installation depth:
More information – ACL