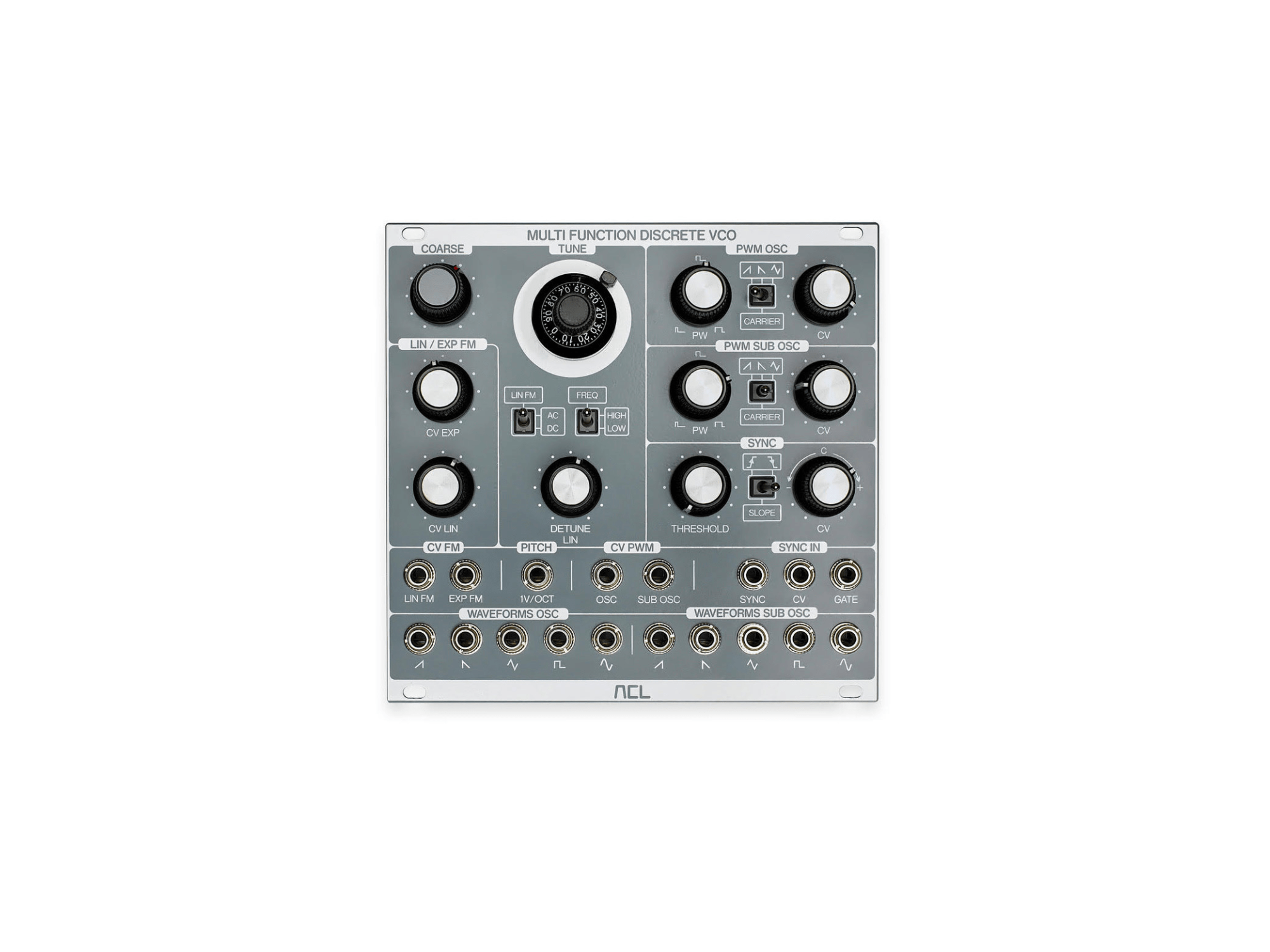 We are proud to present one of our most original modules yet. Designing a module can be like starting a track – you might have something specific in mind, but before you know it you have made something entirely new, with no connection to the original idea.
And that′s pretty much how we came up with the Multifunction Discrete VCO: we set out to emulate a classic VCO, began experimenting, followed our noses, and ended up making something completely different.
No substitute
At its core, the Multifunction Discrete VCO combines a massive single sawtooth core with a strong sub oscillator, both with individual waveshapers. This sub oscillator is, to the best of our knowledge, unique, as it′s not a separate oscillator, but rather a frequency divider (always one octave down).
This approach has a few excellent consequences. First, it means the sub oscillator is always in phase. Next, it means that it can supply all the same waveforms as the regular oscillator, not just the simple pulse you are used to in a conventional sub oscillator. Finally, it can be modulated in exactly the same way as the main waveform (not separately, of course, although the sub oscillators can be processed individually).
Mix and match 10 simultaneous waveforms
There′s much more to it than that, though: separate outputs provide simultaneous access to all the resulting waveforms – saw, inverted saw, PW rectangle, triangle, and sine – for both the oscillator and sub oscillator. So you can mix and match any combination, or all of them, simultaneously!
Naturally, we spared no effort or expense to bring you the finest quality components, from the inside to the outside, with the rugged build you′d expect from a tank… or an ACL module! All signal paths are fully discrete, right up to the outputs.
But as we claimed from the outset, this is much more than a mere classic VCO.
3U Eurorack module, 26 HP wide, compatible with Skiff cases.
Current Draw:
98 mA +12V
104 mA -12V
0 mA 5V
Installation depth:
More information – ACL