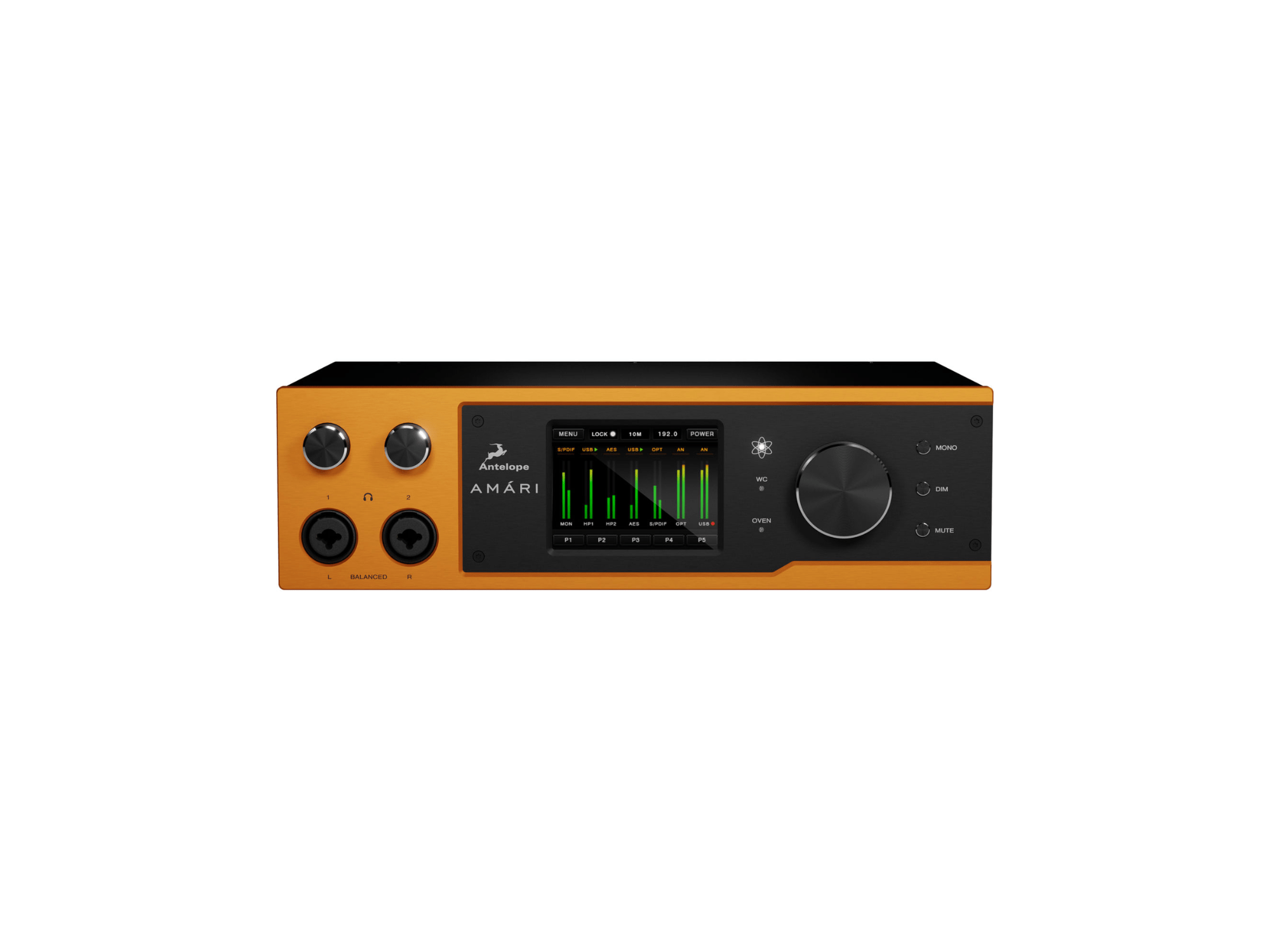 Designed for audiophiles looking for a superlative home-listening experience, the Antelope AMÁRI is a reference grade AD/DA converter. The unit provides everything you'd expect from Antelope, such as high-quality conversion and Antelope's renowned clocking technology. Sporting both balanced and unbalanced connections, the unit works equally well in pro audio and audiophile environments.
Whether you make use of the combination XLR-1/4″ inputs or the unbalanced RCA connections, you can achieve PCM conversion at sample rates and resolutions of up to 384 kHz / 24-bits. The AMÁRI utilizes 4 CS43198 chips per channel (eight in total) to capture every nuance of the stereo image, maintaining the integrity of the music's depth (front-to-back imaging) at the same time. The unit offers 138 dB of dynamic range to boot.
Digital connections can be secured over AES, coaxial S/PDIF, TOSLINK, and USB 3.1 (Gen 1, Type-B connections). Though the unit provides its own powerful clock, you can sync it to other sources thanks to two BNC inputs—one for all sorts of external clocks, and the other for Antelope's Atomic 10M clock. The AMÁRI's 64-bit clocking supports PCM rates up to 384 kHz and DSD up to 256. DSD playback occurs over PCM conversion (DoP), and only applies to the D/A side.
Two headphone outputs offer their own DAC architecture to yield an optimal performance. These headphone outputs can be used with balanced 1/4″ or XLR connectors. This is a dual-amp design, one that mitigates any possible temperature drifts. With all these benefits, the AMÁRI is a device truly geared for the discerning audiophile.
For a High-Quality Listening Experience
8 DAC Chips with 138 dB Dynamic Range
Dual Headphone Amp Design
1/4″ & XLR Connections for Headphones
XLR-1/4″ I/O, XLR & 1/4 Outputs
USB 3.1, AES/EBU, S/PDIF & TOSLINK I/O
BNC Wordclock & 10M Clock Inputs
PCM up to 384 kHz / 24-Bit
DSD256 (via DoP)
More information – Antelope