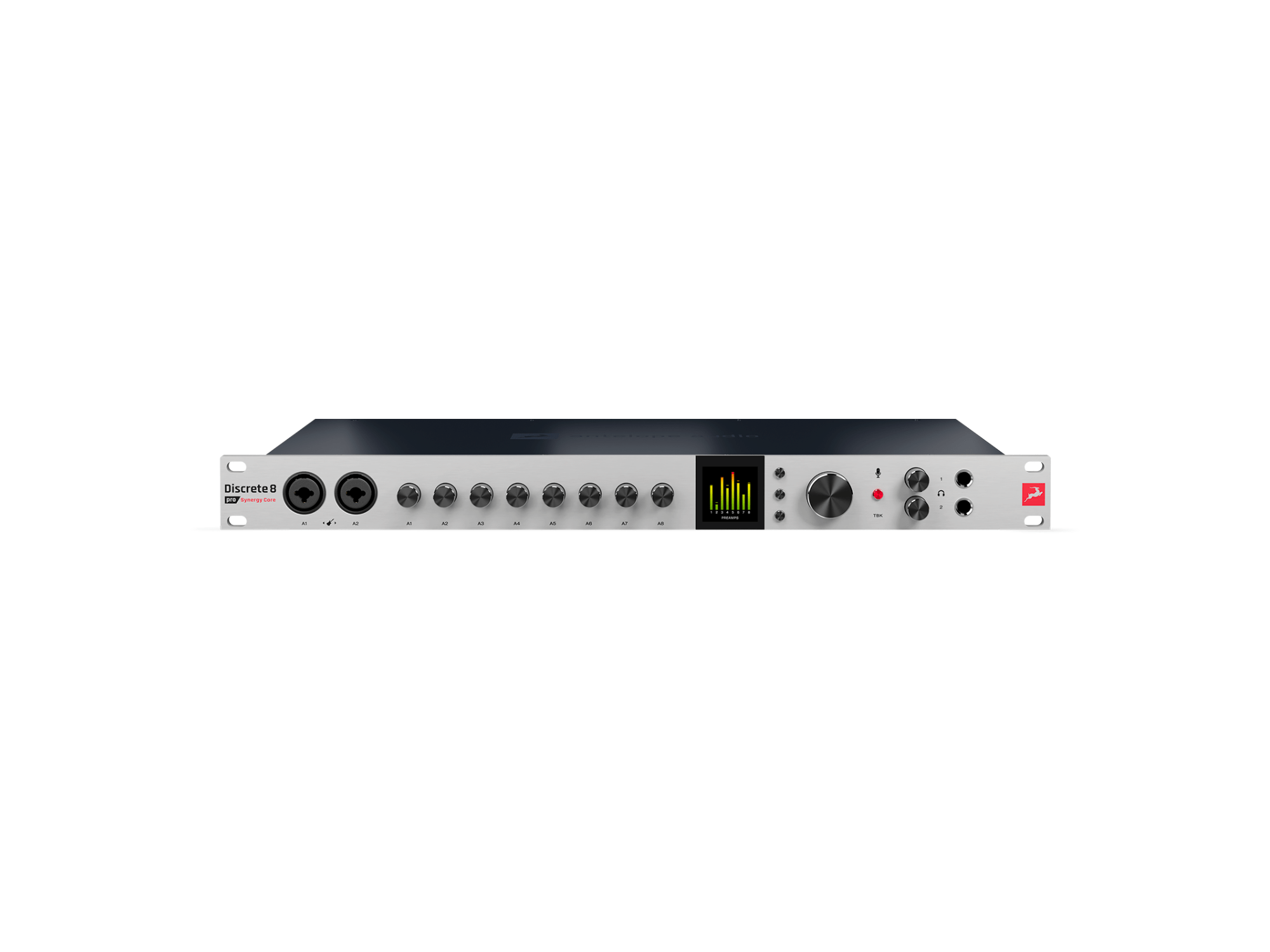 Bring pro-grade conversion, clocking, and preamps to your studio with the Antelope Discrete 8 Pro Synergy Core, a 26×32 Thunderbolt 3 and USB 2.0 audio interface offering premium sound quality and plentiful connectivity in a rackmount format that's ideal for recording engineers, bands, and studio owners. In addition to the revealing quality of its hardware, the Discrete 8 Pro Synergy Core empowers you with 37 analog-modeled real-time effects, which are powered by the onboard DSP and FPGA chips to ensure ultralow latency and no burden on your computer's CPU.
Each of the eight Antelope Discrete mic preamps has its own phantom power and up to 65 dB of gain, so the interface is primed and ready for recording all sorts of microphones, instruments, or even line-level signals from outboard gear. Equipped with two independently adjustable headphone outputs, balanced monitor outs, eight line outputs, and two reamp sends, the Discrete 8 Pro Synergy Core can act as your studio's hub for multiple sets of headphones, mixes, monitor feeds, and more. Its ADAT and S/PDIF digital I/O ports are perfect for expanding your setup with digital gear such as external converters, and the wordclock input and outputs ensure professional synchronization with other interfaces and clocks.
Updates to the Pro Model
Compared to the Discrete 8 Synergy Core, the Discrete 8 Pro Synergy Core delivers improved performance with greater dynamic range, less total harmonic distortion and noise, and double the available channel strips for effects processing. Also, it replaces Thunderbolt 2 connectivity with Thunderbolt 3 (in addition to USB 2.0).
Key Features
Engineers, Bands, and Studio Owners
Thunderbolt 3 and USB 2.0 Connectivity
8 Mic/Line Preamps, 2 with Hi-Z Option
Outs: 2 Headphone, 2 Monitor, 8 Line
Up to 24-Bit / 192 kHz Resolution
External Power Supply / Mac and Windows
ADAT & S/PDIF I/O for Digital Expansion
2 Reamp Outputs, Onboard DSP/FPGA Chips
64-Bit AFC Wordclock I/O
Includes 37 Real-Time Effects
More information – Antelope