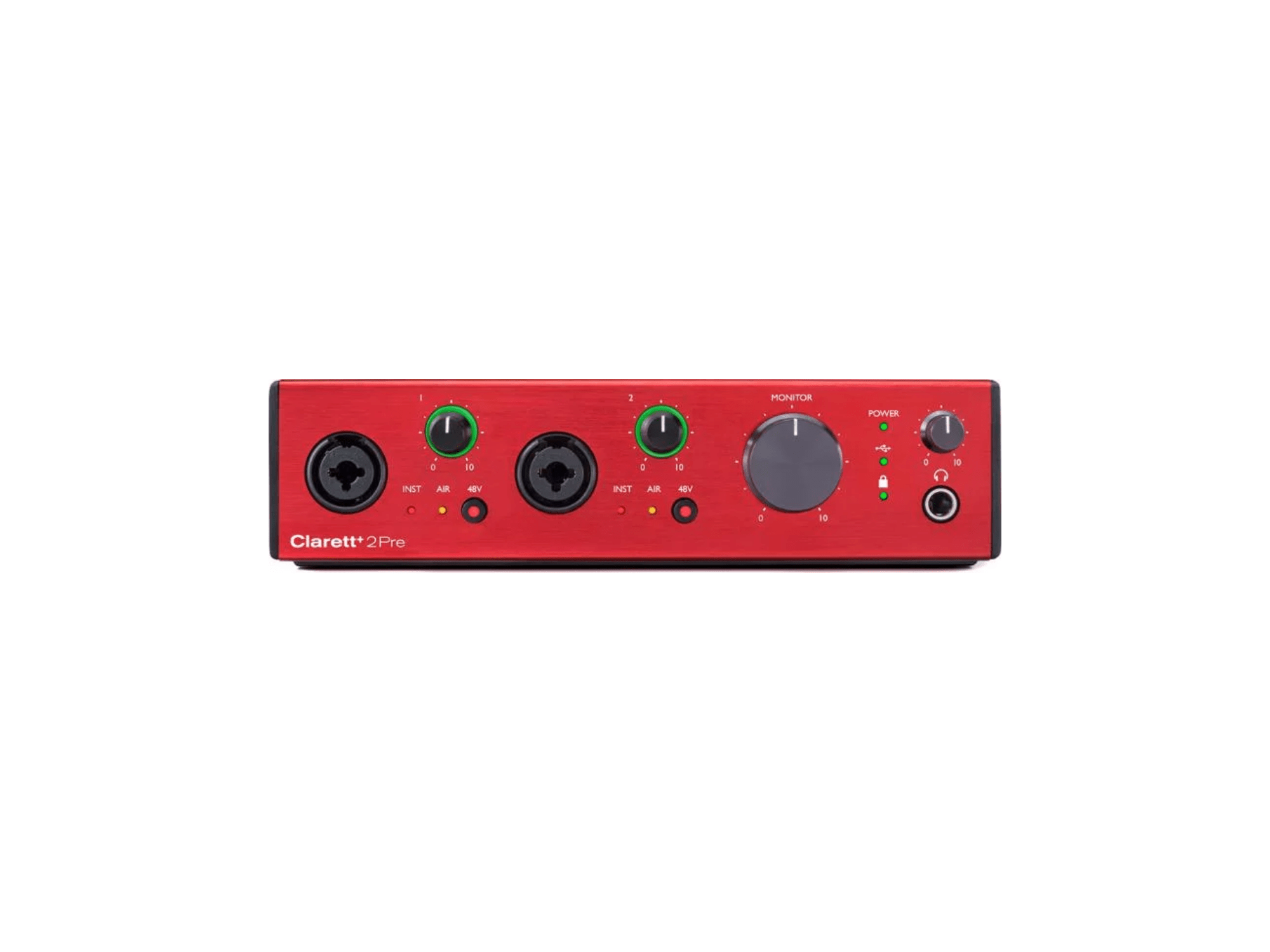 A Clarett+ for the Solo Recording Artist
Perfect for solo recording artists, Focusrite's Clarett+ 2Pre USB interface gives you two pristine mic/instrument/line preamps, upgraded 192kHz/24-bit digital conversion, and ultra-low round-trip latency, so you can use your DAW plug-ins for monitoring. Focusrite engineered the 10-in, 4-out Clarett+ 2Pre to deliver vanishingly low noise and distortion, and they included their Air effect, which models the sound of the company's acclaimed ISA transformer-based preamps. Make no mistake: the Focusrite Clarett+ 2Pre USB is the easiest way to get great-sounding recordings.
Focusrite Clarett+ 2Pre USB interfeiss, kas ir ideāli piemērots solo ierakstīšanas māksliniekiem, nodrošina divus neskartus mikrofona/instrumenta/līnijas priekšpastiprinājumus, uzlabotu 192 kHz/24 bitu digitālo konversiju un īpaši zemu turp un atpakaļ latentumu, lai jūs varētu izmantot savus DAW spraudņus priekš monitoringa. Focusrite izstrādāja 10 collu, 4 izeju Clarett+ 2Pre, lai nodrošinātu pazūdoši zemu troksni un izkropļojumus, un tajos tika iekļauts to gaisa efekts, kas modelē uzņēmuma atzīto ISA transformatoru priekšpastiprinātāju skaņu. Nekļūdieties: Focusrite Clarett+ 2Pre USB ir vienkāršākais veids, kā iegūt lieliskas skaņas ierakstus.
Focusrite Clarett+ 2Pre USB Audio Interface Features:
2 ultra-low noise Clarett+ mic preamps
Air circuit engages an analog model of classic transformer-based ISA mic pre
Super-low-latency recording with amp simulators and effects plug-ins
Ultra-low distortion; Mac/PC-compatible, USB 2.0 and above
Connects to Mac or PC using included standard USB and USB Type-C cables
Upgraded 24-bit/192kHz AD/DA conversion
ADAT optical, for expansion of up to 8 additional input channels
Gain Halo meters make for easy input level settings
2 monitor outputs with anti-thump technology
High-power headphone output with level control
2 additional line outputs
MIDI I/O
Included software from Focusrite and Brainworx
User-friendly Focusrite Control software lets you configure routing and monitor mixes from Mac, PC, iPad, iPhone, and iPod touch
Optional bus-powered operation; 15W USB-C capabilities required
3-year warranty
More info can be found HERE