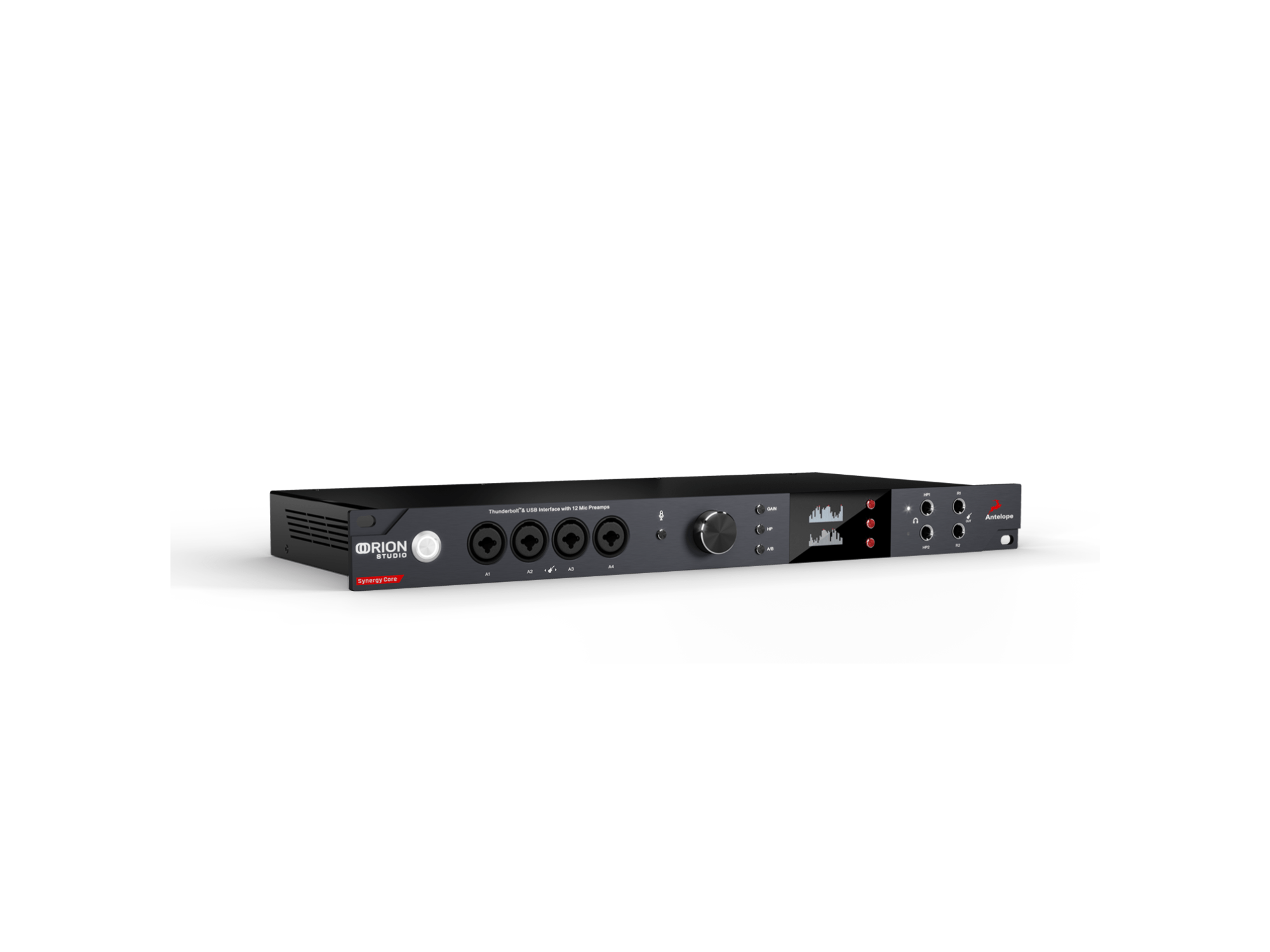 Serve all your monitoring, tracking, mixing, and home-mastering needs with the Orion Studio Synergy Core from Antelope.
This interface gives you four XLR-1/4″ inputs that handle mic, line-level, and Hi-Z instrument signals. Eight more preamps handle line and mic signal on XLR-1/4″ inputs. You can expand the I/O over ADAT, and input up to 32 channels over Thunderbolt 3, or 24 channels over USB 2.0 Type-B.
Multiple line outputs can be connected over a DB25 breakout cable, and with two insert points, you can route external gear into the signal path. Need to reamp a guitar part? Now you can, thanks to two reamp outputs. Though the preamps have been designed with sonic transparency in mind, they can be bypassed entirely, should you want to output directly to the unit's converters.
The interface itself boasts the acoustic clocking made famous by Antelope for rock-solid stability as well as increased detail and separation in musical performances. You can sync other devices to the clock thanks to wordclock BNC connections.
The Orion Studio Synergy Core is outfitted with two FPGA chips and six ARM-based DSP processors to handle Antelope's ecosystem of modeled plug-ins, which leverage FPGA technology to deliver emulated pieces of real-world gear in precise detail. There are 50 plug-ins from Antelope included with the interface, and more are available on Antelope's webstore.
Antelope has gone to great lengths to secure a solid sonic performance with 130 dB of dynamic range at the monitoring outputs and a conversion stage that aims to rival mastering converters used in monitoring. Use this interface for anything that demands the attention of 12 audiophile-grade DACs, low-latency performance, a quiet noise floor, and high sample rates.
Key Features
Up to 32 Channels of AD/DA Conversion
Up to 24-Bit / 192 kHz Resolution
Supports Thunderbolt, USB, ADAT & S/PDIF
12 Discrete Preamps with XLR-1/4″ Jacks
Up to 16 Line Outs over DB25 Connector
Wordclock Outputs
130 dB Dynamic Range on Monitoring D/A
64-Bit Acoustically Focused Clocking
Comprehensive Software Control
50 FPGA-Powered Antelope Plug-Ins
More information – Antelope