The Legendary Ladder Filter — Right in Your DAW
Have you ever mused about having classic synthesizer filters in a convenient, flexible plug-in? It's a reality. In 2003, the software engineers at Arturia collaborated with Dr. Bob Moog to re-create his renowned synthesizers as software instruments. Now they've taken the classic filter from their acclaimed Mini V virtual instrument and made it available as a dedicated plug-in with an intuitive interface and budget-friendly price tag. Arturia's Mini-Filter is underpinned by the company's proprietary TAE modeling technology, which enables them to emulate the sound and behavior of electronic instruments, right down to the component level, to create accurate software manifestations of these groundbreaking devices. The thought of having multiple instances of Moog's legendary ladder filter available for use on any source within your DAW is certainly an enticing prospect here at Sweetwater. Once you hear what it can do for your music, we're sure you'll agree!
Add a touch of sweetness to your recordings
When Arturia came out with the Mini V, they introduced an entirely new generation of musicians and producers to the magic of Moog's iconic 1971 monosynth. As Arturia's modeling techniques delve into core components, they are also able to isolate individual components. The 24dB/octave ladder filter has always been at the core of Minimoog lore, and the software engineers were curious — as indeed, we all were — as to how it would sound on other audio sources. So they applied their considerable expertise and cutting-edge technological advances to reproduce the ladder filter's coveted warm, creamy tone in a dedicated plug-in. They succeeded beyond our wildest expectations. Now you can deploy the world's most famous synth filter on any source to warm up or smooth out your audio and add a touch of sweetness to your recordings.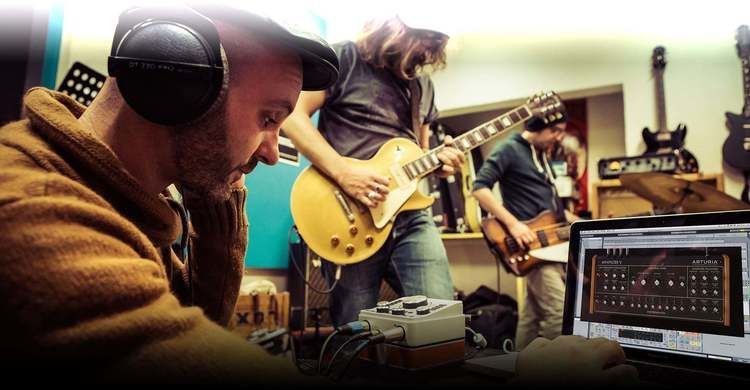 Powerful modulation onboard
Modulation being one of the cornerstones of effective synthesis, the Mini-Filter is not just about static filtration. It also includes a powerful modulation section with an envelope follower, an LFO, and a step sequencer; allowing you to create emotive living, breathing soundscapes from any source. Arturia also includes an onboard patch manager, along with a set of expertly curated presets to inspire your creativity. Bottom line, the Arturia Mini-Filter is essential gear — an expressive creative tool for any musician, producer, or engineer.
Arturia Mini-Filter Plug-in Features:
Virtual re-creation of the legendary 24dB/octave Moog lowpass Ladder filter
Arturia's state-of-the-art TAE analog modeling
30 presets created by top sound designers
Drive parameter
Cutoff Frequency and Emphasis
Dry/Wet setting
Output volume setting
Low-frequency oscillator (LFO):
Can be synchronized with DAW clock
4 waveforms plus Sample and Hold mode
Phase parameter
Can modulate Cutoff, Emphasis, and Cutoff modulation amount of the Sequencer
Step Sequencer:
Can be synchronized with DAW clock
Up to 8 steps
Smooth parameter
Can modulate Cutoff, Emphasis, and LFO rate
Envelope follower:
Sensitivity parameter (vertical sensitivity)
Attack and Decay time parameters
Can modulate the Cutoff, Emphasis, and LFO rate