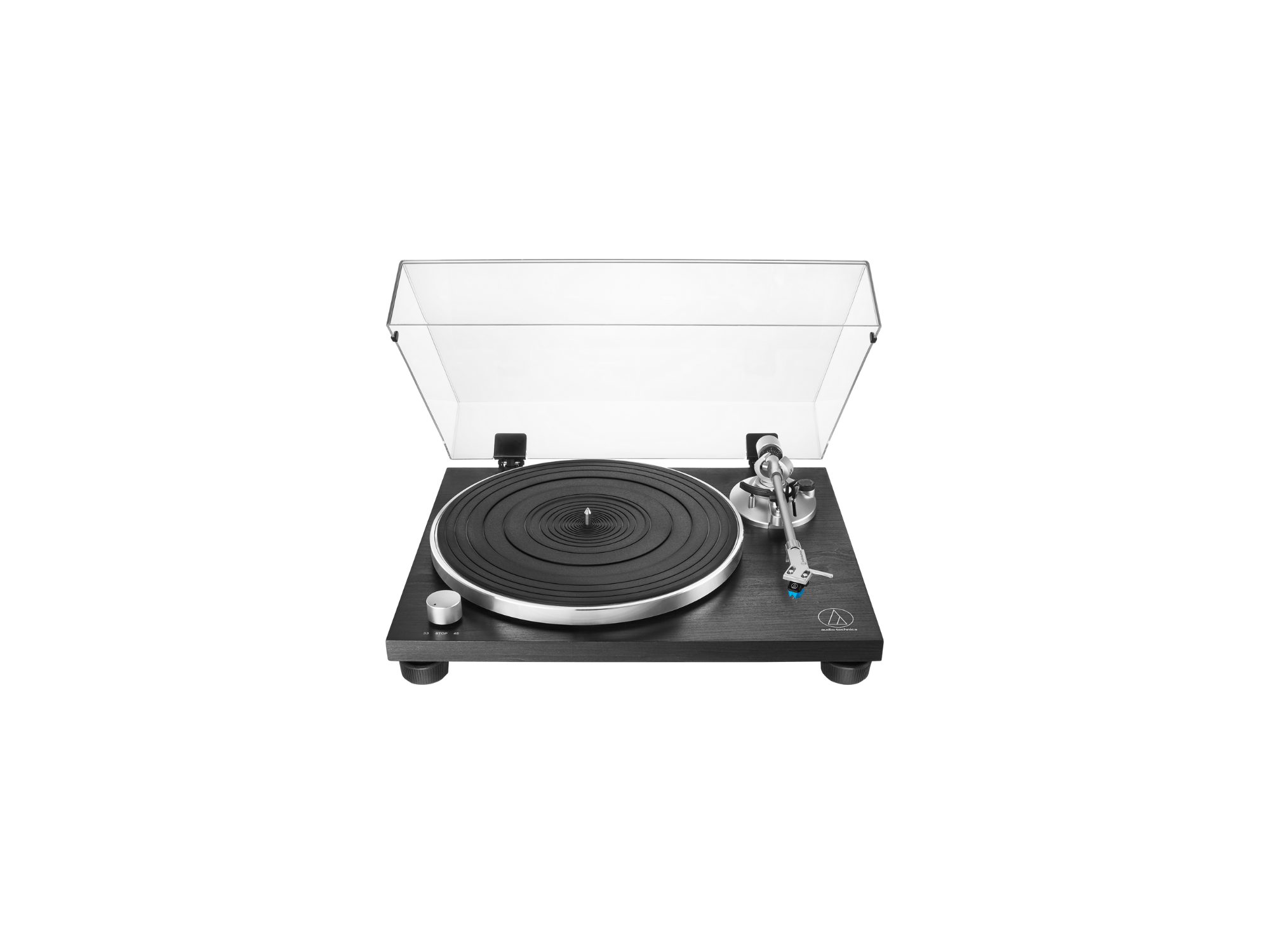 The AT-LPW30BK two-speed turntable has been engineered to deliver the refined sound you expect from our Japanese audio experts. The wood veneer plinth with a teak finish limits low-frequency acoustic feedback and offers sophisticated styling, with clean and minimalist aesthetics. The straight aluminium tonearm and built-in phono preamplifier provide optimal high-fidelity audio reproduction in a user-friendly, fully-manual belt-drive turntable.
The turntable includes a straight aluminum tonearm with adjustable tracking force and an AT-HS4 universal ½"-mount headshell with an AT-VM95C Dual Moving Magnet phono cartridge. Audio-Technica has been a leader in phono cartridge design for more than 60 years, and that expertise shows in the versatile, high-performance AT-VM95C cartridge, which comes with a 0.6 mil conical stylus, but is also compatible with any VM95 Series replacement stylus, offering a wide choice of options for every budget and application.
The AT-LPW30 is equipped with a built-in selectable phono preamp and a detachable dual RCA output cable to enable direct connection to components with or without a dedicated phono input.
Fully manual, belt-drive operation with two speeds: 33-1/3 and 45 RPM
Fully manual operation
Adjustable dynamic anti-skate control
Professional anti-resonance, die-cast aluminum platter with rubber mat
AT-HS4 universal ½"-mount headshell and AT-VM95C Dual Moving Magnet phono cartridge with 0.6 mil conical stylus
AT-VM95C cartridge is compatible with any VM95 Series replacement stylus, offering a wide choice of options for every budget and application
Straight tonearm with hydraulically damped lift control and lockable rest
Anti-resonance MDF (medium density fiberboard) plinth with simulated black wood veneer
Built-in switchable phono pre-amplifier for phono or line-level output
AC adapter handles AC/DC conversion outside of the chassis, reducing noise in the signal chain
Includes dual RCA (male) to dual RCA (male) stereo cable, 45 RPM adapter, rubber mat, and removable hinged dust cover