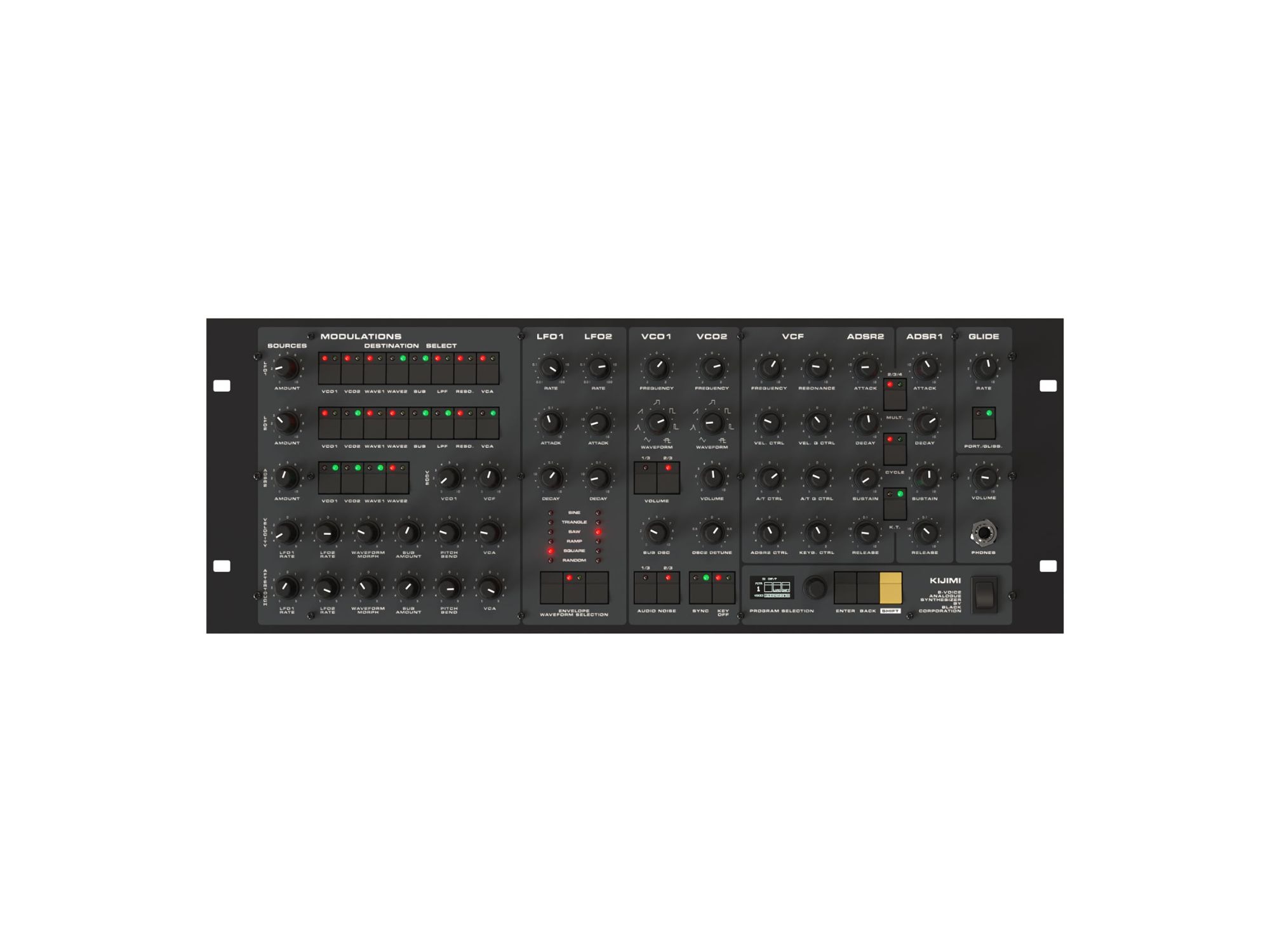 The giant with charm
At the heart of the sound are two powerful analog CRN3340 oscillators with infinitely variable waveforms, suboscillator and noise Generator . Oscillator 2 can be uncoupled from tracking and can be synchronized to tone generator 1. Based Lowpass Filter on an SSM2040 chip, it has an edge steepness of 24 dB and has a wonderful sound of its own.
Anyone who appreciates polyphonic analog sounds will find it hard not to "fall in love" with this dream of rack synthesizers. The wide range of sounds shines through the high-quality basic sound of the components and rarely enough has a "polyanaloger" sounded so lively and dynamic, this is largely due to the elaborate modulation department. The 256 memory locations are managed and called up via the OLED display, and a few system settings are made. Therefore all creations can be captured and are not unique.
Black Corporation Kijimi at a glance:
full analog signal path
eight-part polyphony
exact clone of the RSF Polykobol
Two analog oscillators with infinitely variable waveforms
suboscillator
noise Generator
24 dB Lowpass Filter
Two loopable ADSR envelopes
Two LFOs with their own envelopes
Polyphonic Aftertouch
Complex modulation matrix
Parameters correspond to the original
256 memory locations
19″-housing / 4HE
Features:
Manufacturer: Black Corporation
Construction / Number of Keys: 19 Inch
Velocity sensitive: Yes
Aftertouch: Yes
Sound Generation: Analog
Polyphony: 8
Number of Sounds: 256
Number of Knobs: 49
Number of Keys: 36
Display: Yes
MIDI Interface: IN/OUT/THRU, 5-Pin
USB MIDI Interface: Yes
LINE IN: Yes
LINE OUT: Yes
Headphone Connection: Yes
Power Supply: Adapter, external
incl. Power Adapter: Yes
Width (cm): 48.3
Height (cm): 17.8
More information – Black Corporation