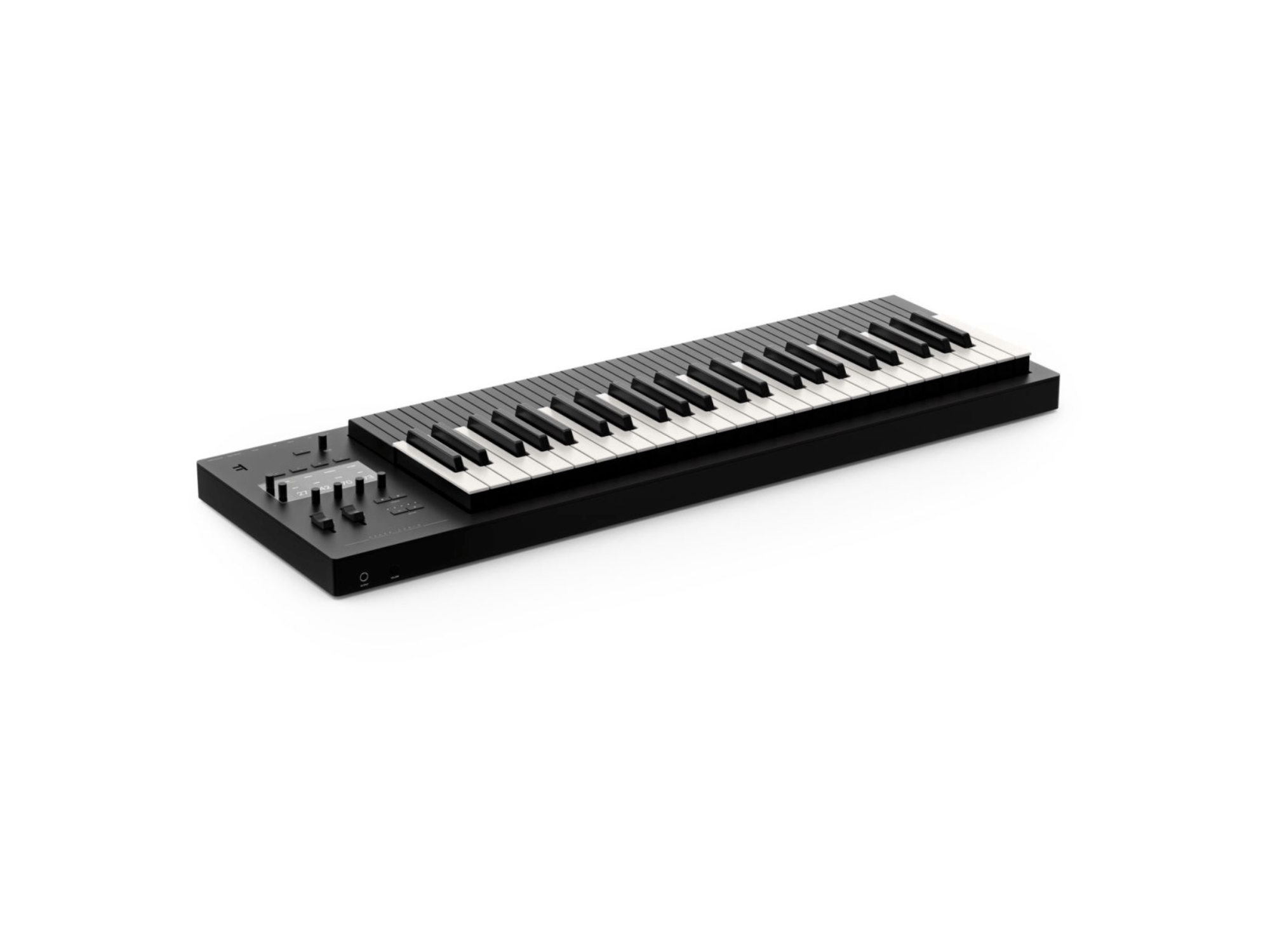 Three dimensions of play.. Osmose is the new standard for musical expressivity
Use intuitive gestures to control this standalone synthesizer and upgrade your playing & production skills. Press, bend, shake, strum & more to interact with keyboards & electronic sounds in a new organic way. Whether you're a veteran keyboardist, a workflow-oriented producer, a daring sound designer, or anything in between, Osmose will take your musical journey to uncharted places.Behind the expressivity of Osmose lies a few natural gestures you already know well. Discover how they interact with Osmose and enhance your musicianship from the very first touch.
Unlike other forms MPE-capable keybeds, Osmose retains the standard action and feel of a conventional MIDI controller or keyboard. Each key has an extended range of motion from its usual resting point, allowing for continued expression through an assigned value. The same applies to each key's Y-axis, allowing for additional per-note modulation whose range and target parameters can be modified with each patch and sound. Aftertouch sensitivity profiles and response curves can be customized for later use, with each of the advanced EganMatrix onboard sounds tailored for use with the unique expressive controls of the Osmose. Plus, the keyboard can be used as an MPE MIDI controller, armed with Multichannel MIDI that will take any sound to a new dimension of play, onboard or otherwise.
Expressive E Osmose 49-key Polyphonic Aftertouch Synthesizer Features:
49-note keybed features three-dimensional control for new modes of expressivity
Polyphonic aftertouch includes extended vertical range and horizontal modulation per key
Partnership with Haken Audio means EaganMatrix digital modular engine powers the onboard sounds, tailored for use with MPE and polyphonic aftertouch
500+ presets and 24 maximum voices enable versatile playing across any style
Streamlined, minimalistic interface reduces clutter without compromising accessibility
Pitch/modulation sliders, responsive buttons, a fine-tunable knobs provide tactile satisfaction with superlative control
Deep onboard controls ensure patches are easily edited, saved, and recalled for personalized use
Patches can be individually modified to customize velocity curves, sensitivity, expressivity, FX, and more
DIN MIDI in/out/thru allows Osmose to be used as a MPE MIDI controller to revolutionize your sonic exploration with your preferred DAW or instrument
Pseudo-balanced 1/4-inch TS outputs reduce noise with flexible stereo operation
Front-mounted 1/4-inch TRS headphone output features a dedicated volume adjustment
External power supply includes lockable connector to avoid unwanted disruptions
Accompanying Haken Audio software allows you to engage greater levels of depth, control, and fine-tuning of the EaganMatrix: Mac/PC
More information – Expressive E