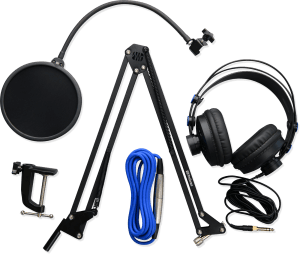 A perfect complement to the M7, Relevator, PX-1, PD-70, and similar microphones, the Presonus Broadcast Accessory Pack gives you essential items to get the most out of your mic in a broadcast-style studio. The kit comprises a desktop boom arm, a pop filter, an XLR cable and a pair of HD7 headphones for monitoring.
This pack is perfect for podcasters, streamers, and anyone creating content in their home studio. With all the accessories in tow, your broadcast recording experience will be more convenient and will sound better to boot.
For Podcasters, Streamers, and More
Accessories Complement Presonus XLR Mics
Includes HD7 Headphones & PBA-1 Boom Arm
Includes APF-1 Pop Filter and XLR Cable
Presonus Broadcast piederumu komplekts ir lielisks papildinājums M7, Relevator, PX-1, PD-70 un līdzīgiem mikrofoniem, un tas sniedz jums nepieciešamos piederumus, lai maksimāli izmantotu jūsu mikrofonu raidījumu studijā. Komplektā ietilpst galda strēles statīvs, popfiltrs, XLR kabelis un HD7 austiņu pāris monitoringa vajadzībām.
Šis komplekts ir lieliski piemērots podkāsteru veidotājiem, straumētājiem un ikvienam, kas veido saturu savā mājas studijā. Ar visiem komplektā esošajiem piederumiem jūsu raidījumu ierakstīšanas pieredze būs ērtāka un skanēs labāk.
Podkāsteru veidotājiem, straumētājiem un citiem
Piederumi papildina Presonus XLR mikrofonus
Komplektā ietilpst HD7 austiņas un PBA-1 Boom Arm
Komplektā ietilpst APF-1 Pop filtrs un XLR kabelis