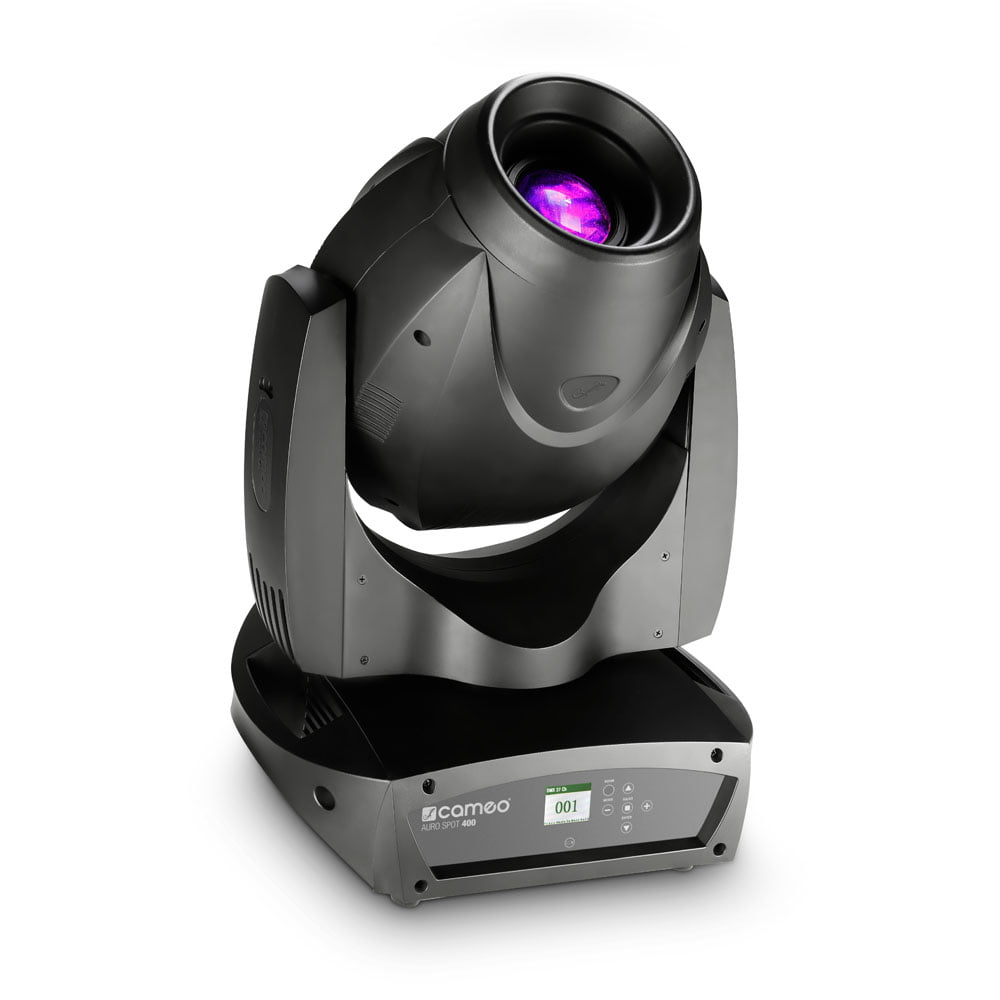 Featuring 16-bit resolution and high speed 3-phase motors for 630° pan and 230° tilt,the Cameo AURO® SPOT 400 is a professional moving head with RDM capability and powerful, ultra bright single LED. The fixture sports 2 gobo wheels, rotating and fixed gobos, 2 color wheels and a choice of 3 rotating prisms enabling spectacular lighting and stunning effects with 12 intense colors, split colors and two temperatures of white.
The AURO® SPOT 400 provides 5-channel, 19-channel and 27-channel DMX control and auto programs , so that operation as master, slave and standalone is possible. Functions include motorized focus, frost filter, a choice of 4 smooth dimming curves, shake effects and a fast 0 – 20 Hz cycle strobe.
The heavy-duty compound enclosure integrates a battery-powered 6-button display that allows convenient offline configuration, 3-pin and 5-pin DMX inputs and outputs, Neutrik powerCON connectors and a temperature-controlled low-noise fan. The multi- voltage AURO® SPOT 400 runs on 100 – 240 V AC.
| | |
| --- | --- |
| Product type | LED Moving Lights |
| Type | Moving Head |
| Colour spectrum | cold white |
| Number of LEDs | 1 |
| Colour temperature | 9300 K |
| LED type | 180 W |
| Refresh rate | 3600 Hz |
| Dispersion | 12 ° |
| Number of gobos | 16 |
| Gobo Size | Exterior Diameter: 20.4 mm – Motif: 16.5 mm |
| DMX input | XLR 3-pin male, XLR 5-pin male |
| DMX output | XLR 3-pin female, XLR 5-pin female |
| DMX mode | 19-channel, 27-channel, 5-channel |
| DMX Functions | 3 x Prism, Auto programs, Colour wheel, Dimmer, Dimmer Curves, Focus, Frost, Gobo Rotation, Gobo Shake, Gobo wheel, Motion Macro, Pan/Tilt, Pan/Tilt fine, Stroboscope |
| PAN movement | 540° / 630° |
| TILT movement | 230° |
| Standalone modes | Auto programs, Master/Slave Mode, Static Mode |
| Controls | -, +, Battery Display, Down, Enter, Mode, Up |
| Indicators | colour LC display |
| Operating voltage | 100 V AC – 240 V AC, 50 – 60 Hz |
| Power consumption | 290 W |
| Power connector | Neutrik PowerCon |
| Housing material | ABS, metal |
| Cabinet colour | Black |
| Cooling | temperature-controlled fan |
| Illuminance | 200000lx @ 1m |
| Luminous flux | 4470 lm |
| Width | 405 mm |
| Height | 565 mm |
| Depth | 285 mm |
| Weight | 16 kg |
| Features | 1m power cable with Neutrik powerCON connector, 2 x omega mounting |