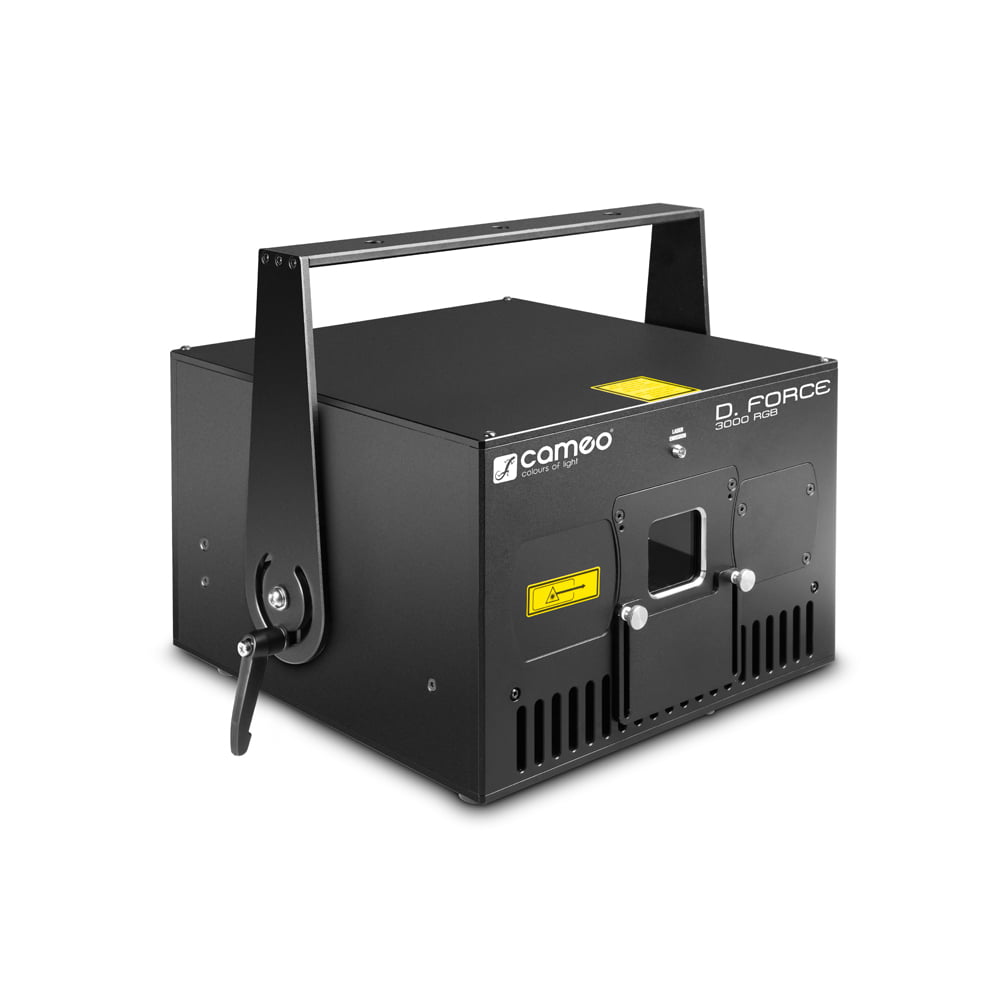 The D.FORCE 3000 RGB has a high output of 3,000 mW, and with its pure red, green and blue LED construction, is superior to other DPSS lasers. The beam diameter is 4 x 2 mm with extremely low divergence of less than 1 mrad. The red 638 nm LED has considerably improved visibility over a conventional 650 nm LED, making the D.FORCE 3000 RGB the perfect choice for high-level professional laser shows. Analogue modulation enables the D.FORCE 3000 RGB professional show laser to generate up to 16 million colour shades and create eye-catching, razor-sharp graphics projections
The extremely robust dust-tight aluminium housing features two-layer construction. Optical components are separated from the power supply and the fan, ensuring consistent optimal performance and minimal service requirement. The D.FORCE 3000 RGB has a 30 kpps high-speed galvo @ 8° ILDA and a wide 50° scan area. It features an ILDA interface with 25-pin D-Sub connectors to facilitate control via various software, and a low-noise fan to maintain a low operating temperature. Power connection is via Neutrik PowerCON power input and output sockets, and a locking switch prevents unauthorised operation. The D.FORCE 3000 RGB is equipped with a scan fail safety system for the protection of the audience The easy-access beam alignment system is particularly well designed.
This system saves time and money because the D.FORCE 3000 RGB can easily be calibrated by the user. The D.FORCE 3000 has many application options due to its compatibility with effect and safety diffusers from the company Pangolin.
| | |
| --- | --- |
| Product type | Laser |
| Total power | 3000 mW |
| Colour spectrum | RGB |
| Wavelength | Blue 445 nm, Green 520 nm, Red 638 nm |
| Beam Data | 2 x 4 mm |
| Laser sources | Laser diode |
| Laser Class | 4 |
| Scanner | 30 kpps @ 8° ILDA |
| Max. scan angle | 50 ° |
| Operating modes | ILDA |
| Operating voltage | 100 V AC – 250 V AC |
| Power consumption | 110 W |
| Power connector | Neutrik PowerCon |
| Housing material | Aluminum |
| Cabinet colour | Black |
| Width | 246 mm |
| Height | 238 mm |
| Depth | 175 mm |
| Weight | 7,9 kg |