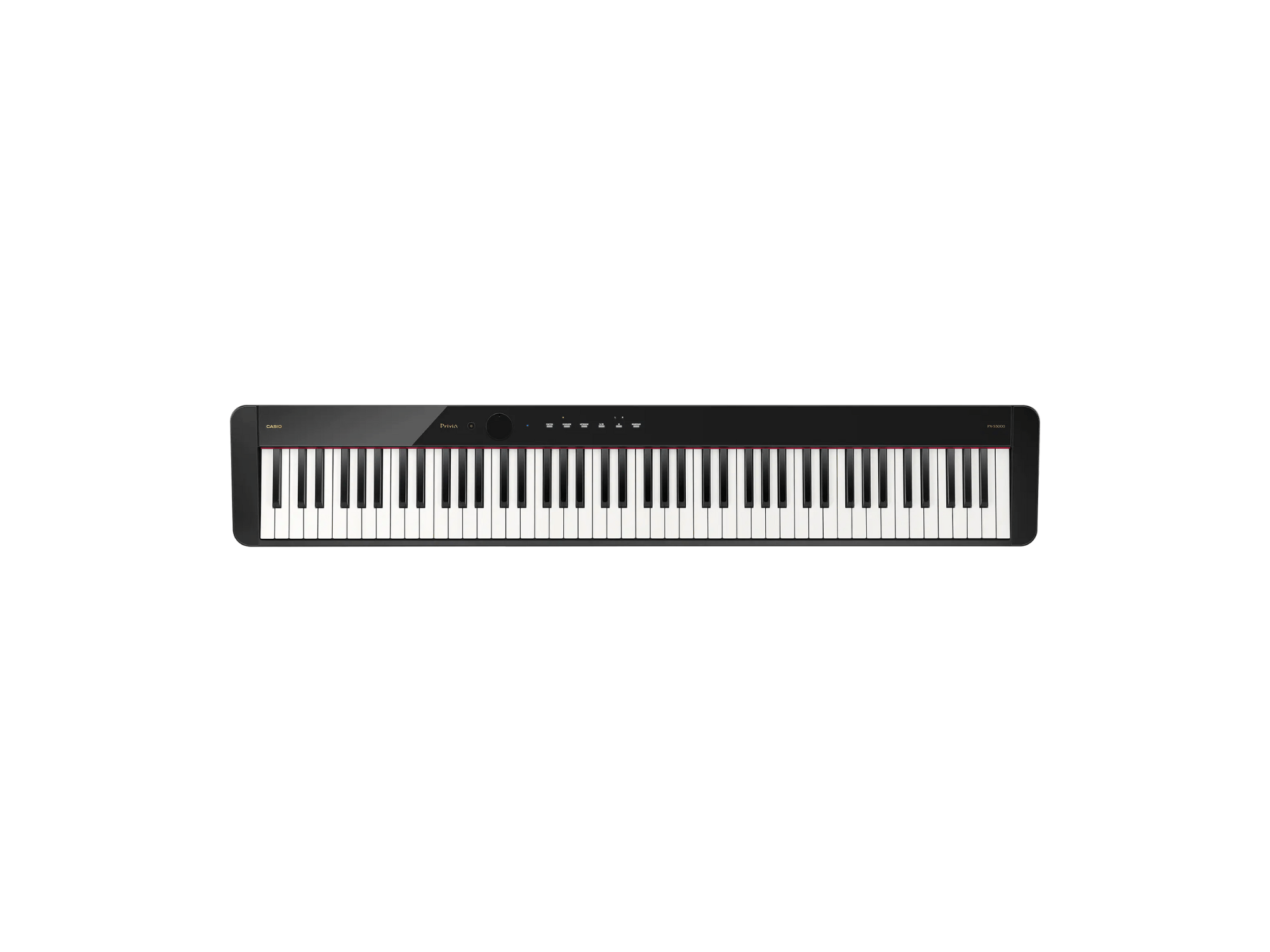 Stylish Workhorse Digital Piano from Casio
The Casio Privia PX-S5000 digital piano delivers an unbeatable combination of portability and performance. With its stylish, modern visuals, the PX-S5000 looks great in your living room. But the PX-S5000 is also a powerful stage piano and master controller for your studio. Powered by Casio's state-of-the-art Multi Dimensional Morphing AiR sound engine technology, the PX-S5000 delivers the stunningly lifelike tones of world-class grand pianos, electric pianos, bass, and other instruments. With 23 premium sounds and advanced audio/MIDI recording onboard, the PX-S5000 is a constant source of inspiration.
Your musical creativity: sparked
With a curated collection of 23 high-quality sounds to explore, the Casio Privia PX-S5000 is sure to spark your musical creativity, but there's so much more to this great digital piano. The PX-S5000 features three world-class grand pianos, complete with a cutting-edge acoustic simulator for realistic string and damper resonance, as well as key action and damper noise. Put the finishing touch on your masterpiece with studio-grade effects that include reverb and hall simulation, chorus, brilliance, and more. Use the audio and MIDI recorders to capture your ideas and save them to a USB thumb drive. With 192-note polyphony, the PX-S5000 faithfully plays back the complexities of your musical creations.
Casio Privia PX-S5000 Digital Piano Features:
88-note Smart Hybrid Hammer Action keyboard
Touch response: 5 sensitivity levels, off
88-key digital scaling
192-note polyphony
23 onboard sounds
Powered by Casio's Multi Dimensional Morphing AiR sound engine
Layer and Split modes
Acoustic Simulator (10 levels, off): string, and damper resonance, key action and damper noise
Digital Effects: Reverb, Surround, Hall simulation; Chorus, Brilliance, DSP, Headphone mode
Songs: Lesson Function, Part Select (Right hand, Left hand, Both hands), Demo Songs: 1, Song Expansion (User Songs): 10
App connectivity: Casio Music Space, Piano Remote Controller
Bluetooth: wireless MIDI and Audio
MIDI recorder, Audio recorder
USB memory
Duet Mode
Octave Shift: -2/+2 octaves
Metronome: Off, 1 to 9 beats ; tempo range: 20 to 255
Tempo Marking setting
Pedals: included switch-type; optional SP-34 triple-pedal unit
Key Transpose: -12/+12 semitones
Tuning Control: A4 = 415.5Hz–465.9Hz (adjustable in 0.1Hz units)
Scale Tuning (Temperament): Equal temperament + 16 variations
Registration: 96 setups
Controllers: 6 Touch buttons
Energy-saving Auto Power Off function
2 Headphone jacks: stereo 1/4-inch and 3.5mm
Line Out jacks: L/mono, R(1/4-inch)
USB Type A, B
2-channel, 2-speaker Sound System
Included SP-3 switch-type pedal and music rest
More information – Casio