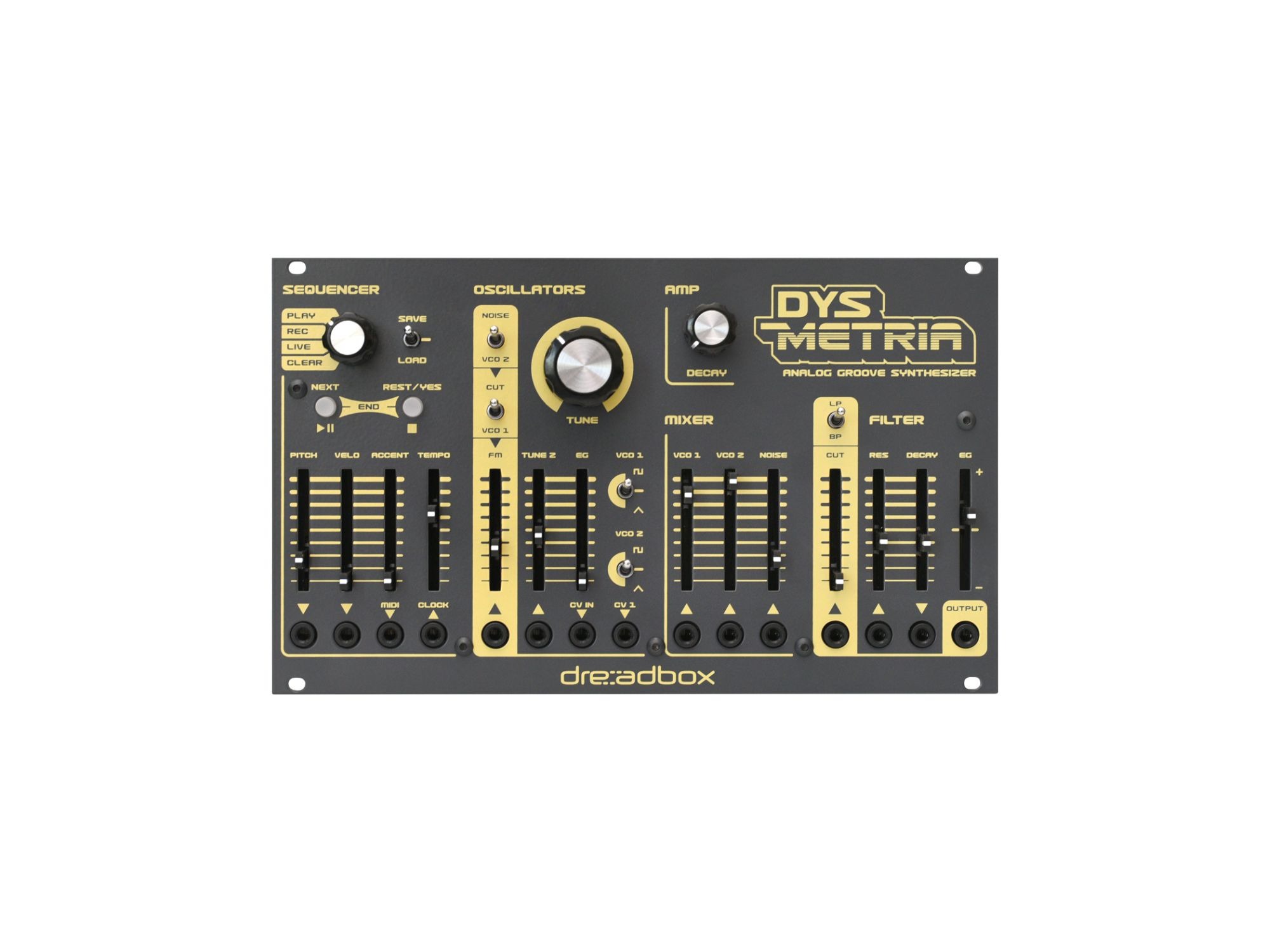 Dysmetria (42HP) is a DIY semi-modular analog groovebox for Eurorack. The core is very subtractive: 2 classic analog oscillators each with two waveforms and a noise generator form the sound generation part. Then, it goes in a voltage-controlled mixer with a built-in voltage-controlled FM section. The next step is a 2-pole resonant filter with lowpass and band pass outputs.
On the modulation side, Dysmetria has 2 decay envelopes. The highlight is the built-in 32-step sequencer that allows you to have a different sound per step. It captures up to three parameters in a step: pitch velocity, and accent. Plus, you can create ratcheting effects using the tempo slider. There are three modes: play, live, rec, and comes with pitch, velocity, accent and tempo controls. A special feature is that in addition to MIDI, you can also program the steps in a very analog way by moving three sliders.
So you can have one step with a kick, third step a snare… or even bassline notes in between. Thus you can get pretty complex rhythms packed with different sounds. Created hands-on with a hand-full of synthesis parameters in a smallest space. Dysmetria also has 15 patch points that allows you to use the synth features individually in your Eurorack system.
Dysmetria Features:
Full Voice Analog Modular Groove Synthesizer

Rhythm and Bassline maker

It can be used as a Desktop or a Eurorack synthesizer

It comes along with a dedicated USB to Eurorack power converter

Ideal for inexperienced DIYers

42 HP

2 Analog Oscillators

Voltage Controlled Mixer

Noise Generator

Voltage Controlled FM section

2-pole Resonant Filter with LowPass and BandPass outputs

2 Decay Envelopes

32-step Sequencer with 3 Modes (Play, Live, Rec) and Step by Step Recording

16 User Presets

15 Patch Points
More information – DreadBox