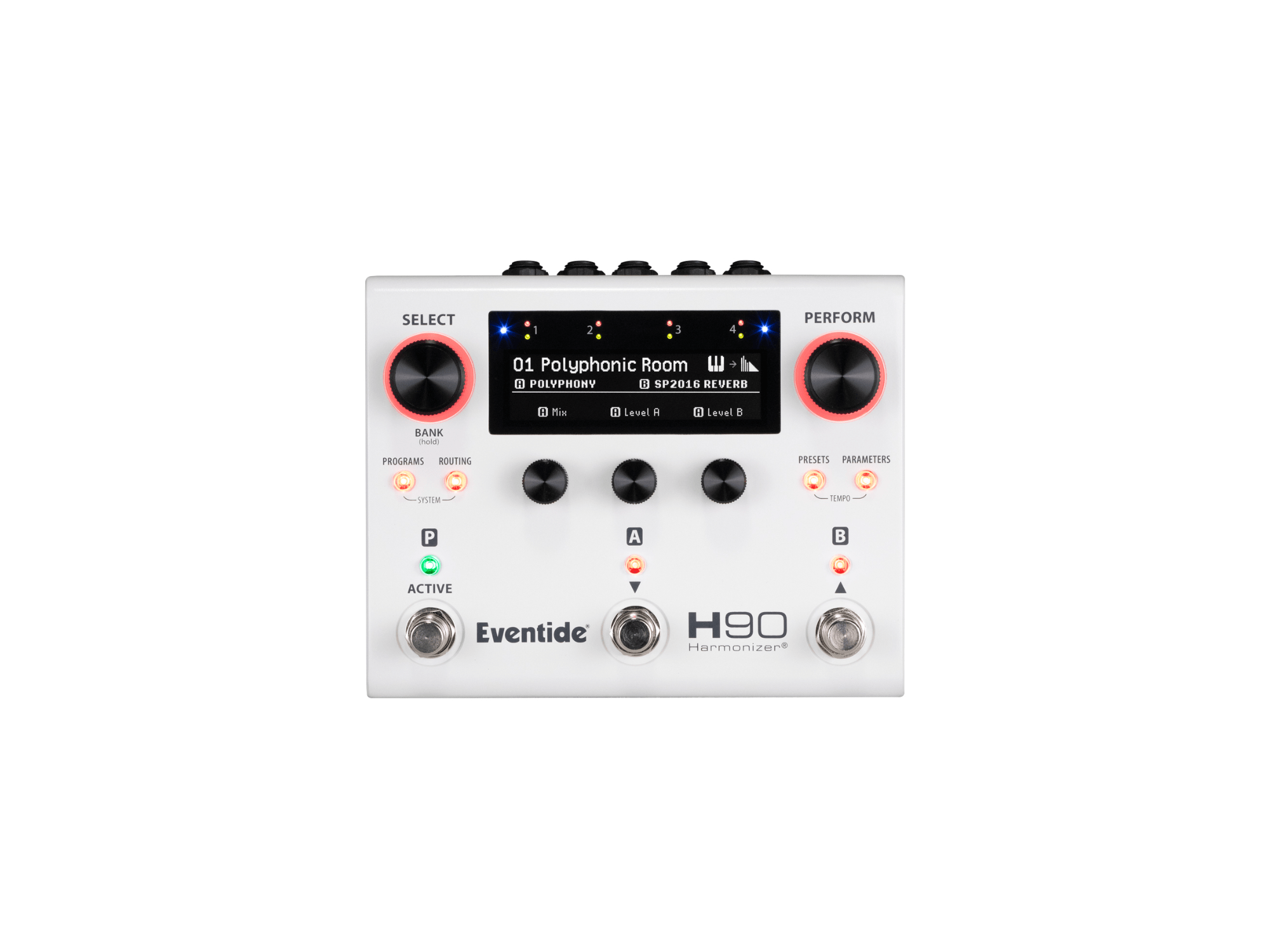 Beyond the Effect Horizon
62 total ARM-derived algorithms and 10 new effects
The Eventide H9 Max's massive library of algorithms — including modulation, delay, tremolo, overdrive, and everything in between — has made it a modern multi-effects classic. But the H90 takes it even further by enhancing all previous algorithms with extended features, in addition to seven all-new studio-quality effects.
Polyphony: This mode uses Eventide's SIFT (Spectral Instantaneous Frequency Tracking) technology to pitch shift your tone with unparalleled tracking and accuracy. It's an exceptionally versatile mode that covers everything from fluid chorus-like tones to crystals-type effect, with a built-in freeze function for spacey pads.
Prism Shift: One of the H90's more experimental effects, Prism Shift generates three voices from a single chord, separating, staggering, and pitch shifting the notes to create four arpeggio types in three octaves.
Even-vibe: A replication of a classic swirling phaser effect, but with the addition of stereo functionality and envelope followers.
Head Space: Old-school 4-head tape delay, sporting a plethora of tone-shaping tools for analog grit and character.
Bouquet Delay: Classic bucket-brigade delay with spacey modulation. Upgraded with pitch jump and self-oscillation for wild noisy experimentation.
Wormhole: Eventide describes this one as a "mega-sized hyper-modulated reverb" — that's about as apt of a description as you're going to get!
Weedwacker: A screaming 2-stage overdrive reminiscent of everyone's favorite green dirtbox.
Eventide H90 Harmonizer Multi-effects Pedal Features:
Contains 62 effect algorithms total, from the most basic always-on sounds to cutting-edge experimental modulation
Utilizes the same ARM-based architecture from the Eventide flagship H9000 Harmonizer for studio-quality fidelity
Contains all effect algorithms from the H9 Max, further improved with features previously only seen on plug-ins and dot9 pedals
10 new algorithms: 7 brand-new effects and 3 models inspired by legendary Eventide classics
Twin-turbo Program Power combines 2 different algorithms into a single program, with true spillover, series/parallel routing, and versatile I/O
Dual mono inserts that can be placed anywhere in the signal chain, allowing for seamless integration of outboard effects
Process 2 independent stereo sources or use the 4-cable method with Dual Mode
Front panel revamped with 5 push knobs, 7 LEDs, and an OLED display for streamlined functionality and effortless adjustment
2 expression pedal inputs; up to 3-button auxiliary switches and CV signals
MIDI in-out/thru for enhanced control
Instrument or line-level operation with gain control to accommodate a variety of input and output configurations
USB functionality and H90 control software provide deep editing possibilities
Built-in tuner to save another spot on your pedalboard
More information – Eventide