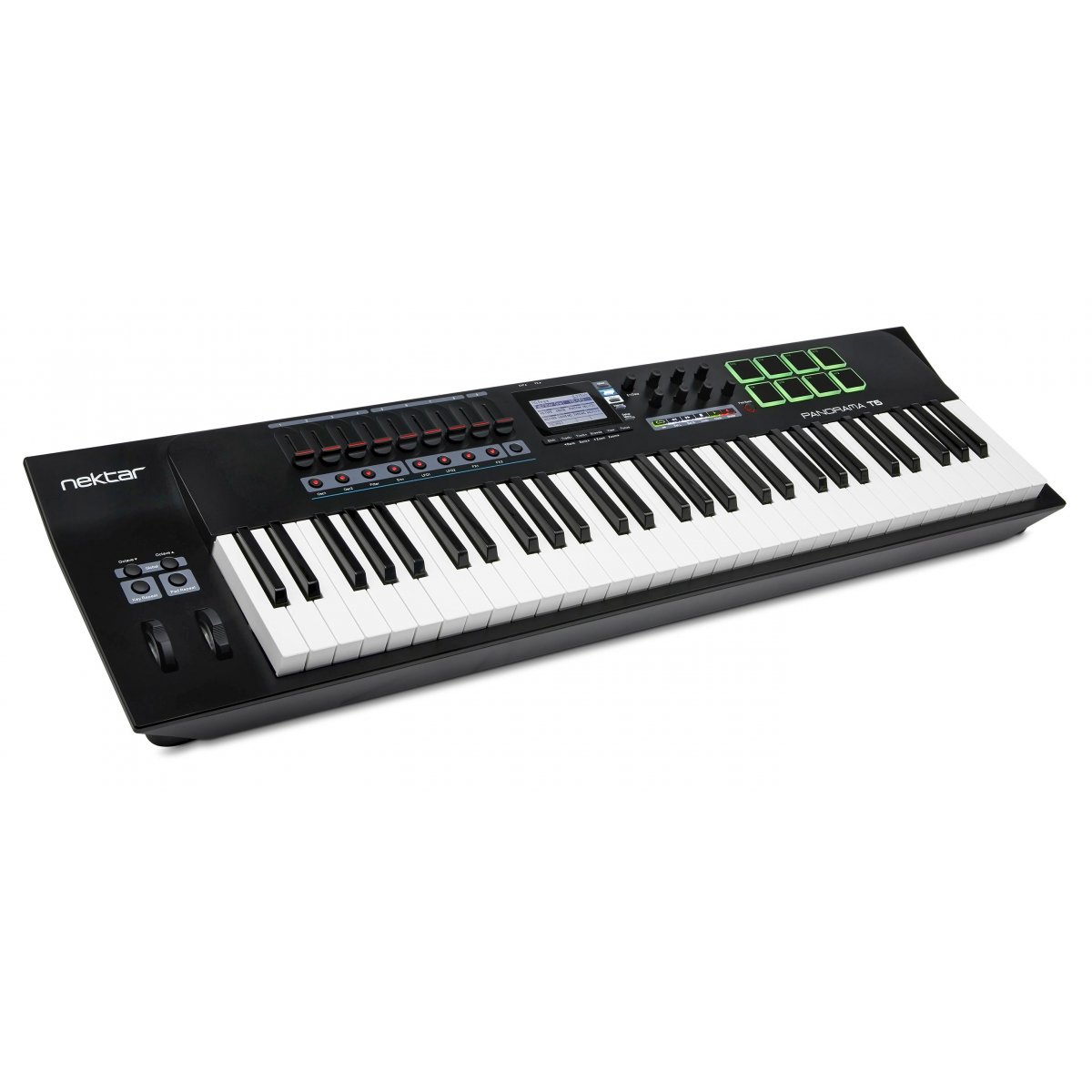 Panorama T4 & T6 are the first controllers to deliver Nektar-level instrument plugin control in any VST®/AU™ compatible DAW. Load patches directly from the keyboard and start controlling parameters immediately, with every change instantly visible on the LED display. Control any instrument plugin with one of the many included maps or customize and create your own. Discover new performance tools like the powerful chord, hold and note repeat functions. Tweak repeat parameters, plugin parameters and record it all in your DAW. Panorama T4 & T6 connect to most DAWs delivering track navigation, mixer and transport control with either Nektar DAW integration or MCU compatibility. Experience the unsurpassed integration of Panorama T4 and T6!
HIGHLIGHTS
Extended transport control with Goto Left locator, Set L and Set R locators, Undo, Click and Record Arm.
Mixer mode with display feedback, track listing, volume, pan and sends control.
Control of Smart/Quick Control in Logic and Cubase/Nuendo, channel macros in Studio One.
Dedicated maps for DAW's own included instruments.
Basic mapping of plugins not hosted in Nektarine, offering 2 encoder pages (1 in Studio One) and one fader control page.
Grab/learn parameters – take control of any parameter on the active instrument immediately.
Automatically detects and manages communication with Nektarine when inserted on a track.
Automation write/read activation.
CONNECTIONS
On the back of the Panorama T4 and T6 you'll find:
USB port for power and data connection to your computer
Foot switch jack, assignable (pedal not included)
Expression pedal jack (pedal not included)
MIDI Output
On/off switch
Keyboard
49 (T4) or 61 (T6) note 2nd Gen synth-action keyboard
velocity and aftertouch sensitive
4 velocity curves plus 1 fixed (adjustable)
Pitch bend & Modulation wheels
Octave shift buttons
Key & Pad Repeat Buttons
Controls
9 x 30mm faders
8 assignable LED buttons
8 assignable encoders
4 navigation buttons + shift for another 4 assignments
6 LED transport buttons
10 user configurable presets
Mixer, Instrument, Multi and Internal Mode Buttons
Display
128 x 64 px custom LCD display
adjustable contrast
Focus function displays current parameter line in large font.
Pads
8 velocity and pressure sensitive LED color pads
5 velocity curves plus fixed (adjustable)
Note-learn, Chord-Learn and Pad Repeat
Pads assignable notes and MIDI cc messages
Load or Save to any of 8 pad maps
Pad Bank button for access to another 8 pads
Connections
1/4" TS jack foot switch input (MIDI assignable)
1/4″ Expression pedal input (MIDI assignable)
MIDI Out socket (cable not included)
USB port on rear panel, and USB bus powered
Weight & Dimensions
T4: 82 cm (L) x 27.7 cm (D) x 8 cm(H), 6.4 kgs
T6: 98 cm (L) x 27.7 cm (D) x 8 cm(H), 7.6 kgs
System Requirements
Panorama T4/T6: USB class compliant (no driver needed)
Works with:
Windows XP, Vista, 7, 8, 10 or higher.
Mac OS X 10.5 or higher.
Linux with Bitwig or as USB class MIDI device. Firmware update required on either Windows or Mac OSX. Firmware not updateable on Linux.
Nektar DAW Integration: Windows Vista, 7, 8, 10 or higher. Mac OS X 10.7 or higher. Check Nektar DAW Integration documentation or marketing information for support of legacy DAW versions.
Nektarine: Windows 7,8,10 or higher. Mac OS X 10.7 or higher.