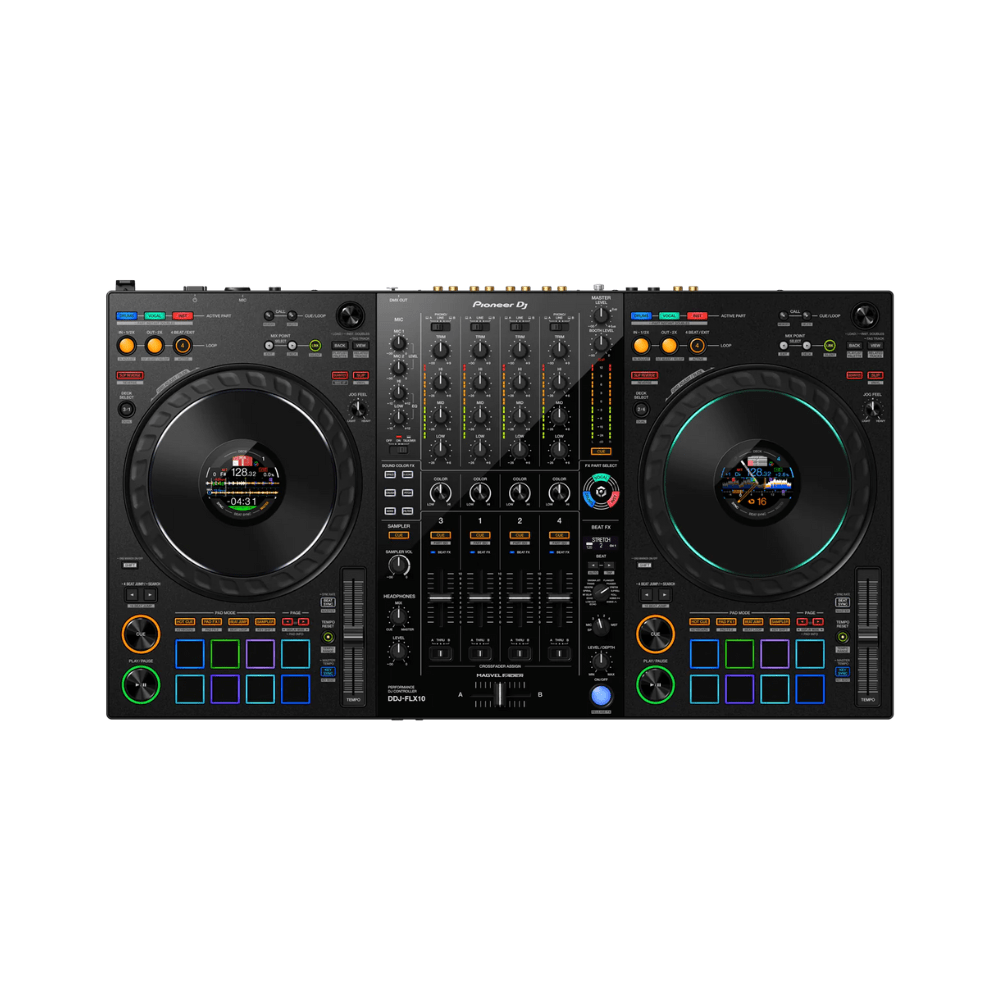 The DDJ-FLX10 is a 4-channel performance DJ controller for rekordbox and Serato DJ Pro. It includes a host of brand-new features including Track Separation technology, which enables new creative possibilities such as the easy performance of mash-ups on the fly with no need to prepare tracks in advance.
Track Separation for innovative performances including live mashups
Load the regular songs from your music library and create remixes and mash-ups on the fly by independently manipulating the 3 key parts of the music: vocals, drums, and inst (other instruments including bass and synths). There are dedicated color-coded buttons to control each part, so you'll always have a clear visual grasp of what's playing.
ACTIVE PART & PART ISO
Individually adjust the volume for the vocals, drums, or inst, or mute them completely.
FX PART SELECT
Choose which parts of a track you want to apply effects to.
PART INSTANT DOUBLES
Isolate a specific part of the track (vocal, drums, or inst) and transfer it to another deck.
Expanded On Jog Display
Customize the information you see on the jogs so there's no need to take your eyes off the decks. Choose from 4 modes, some of which show 3 Band Waveforms (rekordbox only), and keep an eye on Mix Point Link and rekordbox vocal position analysis information, as well as Performance Pad status.
DECK INFO MODE
Shows the information about the deck, including the Overall Waveform. (When using Serato DJ Pro, this mode shows the virtual deck of Serato DJ Pro.)
WAVEFORM MODE
Shows the Zoomed Waveforms for 2 decks.
ARTWORK DISPLAY
Shows the artwork for the track that's playing.
DJ LOGO DISPLAY
Shows your own logo or favorite image on each deck after using the Image Transfer Tool for PC/Mac.
New Mix Point Link for seamless transitions
Take advantage of a completely new playback concept in rekordbox that enables you to create slick musical progression in your sets by linking mix points in tracks so the next song kicks in at the perfect moment. You might set the next track to start from the beginning of its melody when the vocal of the current song ends, ensuring a seamless transition without a sound clash. There's no need to count down or press play manually, which also leaves your hands free to create mash-ups or add effects.
DMX output for rekordbox Lighting function
Liven up your performances with lighting effects that match the mood of the tracks you play. It's easy with the rekordbox Lighting function and, thanks to the DMX output on the DDJ-FLX10, you don't need any other equipment such as an external DMX interface. Simply connect DMX-compatible lighting equipment to the controller and use rekordbox to create custom lighting effects, or set the software to automatically adapt the color and movement of the lights to progress with the music.
Rekordbox and Serato DJ Pro compatibility
The DDJ-FLX10 offers free plug-and-play compatibility with rekordbox and Serato DJ Pro, giving you hands-on control of your favorite software application. DVS support is available for rekordbox via selected subscription plans, and for Serato via a paid license/subscription to Serato DJ Expansions or Serato DJ Suite.
Other Features:
USB Type-C
Connect your PC/Mac directly to the controller's USB Type-C terminal with a single cable.
Pitch 'n Time DJ
A voucher for the Serato Pitch 'n Time DJ Expansion Pack is included, which enables key shifting and key syncing with perfect audio quality.
Performance Pads
Hit the 8 back-lit rubber Performance Pads to trigger Hot Cues, Pad FX, Beat Jump, and the sampler.
Firmware Update Manager
You'll be automatically notified when firmware updates become available.
For more info and specification – visit the manufacturers website – Pioneer DJ DDJ-FLX10