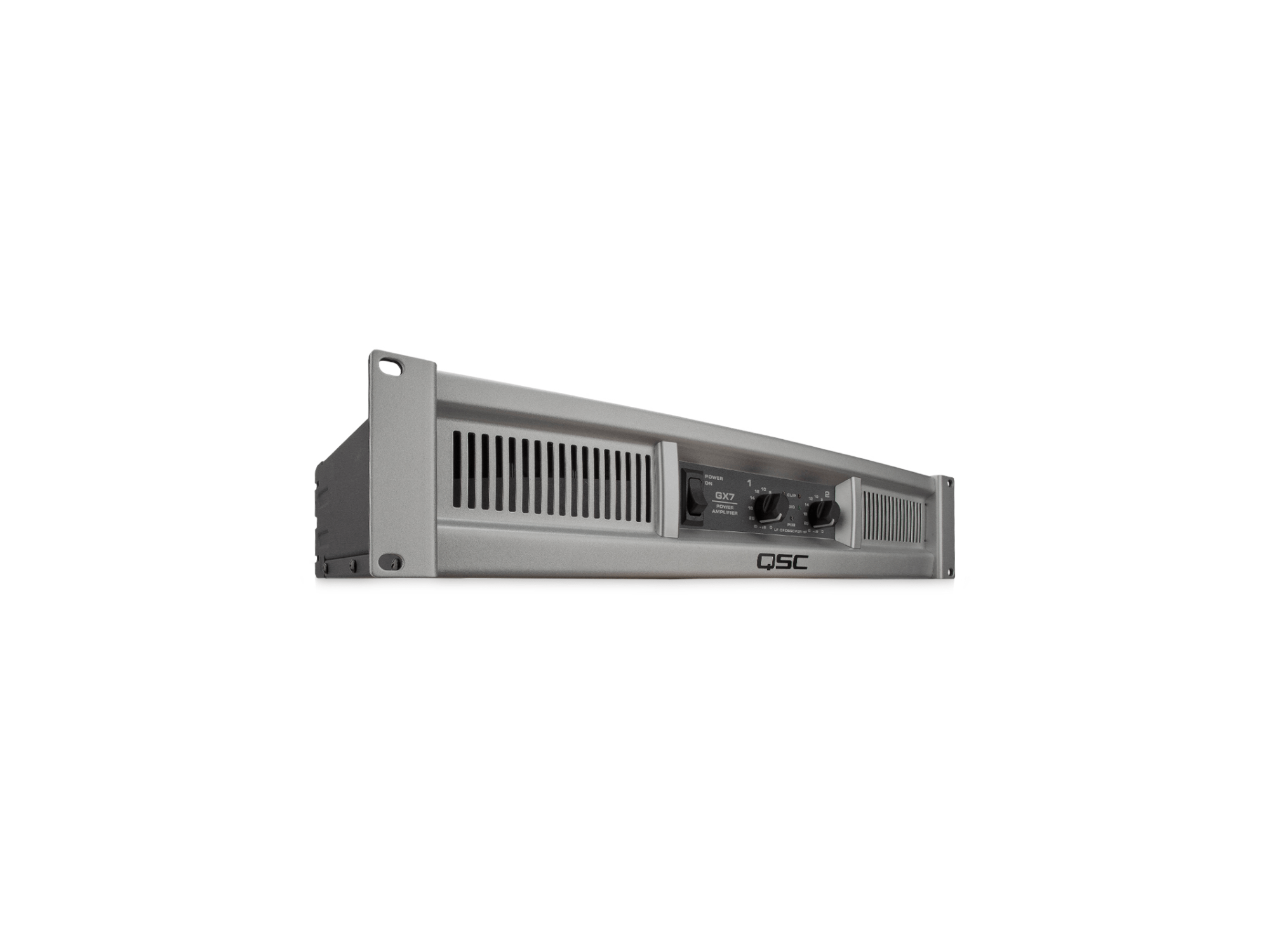 The QSC GX7 1,000-watt power amplifier gives your speakers the power they need while giving you the efficiency and protective features you want for easy operation and peace of mind. The GX7 uses advanced components for both light weight and reliability. Its Guardrail protection allows delivery of peak power while preventing overloads. It's equipped with a crossover switch, so adding a subwoofer to your system is a snap. Optimized for 4- and 8-ohm speakers, this amp also fits perfectly into popular racks, and its lightweight design (well under 20 lbs.) makes the GX7 incredibly easy to transport.
QSC GX7 700-watt Power Amplifier Features at a Glance:
Power levels matched to the most popular speakers
Optimized for maximum real-world headroom into 4 ohm and 8 ohm speaker systems
Inputs: XLR, 1/4″ TRS and phono input connectors for compatibility with any source
Outputs: Speakon combo accepts, 1/4″ (TS) plugs or Speakon 2-pole and 4-pole plugs (connects 2 poles only). Binding posts support all other speaker wiring systems.
Minimum depth chassis (10.1″) fits in compact, inexpensive effects racks
Lightweight – less than 20 lbs.
Detented gain controls for precise setting and matching of sensitivity
GuardRail automatically protects the amplifier and loudspeakers from damage due to temperature rise or overdrive without shutting down the show
Front panel LEDs monitor power, signal and clipping
Subwoofer/Satellite crossover built-in
725W – 8 Ohm per ch (2 ch)
800W – 8 Ohm (1 ch)
1000W – 4 Ohm per ch (2 ch)
1200W – 4 Ohm (1 ch)
3.5″ H x 19″ W x 10.1″ D
15.5 lbs.
The QSC GX7 provides 1,000 watts of dependable, safe power!
More information – QSC