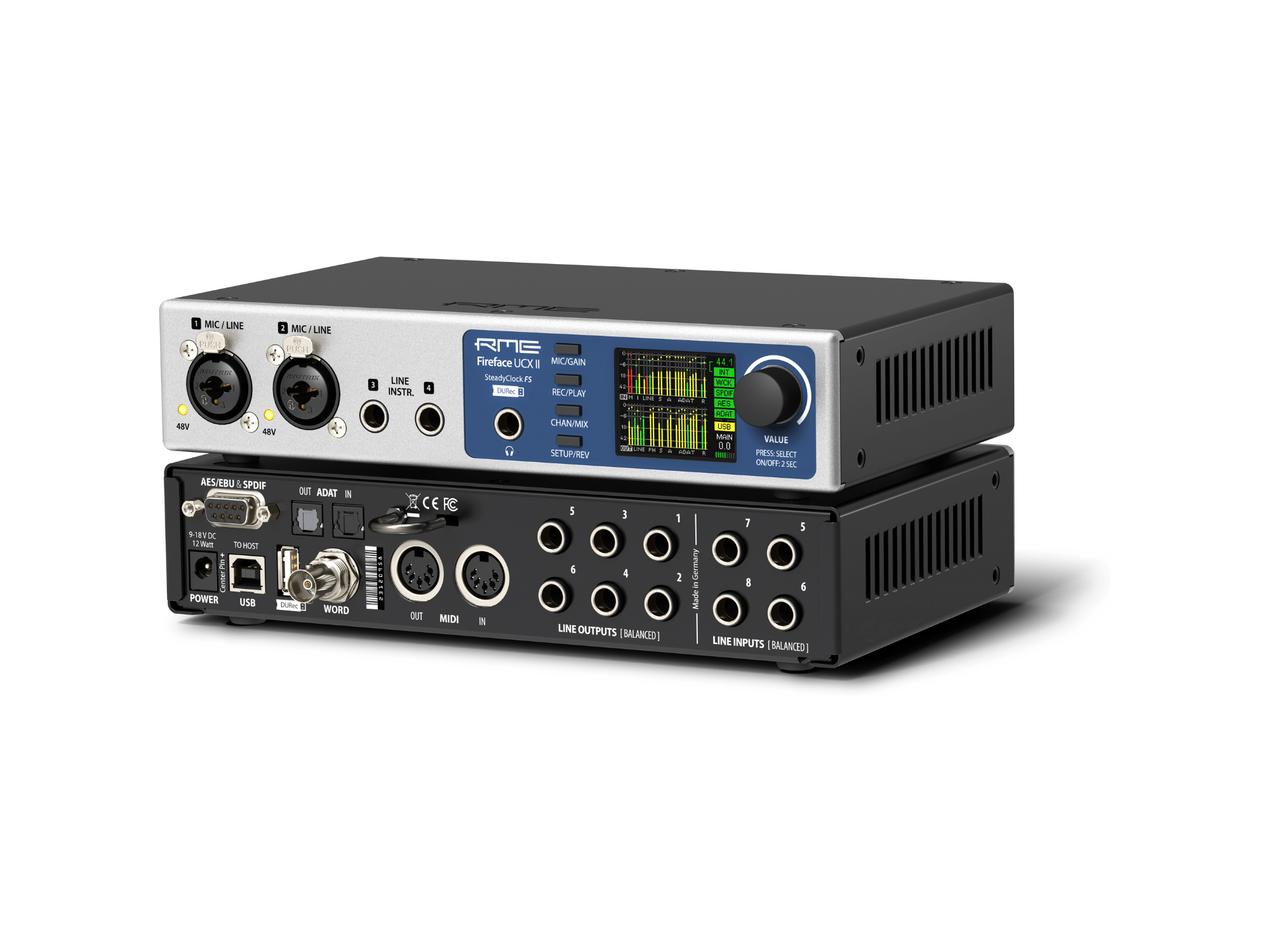 The Fireface UCX II is a highly integrated pro audio solution in an ultra-compact format for studio and live recordings. It continues RME's long tradition of designing compact advanced interfaces, packing into a half-rack size unit what usually would be spread out over two or three 19 inch panels.
This unique audio system is capable of transferring analog and digital audio data directly to Windows and Mac computers. The latest Plug and Play technology guarantees a simple installation, even for the inexperienced user. Numerous unique features like a well thought-out Settings dialog and an integrated routing solution realize a quick, comfortable and efficient operation of the Fireface UCX II.
The Fireface UCX II houses two mic/line preamps in XLR combo configuration on the front panel, along with two digitally controlled line/instrument inputs, followed by a headphone jack, various control buttons, a display, and the main volume knob. At the rear is a set of ten analogue balanced line inputs and outputs, MIDI I/O, ADAT I/O, AES/EBU and SPDIF I/O, USB 2.0 as well as a switchable word clock I/O.
With the SteadyClock FS, the Fireface UCX II features the latest clock and jitter rejection technology from RME. Based on a femtosecond clock, SteadyClock FS reduces the intrinsic jitter when converting from and to analogue over all digital formats to a new all-time low.
General
Power supply: external power supply
Typical power consumption: 13 Watts
Current at 12 Volt operating voltage: 910 mA (11 Watts)
Dimensions incl. rack ears, full depth (WxHxD): 265 x 44 x 155 mm (10.5″ x 1.73″ x 6.1″)
Dimensions without rack ears, body depth (WxHxD): 215 x 44 x 130 mm (8.5″ x 1.73″ x 5.1″)
Weight: 910 g ( 2.0 lbs)
Temperature range: +5° up to +50° Celsius (41° F up to 122°F)
Relative humidity: < 75%, non condensing