Krāsa

Melna

Sintezatora Tips

Digitāls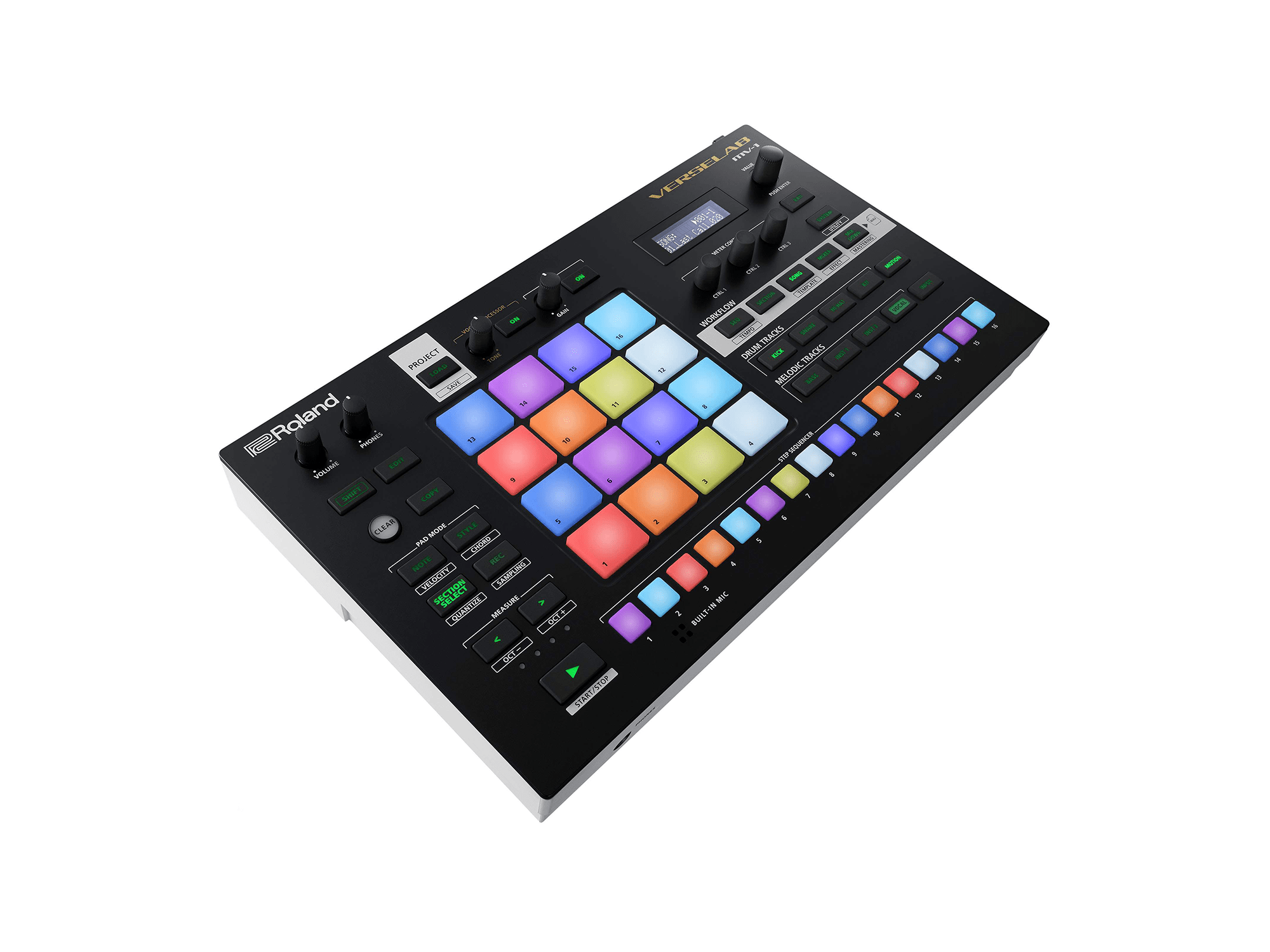 Finish more music.
When inspiration strikes, VERSELAB helps you capture, refine, and finish your ideas. The fluid, hands-on workflow simplifies music making with modern vocal recording, pattern generators, thousands of ZEN-Core sounds, mastering effects, and more. Plug-and-play integration with Roland's Zenbeats app expands your production capabilities using your computer or mobile device.
Finish complete songs with inspiring hands-on workflow
Record vocals with modern effects like Auto-Pitch, Harmonizer, and Doubler
Curated collection of over 3000 sounds for modern styles from the makers of the TR-808
4×4 pads and TR-REC step sequencer for drums, basslines, and melodic parts
Songwriting tools and generators get you started and keep you flowing
Interface with your smartphone, tablet, or computer for easy file transfer
Plug-and-play integration with Roland Zenbeats app expands your production capabilities
High-quality mixing and mastering effects for pro results
Make music on the move with power via a mobile battery or USB
Built-in mic and XLR mic input with phantom power
Stereo ¼-inch I/O, dual headphones jacks, and MIDI I/O
Hit the ground running.
Music production can require a lot of time, money, and expertise. And for many new producers, it's hard to know where to begin. VERSELAB has everything you need to make radio-ready tracks without all the complications, so you can focus on what matters most—your music.
From intro to outro.
If you're a vocalist, beatmaker, or both, it's easy to create complete songs with VERSELAB, regardless of your skill level. Move fluidly from ideas to beats, hooks, and your listeners' ears with song templates, pattern generators, and a guided workflow that keeps you on track. Whether you're just getting started, getting lost with too many options, or need to take a sledgehammer to writer's block, VERSELAB is there to keep it moving.
Bars meet beats.
VERSELAB is designed for modern music making and vocal recording. The high-quality XLR mic input makes it easy to record vocals with built-in effects like Auto-Pitch, Harmonizer, Doubler and more. Just plug in a mic, dial in the sound, and go. With 16 easy access takes and the ability to copy them anywhere in your song, arranging is a snap.
Hands-on music making.
Go beyond the mouse and keyboard with VERSELAB's inspiring RGB-lit pads and hands-on controls. Combining the TR-REC step sequencer found in legendary Roland drum machines with an ultra-responsive 4×4 pad matrix, you can bang out drum tracks, basslines, and melodic parts as fast as they come to you.