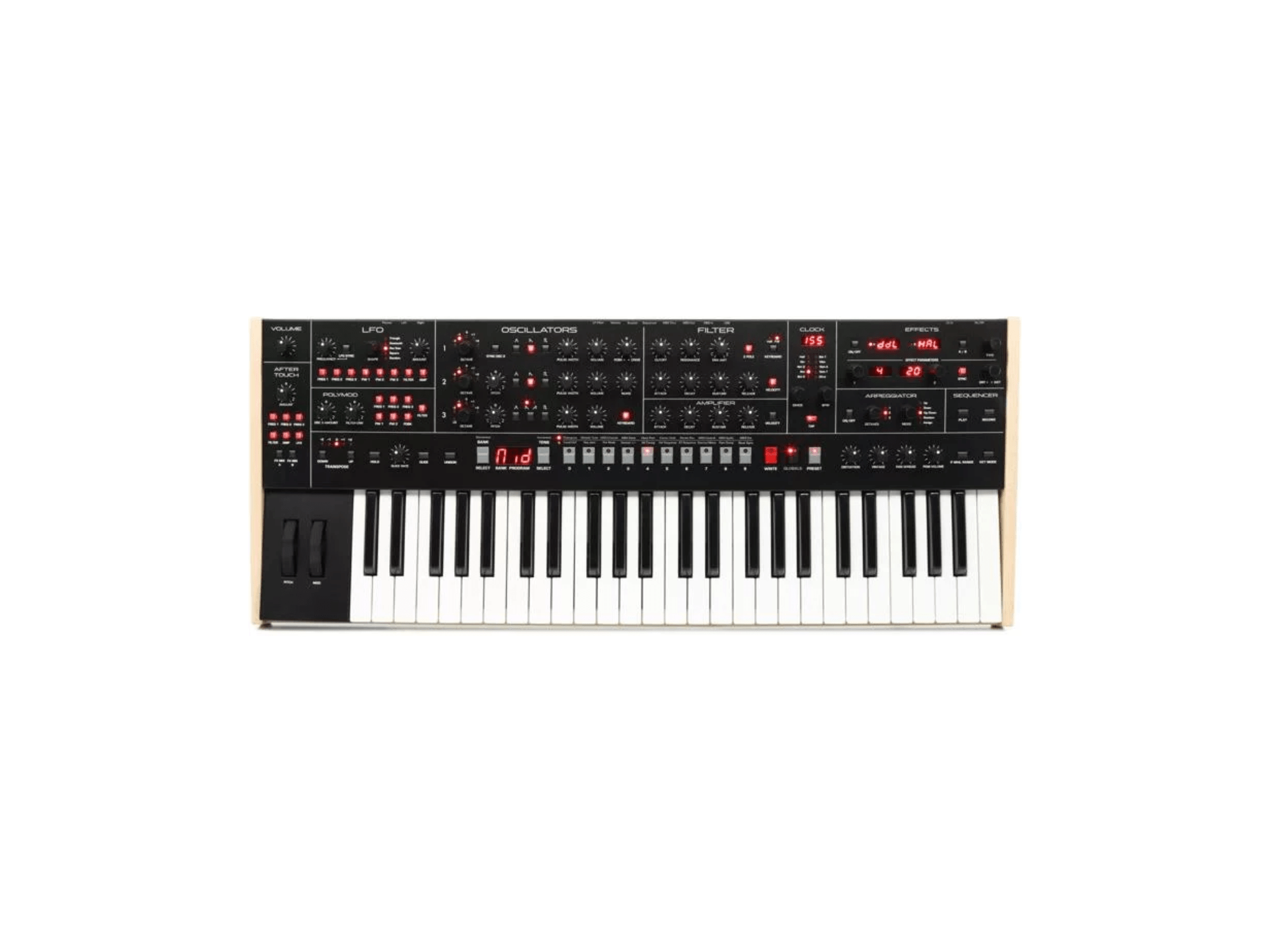 With a nearly half-century lineage that begins with the legendary Prophet-5, Sequential has applied their hallmark expertise to bring their iconic sonics to an innovative 6-voice synthesizer: Trigon-6.
Loaded with three discrete VCOs per voice, polyphonic performance is rich and distinctive, augmented by the newly reimagined take on the ladder filter originally created for the Pro 3. Versatile control of waveshape, lowpass filter, LFO, and envelope generator parameters allow for vast aural exploration, enhanced by a robust suite of destination and sync choices, as well as a powerful poly mod tools. Onboard FX, arpeggiator, and sequencer options broaden the scope of playback, enriched with numerous performance modes and a dynamic aftertouch. With 500 presets to explore and room for 500 more of your design.
Spatialized soundscapes and robust rhythms
Bolster your sound with the texturizing tools of Sequential's formidable FX suite. Fully digital at 24-bit/48kHz, the A and B mixes include multiple delay and reverb options, as well as chorus, flanger, phase shifter, and ring modulation. Push the vintage-inspired circuitry to its harmonic edges with gritty, stereo analog distortion, or hit the true bypass to maintain a fully analog signal path. Utilize the 3-octave range of the versatile arpeggiator to elicit compelling playback, or ramp up the rhythm with the polyphonic 64-step sequencer. Stack or arrange your sonics across multiple voice modes, including a configurable-count unison, chord, or key. Plus, the polyphonic portamento is a striking supplement to the Trigon's 6-voice scope.
Sequential Trigon-6 6-voice 49-key Polyphonic Analog Synthesizer Features:
Semi-weighted and velocity-sensitive keys abound over an 8-octave range to balance sonic access and physical form factor
6-voice polyphony includes 3 VCOs per-voice for versatile voicing
Waveshapes are simultaneously selectable with dedicated per-oscillator PWM control to create striking and varied patches
Comprehensive LFO and Polymod tools allow for flexible destination options and complex patch-building
Reimagined classic ladder filter boasts switchable 2-/4-pole options and more, per voice
Carve out complex envelope generation with individuated 4-stage ADSR filter and amplifier envelopes
Dual, digital FX channels operate at an unrelenting 24-bit/48kHz
Spatializing FX offer reverb (room, hall, plate, spring), delay (sync, full-bandwdith digital, emulated bucket brigade), chorus, flanger, and phase shifter
Sweeping texturization tools are comprised of stereo, analog distortion and vintage knob for timeless character
Reactive aftertouch options include simultaneous selection from a choice of 8 destinations, included A and B FX mixes
Versatile voicing comprises variable selections in unison mode, as well as chord, key, and latch options
Glide through sonic vistas with polyphonic portamento, a spring-loaded and customizable pitch wheel, and an 8-octave transposition range
64-step sequencer is fully polyphonic for compelling rhythmic arrangements
Arpeggiator traverses up to 3 octaves with multiple playback choices and note values
Power-of-10 programming bank includes 500 potent presets and 500 user-programmable slots
Streamlined and accommodating formfactor enable total control with ease
Robust I/O suite includes 5-pin MIDI in/out/thru, USB-B for bidirectional MIDI, 1/4-inch stereo and headphone outputs, as well as multiple expression and footswitch ports
More information – Sequential