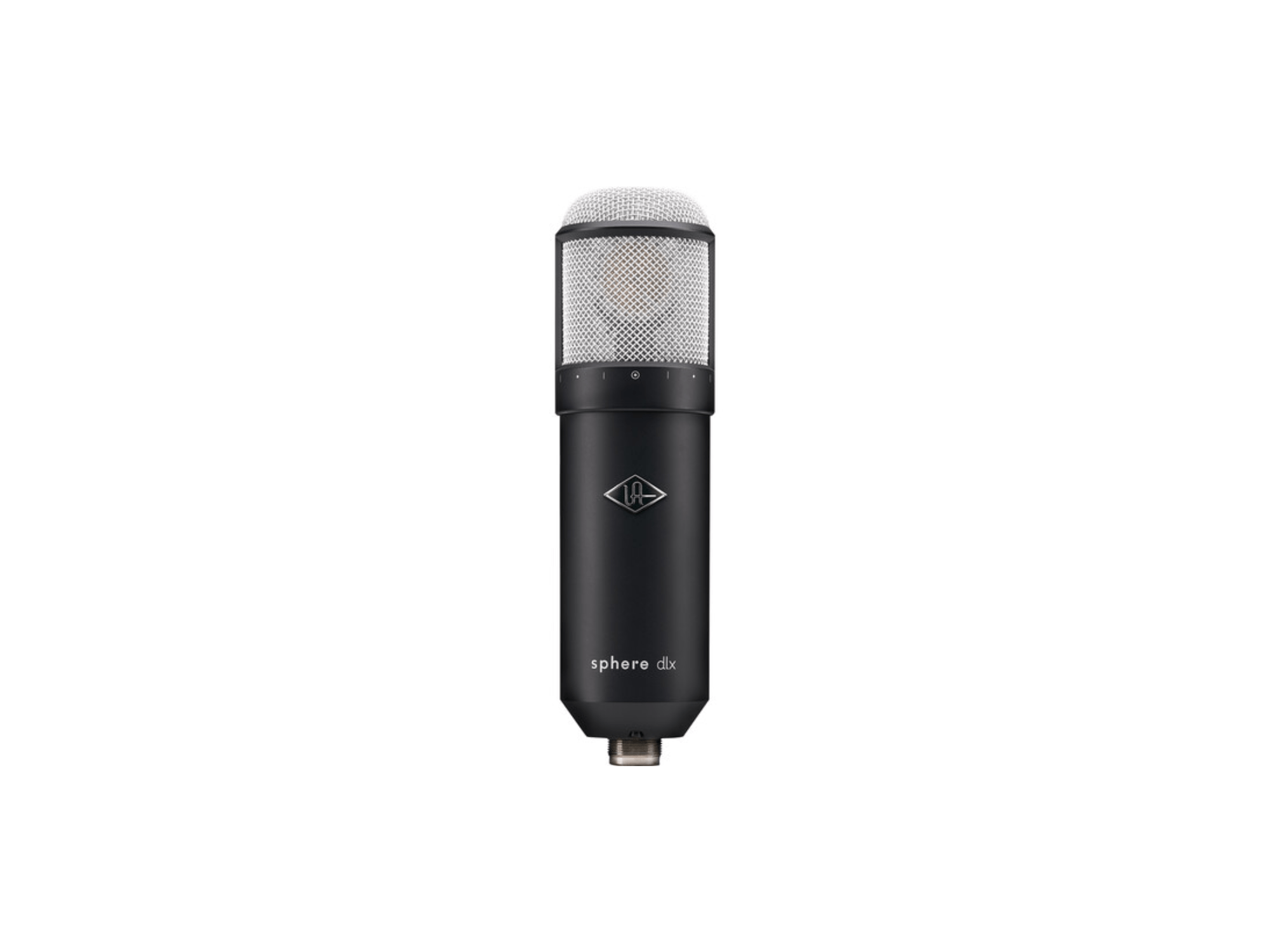 The Universal Audio Sphere DLX Modeling Microphone combines a large-diaphragm condenser microphone with the Sphere 180 DLX plug-in to accurately model 38 of the most sought-after vintage microphones including Neumann, Telefunken, AKG, and more.
The mic can be configured to operate either in mono or in stereo. Auditioning and switching between mics during a session can be tedious, but thanks to the plug-in, you can change mic type, polar pattern, reduce bleed, room coloration, and even adjust the proximity effect—either during or after tracking vocals, acoustic and electric guitars, stringed and wind instruments, percussion, room sound, and more.
The Sphere DLX is a dual-capsule microphone with dual outputs, custom-designed to capture the three-dimensional soundfield with exacting detail—including the directional and distance information otherwise lost with a conventional single-channel microphone. Remarkably rugged and featuring -10 and -20 dB pads, the mic can handle in excess of 140 dB SPL before clipping and won't be damaged by high SPLs or air blasts as some vintage microphones can be. It also has a self-noise level of 7 dB-A SPL, well below most vintage microphones and comparable to many of the best modern microphones. Two XLR mic preamp inputs are needed to operate the mic with the plug-in, as all mic-modeling and other advanced DSP features occur in the Sphere 180 DLX software. Note that the mic can also be used as a standard condenser mic (no modeling) with only one XLR mic preamp required.
Grab the Keys to the Ultimate Mic Locker
The Sphere plug-in gives you access to 38 of the most prized ribbon, condenser, and dynamic microphones ever made.
Get the sound of a classic 47 (with VF14 tube), 67, M49, C12, and 800 to name a few.
Sphere 180 DLX Mic Modeling Plug-In Optimized for the Apollo
The Sphere 180 DLX plug-in (free download available separately) allows the user to change the mic type and polar pattern even after tracking.
Pairing the software with the Apollo audio interface greatly simplifies the process of matching the two mic-preamps required for the plug-in to work.
Adjustable Proximity Effect: eliminates the need to move a microphone solely because of too little or too much bass due to proximity effect—great for punching in a vocal where distance from the mic varies from take to take.
Off-Axis Correction: create more accurate polar patterns to reduce bleed, room coloration, and susceptibility to feedback before or after tracking.
Sphere supports a wide range of plug-in formats, including UAD, AAX DSP, AAX Native, VST2, VST3, and Audio Units on Mac and Windows.
Record in Stereo with One Mic
Thanks to its dual-capsule design, the Sphere DLX lets you easily record piano, drums, strings, and more in stereo.
You can even use different mic models on the left and right channels for a more colorful stereo image.
Plus, you can blend the sound of two mono Sphere DLX mics using Dual Mode, and get classic-sounding mic recipes on snare drums and guitar cabs.
Available patterns:
Omni, Sub-Omni
Wide-Cardioid, Subcardioid, Cardioid
Supercardioid, Hypercardioid
Sub-8, Figure-8
More information – Universal Audio