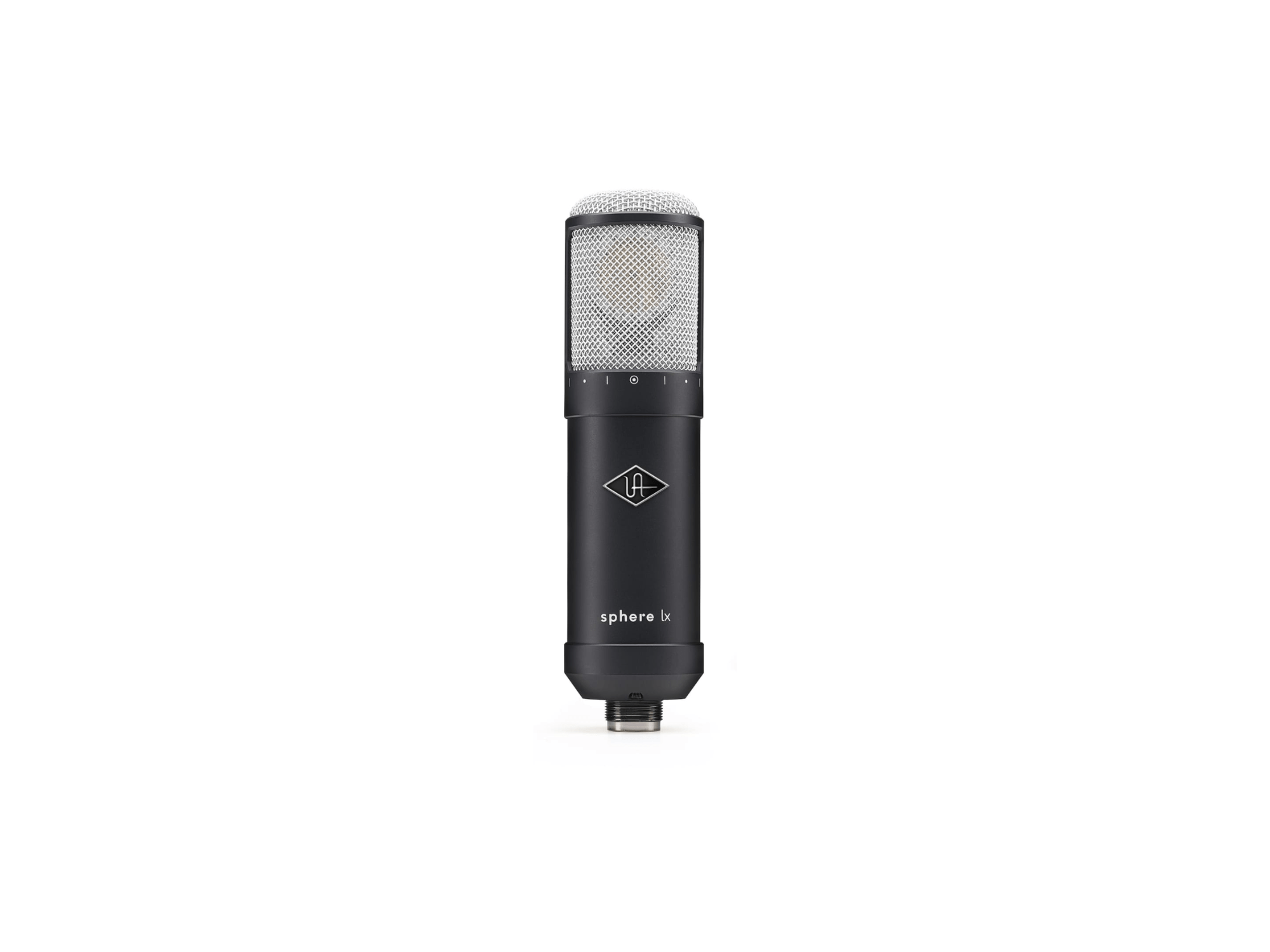 Grab the Keys to the Ultimate Mic Locker
The Universal Audio Sphere LX Modeling Microphone combines a large-diaphragm condenser microphone with the Sphere LX plug-in to accurately model 20 of the most sought-after vintage microphones, including Neumann, Telefunken, AKG, and more.
Auditioning and switching between mics during a session can be tedious, but thanks to the plug-in, you can change mic type, polar pattern, reduce bleed, room coloration, and even adjust the proximity effect—either during or after tracking vocals, acoustic and electric guitars, stringed and wind instruments, percussion, room sound, and more.
Get the sound of a classic 47 (with VF14 tube), 67, M49, C12, and 800 to name a few.Sphere LX Mic-Modeling Plug-In Optimized for the ApolloThe Sphere LX plug-in (free download available separately) allows the user to change the mic type and polar pattern even after tracking.
Pairing the software with the Apollo audio interface greatly simplifies the process of matching the two mic-preamps required for the plug-in to work.
Adjustable proximity effect: eliminates the need to move a microphone solely because of too little or too much bass due to proximity effect—great for punching in a vocal where distance from the mic varies from take to take.
Off-axis correction: create more accurate polar patterns to reduce bleed, room coloration, and susceptibility to feedback before or after tracking.
Sphere supports a wide range of plug-in formats, including UAD, AAX DSP, AAX Native, VST2, VST3, and Audio Units on Mac and Windows.
Use Dual Mode for Classic Mic Pairings
Blend the sound of two mono mics with Sphere LX's Dual Mode and get rich-sounding mic combinations on snare drums and guitar cabs.
Polar-Pattern Modeling
The Polar control lets you adjust the pickup pattern of the mic model, with the additional advantage of being able to select intermediate polar patterns that the original mic did not have. For microphones with a single pattern, the pattern control is fixed to that pattern.
Available patterns and features:
Omni, Sub-Omni
Wide-Cardioid, Subcardioid, Cardioid
Supercardioid, Hypercardioid
Sub-8, Figure-8
Real-Time Processing with Low Latency
With Universal Audio Apollo interfaces (available separately), you can achieve extremely low latency (approx. 1.6ms round trip at 96 kHz) for seamless real-time performance.
The AAX DSP format allows for low-latency performance on Avid HDX systems.
Optimize the Mic for Your Specific Acoustic Treatment
The IsoSphere function in the Sphere LX plug-in optimizes how the Sphere LX microphone works together with commonly available isolation devices—such as the sE Reflexion Filters, Aston Halo, Kaotica Eyeball, and even vocal booths.
IsoSphere enhances off-axis behavior for maximum rejection and modifies frequency response to compensate for unwanted coloration, leading to even better-sounding recordings.
Built to Last a Lifetime
With dual, gold-sputtered diaphragms, the Sphere LX outfits your studio with a premium, large-diaphragm condenser microphone, precision-built to deliver years of inspiration for your recordings and music productions.
More information – Universal Audio