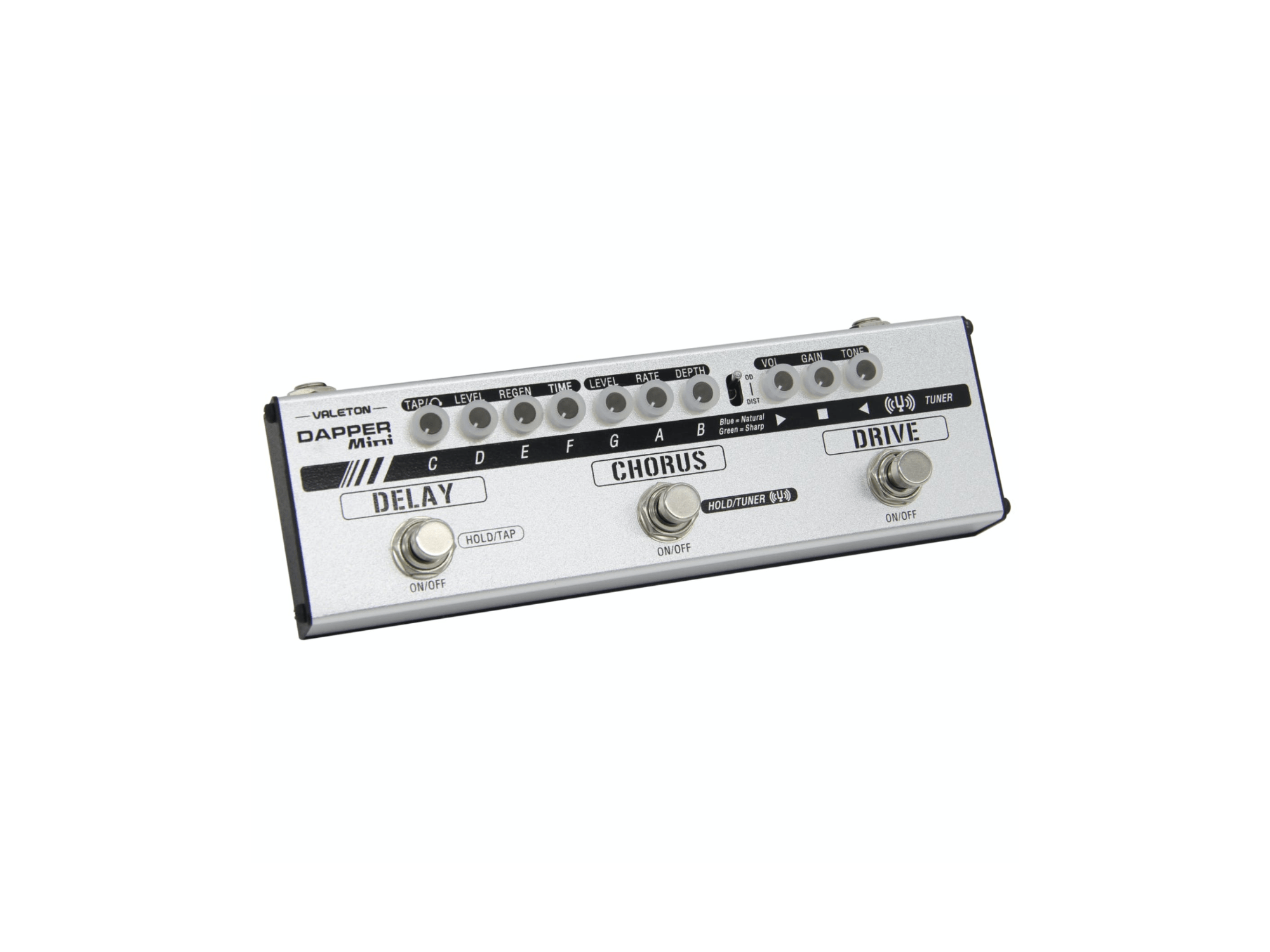 The Valeton Dapper Mini is an ultra-compact effects strip equipped with 3 must-have sounds for the performing guitar player — versatile overdrive/distortion, lush chorus and exquisite, analogue-style delay!
This ergonomic and affordable little unit allows you to create the ultimate fly rig, and can easily fit inside your gigbag's storage pocket.
Effect Modules
1. TUNER: First in line is a stealth-fast and accurate tuner, so you can play confidently in tune!
2. DRIVE: This module is an overdrive/distortion combo. Use the toggle to select between slick honey and mean dirt! In OD mode, you get a warm, punchy overdrive. In DIST mode, you get that classic British high-gain sound.
3. CHORUS: Creates a lush "doubled" sound. Fine-tune with the onboard 'Rate' and 'Depth' knobs to beef up your cleans or give some extra body to your drives.
4. DELAY: Use the analogue-voiced delay module to thicken up your riffs and solos with warm, clear repeats. Hold the footswitch to switch 'Tap Tempo' function on/off.
5. PHONES (WITH CAB SIM): Plug your earphones into the dedicated jack for silent practice. It's equipped with a cab simulator, so you can run Dapper Mini right to your headphones and sound like you're playing through a full amp stack!
Specifications
Power: 9V DC (Center Negative)
Current Draw: 110mA
Dimensions: 65mm (D) x 197mm (W) x 42mm (H)
Weight: 417g
Max. Delay Time: 1000ms
More information – Valeton