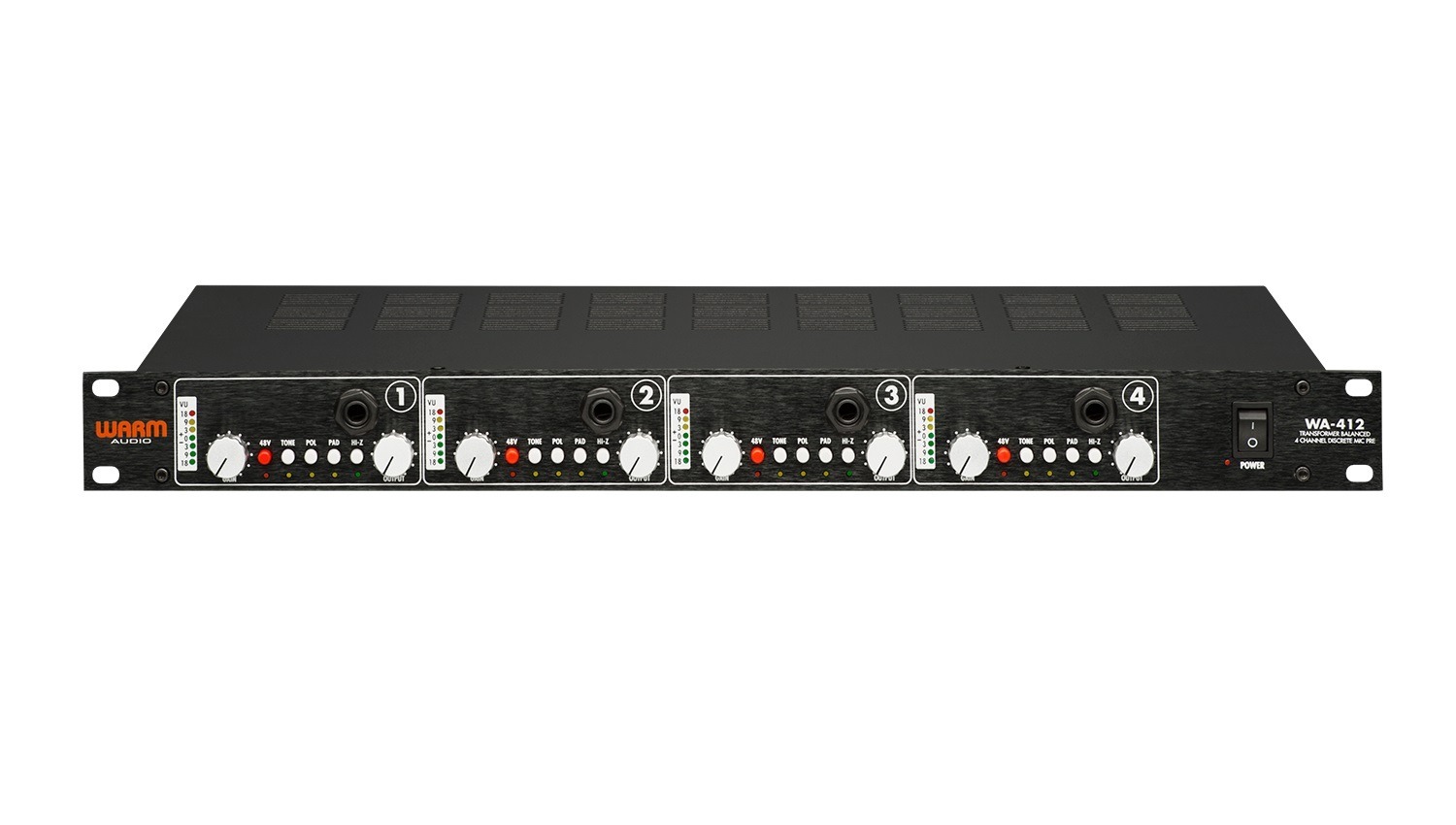 What can the WA-412 do for you?
Need to record dynamic, impactful drums? With a pair of WA-412s, you could track a full multi-miked drum kit. Pack your rack with four of them, and you've got a console's worth of killer preamps to track the entire band. The WA-412 supplies all the features you need. Warm Audio started with their take on a classic schematic. Then they added an output trim to each channel for exacting control and creative gain staging. Another modern innovation is the Tone switch on each channel, which switches transformer input impedance to give you the choice between punchy vintage console tone and a more neutral, open sound.
Quality components make the Warm difference
You know if your front end's not right, the rest of your signal chain doesn't matter. Most pro engineers have laid down heavy cash for a top-quality mic preamp; it was simply the cost of entry for world-class sonics. Now, at Sweetwater, we're all about performance and value, and Warm Audio has upended that equation. The company doesn't cut corners on components, but they do order parts and build in quantity, which keeps costs down and delivers amazing value. Each channel of the WA-412 features a fully discrete, socketed op-amp (yes – it's swappable with other op-amps) with high headroom and low distortion – a defining sonic characteristic of these vintage console pres. Custom vintage-wound Altran USA transformers also contribute to the authoritative sound of the WA-412.
Warm Audio WA-412 4-channel Microphone Preamp/DI Features:
Based on a classic American console preamp design known for its punchy, bold sonics
Fully discrete, transformer-coupled, through-hole component topology
Custom-wound, premium Altran USA input and output transformers on each channel
Discrete X520 socketed op-amp on every channel

May be user-swapped with most 6-pin, discrete op-amps

65db of gain; 20dB pad (pads both mic and instrument inputs)
Inputs: microphone (XLR), active instrument direct-injection (1/4″)
Outputs: transformer-balanced XLR and TRS.
Tone button – switches input impedance from 600 ohms to 150 ohms

Changes tone of both mic and DI inputs

Phantom power (+48 volts), switchable per channel
LED metering per channel
Output trim knob per channel for exacting level control and sound sculpting
Internal power supply (grounded, 3-pin IEC power cable)
Tech Specs
Preamp Type:

Solid State

Number of Channels:

4

Phantom Power:

Yes

Analog Inputs:

4 x XLR (mic), 4 x 1/4″ (Hi-Z)

Analog Outputs:

4 x XLR, 4 x 1/4″

Rack Spaces:

1U

Manufacturer Part Number:

WA412
More info, https://warmaudio.com/wa412/