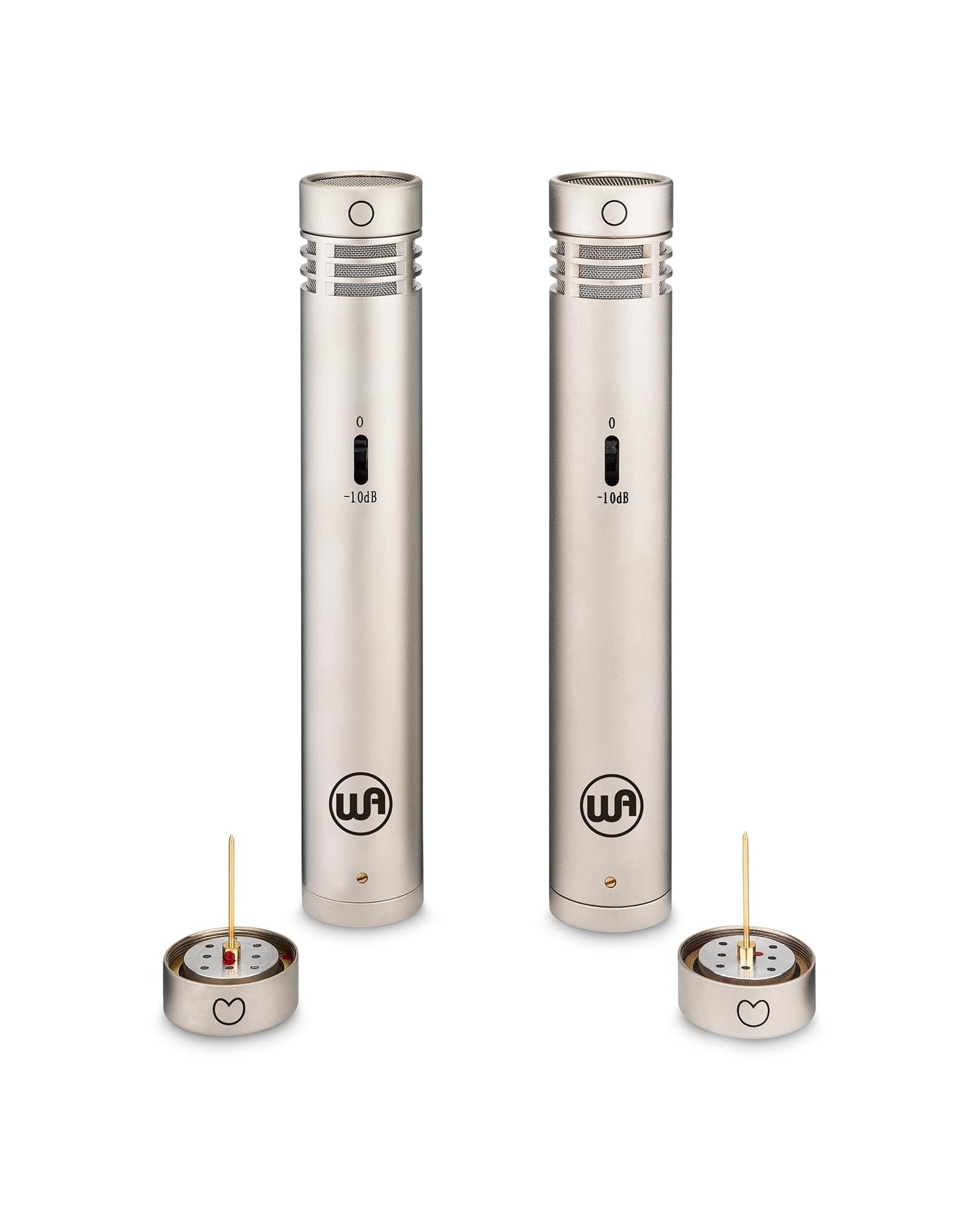 Their acclaimed compressors and preamps have famously upset the pro audio price/performance ratio. When Warm Audio turned its attention to the granddaddy of small-diaphragm FET condenser microphones, you know it had to be good. And it is. Flash back to any top recording studio in the 1970s. You'll see the venerable '84 everywhere. Sweetwater engineers who have worked with different generations of this perennial studio favorite know that the vintage ones have a warmer, more forgiving sonic character. It's these circuit designs — dating back nearly half a century — that Warm Audio closely followed for the WA-84. And this edition features both cardioid and omnidirectional capsules for greater flexibility. Stellar performance, top-shelf parts, and amazing value: that's the Warm formula — and the WA-84 nails it.
What can the WA-84 do for you?
Every studio needs at least one pair of high-quality small-diaphragm condenser mics, and the Warm Audio WA-84 is designed after a legendary one. With its versatile cardioid polar pattern and 10dB pad, you can use the WA-84 on any instrument — with world-class results. It makes snares and tom toms sound huge. It's great for drum overheads, capturing cymbals with warmth and vibrancy. It's perfect for adding a bit of room to complement a close dynamic or ribbon mic on a guitar cabinet. Engage the pad, and move the mic right up on the speaker grille.
Double your value with this matched stereo pair
The WA-84 is an ideal choice for piano, vibraphone, marimba, congas, strings, woodwinds, and so much more. The list goes on, but suffice to say: You haven't lived until you've heard a grand piano spring to life when miked with a pair of WA-84s. For drum room mics, use two of them and nuke the stereo signal with a fast limiter. Positively explosive! Considering its amazing price, you're wise to consider a matched pair of these excellent mics for recording tracks in stereo. You'll not only doubling your value — you're getting a valuable addition to your mic locker you'll reach session after session!
Warm Audio WA-84 Small-diaphragm Condenser Mic Stereo Pair Features:
Cardioid and omni capsules
Fully discrete signal path
Vintage reproduction capsule
CineMag USA Transformer
48V phantom powered
Frequency Range: 20Hz–20kHz
Sensitivity: -39dB or 11mV/Pa @ 1kHz
Output Impedance: 200Ω
Rated Load Impedance: ≥1kΩ
Switchable Pad: -10dB
Maximum SPL: 123/133dB @ 1kHz, 0.5% THD, 0/-10dB
S/N Ratio: 78dBA (IEC651)
Equivalent noise: 16dBA (IEC651)
Dynamic range: 107dBA (IEC651)
Connector: 3-pin gold-plated XLR
Includes microphones, cardioid capsules, omni capsules, shockmounts, mic clips, windscreens, and carrying case
Stereo Pair includes 2 of each item in a single carrying case
Tech Specs
Microphone Type:

Condenser

Mono/Stereo:

Stereo Pair

Polar Pattern:

Cardioid, Omni (interchangeable capsules)

Diaphragm Size:

Small Diaphragm

Frequency Range:

20Hz-20kHz

Max SPL:

123dB SPL (133dB with pad)

Sensitivity:

11mV/Pa @ 1kHz

Output Impedance:

200 ohms

Signal to Noise Ratio:

78dB (A weighted)

Self Noise:

16dB (A weighted)

Pads:

-10dB

Color:

Nickel

Connector:

XLR

Power Source:

48V phantom power

Dimensions:

5.19″ x 0.86″

Weight:

0.27 lbs.

Included Accessories:

Shockmount, Windscreen, Mic Clip, Carrying Case

Manufacturer Part Number:

WA84-OC-N-ST
More info, https://warmaudio.com/wa-84-premium-stereo-package/