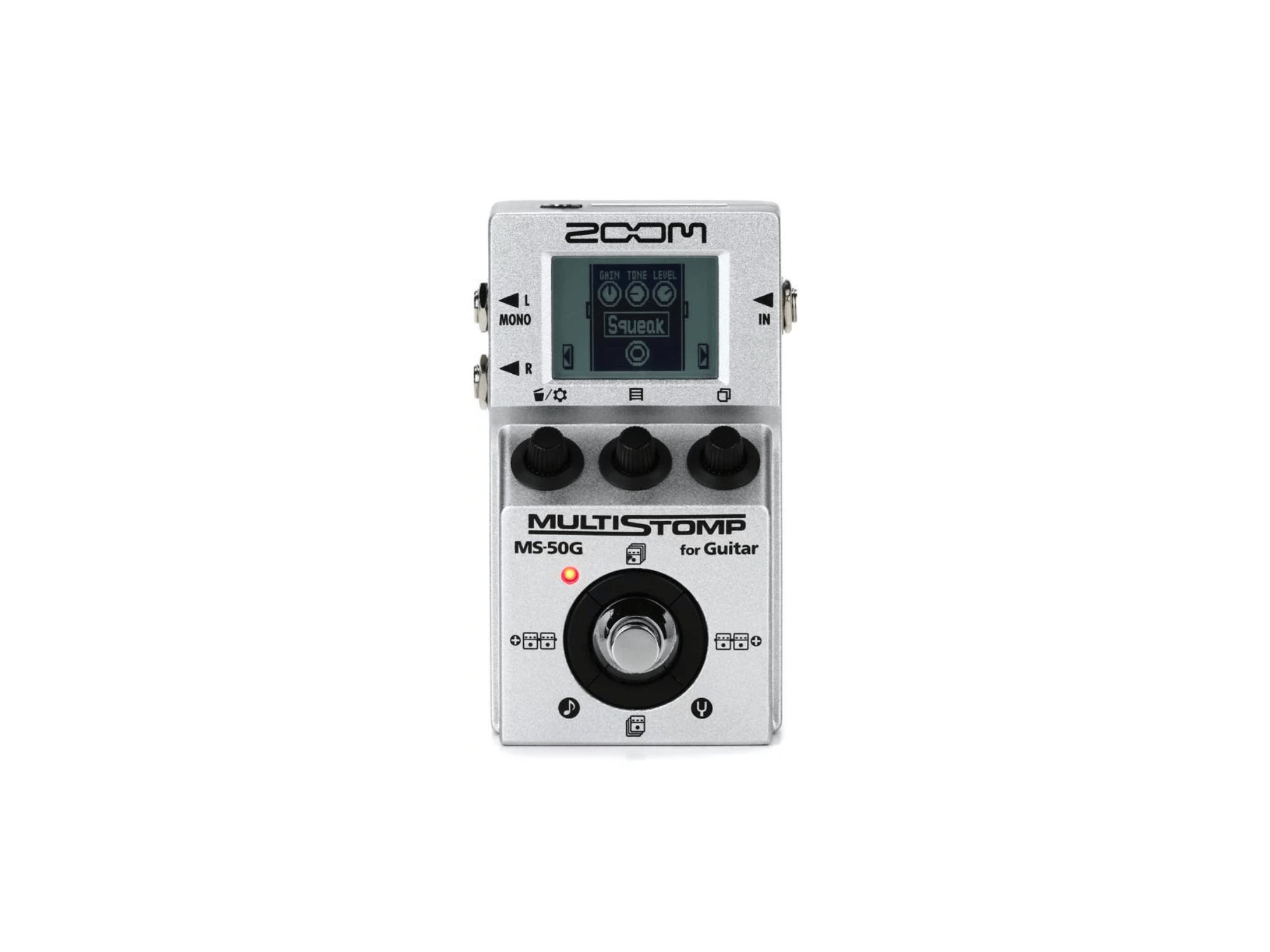 What makes the MS-50G so cool?
Zoom's MS-50G MultiStomp guitar pedal combines the power of a multi-effects device and the flexibility of an amp modeler in a single compact stompbox. With its 55 custom guitar effects and amp models, an easy-to-use interface, onboard chromatic tuner and versatile power options, you'll be surprised at  how much  the MS-50G has to offer.
Big processing power in a compact pedal
Now you can have the big power of a multi-effects processor in the size of a single pedal, with the Zoom MS-50G MultiStomp guitar pedal. Choose from over 47 modeled effects and eight amplifiers to create your ideal guitar tones. A large LCD screen makes the MS-50G easy to use in any lighting condition. Right out of the box, this Zoom processor has over 30 presets that are ready to rock the stage, plus 50 user presets you can use to design and save your own sounds.
Feature list
100 guitar effects and amp models, including modulation, equalization, delay, and reverb
Up to 6 effects can be used simultaneously, in any order
50 memory locations for the storage of user-created patches
30 preset patches
Patch cycling
Onboard chromatic tuner supports all standard guitar tunings, including open and drop tunings
Tap Tempo for synchronization of delay times or modulation rates
Auto Save function for automatic saving of all patch parameters
¼" input jack (both active and passive instruments supported)
Dual ¼" output jacks
Backlit LCD with contrast control for easy viewing in low-light environments
USB port for power and firmware updates
Lightweight and small enough to fit in your gig bag
Easily integrated into any existing pedalboard
Runs on 2 AA batteries, with alkaline battery life of up to 7 hours
Optional AC adapter
More information – Zoom