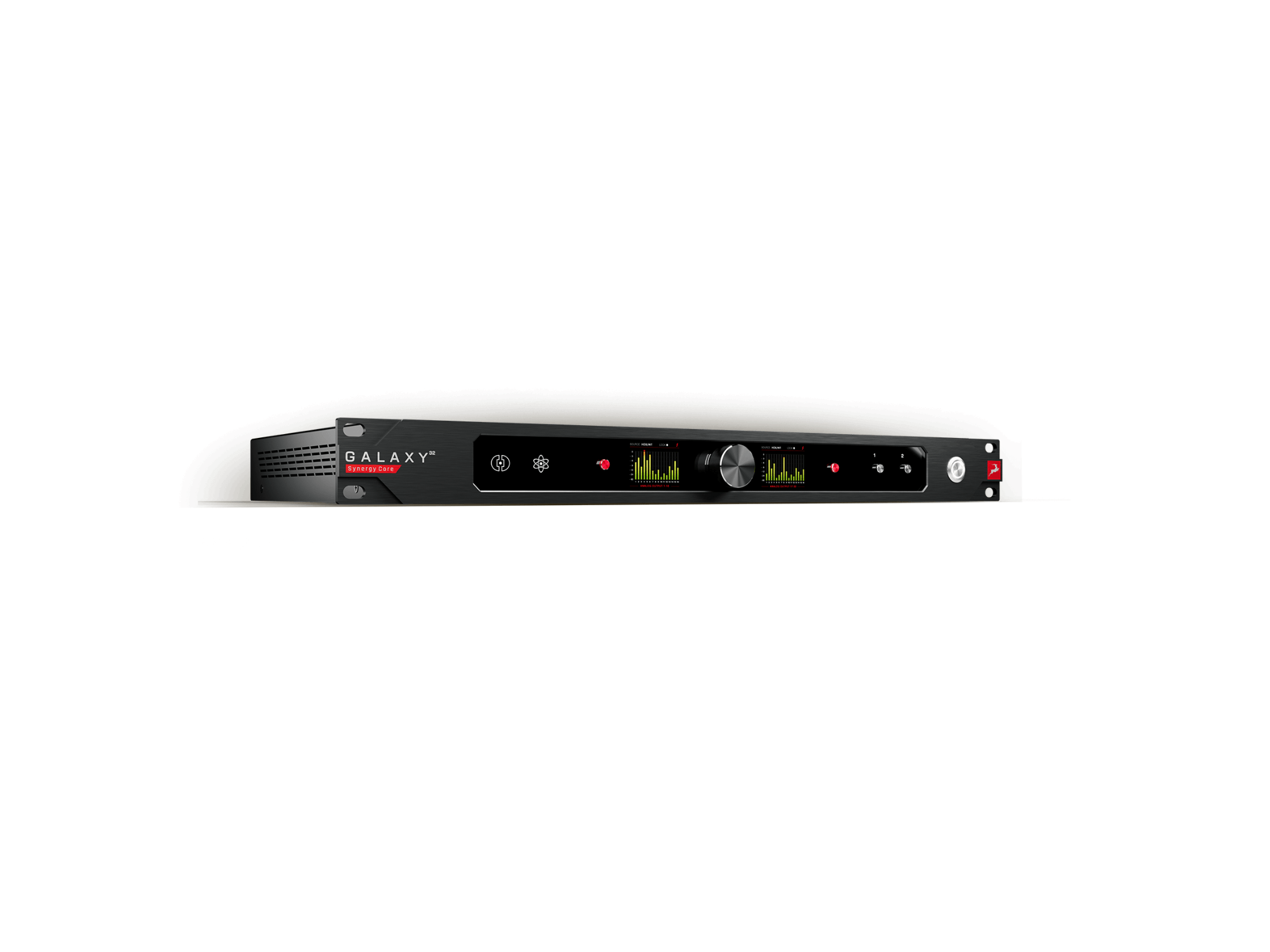 Combining 32 channels of AD/DA conversion, versatile Dante / HDX / Thunderbolt 3 host connectivity, and powerful integrated effects processing, the Antelope Galaxy 32 Synergy Core audio interface packs expansive I/O, premium clocking, and robust DSP into a 1 RU chassis, making it an extremely attractive solution for audio engineers in recording studios, post-production facilities, broadcast trucks, and live stage applications.
To merge perfectly with high-end production systems, the Galaxy 32 Synergy Core supports 24-bit / 192 kHz audio with vast dynamic range and ultralow harmonic distortion. Connect directly to a Thunderbolt-equipped computer, tap into audio-over-IP networks via Dante, or use the interface as a 64-channel hub for a Pro Tools HDX system. In addition to the DB25 connectors for analog I/O, this interface features digital I/O including fiber-optic MADI, ADAT, and S/PDIF. The dedicated 1/4″ monitor outputs are ideal for hooking up a pair of active monitors.
The Galaxy 32 Synergy Core also functions as a master clock, providing the same clarity and precision synonymous with Antelope, along with 64-bit AFC (Acoustically Focused Clocking) technology to handle jitter. Two wordclock outputs, a wordclock input, and a 10 MHz atomic clock input allow proper synchronization with a variety of digital equipment. Configure the interface locally or control it wirelessly from a second computer on the same network. Customizable presets are provided for fast saving and loading of complex configurations, letting you optimize the interface for completely different uses in an instant. The Galaxy 32 Synergy Core includes a bundle of 37 of Antelope's real-time effects, which model heralded audio hardware including preamps, channel strips, EQs, compressors, and more. Thanks to the interface's six DSP chips and two FPGA processors, you can easily access the effects for tracking and mixing, all with insensible latency and no burden on your computer's CPU.
Key Features
Studio/Live/Broadcast Engineers
Dante, HDX & Thunderbolt 3 Connectivity
32 Channels of AD/DA Conversion
Stereo Monitor Outputs
Up to 24-Bit / 192 kHz Resolution
AC Powered / Mac and Windows
Optical MADI, ADAT, and S/PDIF I/O
Dual LCDs, Onboard DSP, and FPGA Chips
2 Wordclock Outs, Atomic Clock Input
Includes 37 Real-Time Plug-Ins
More information – Antelope