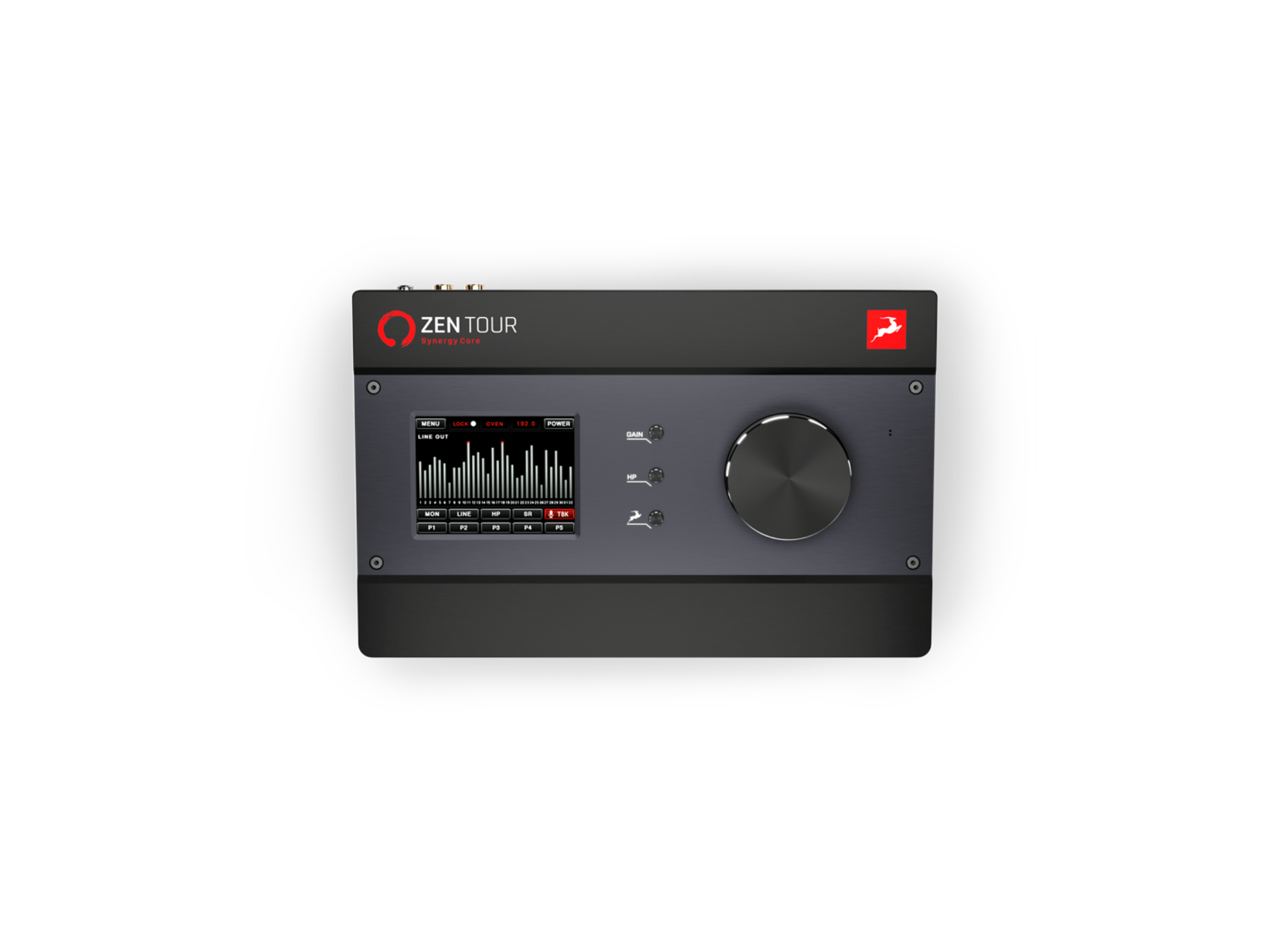 The Zen Tour Synergy from Antelope is a desktop interface designed to bring studio-quality sound to your home, studio, or on-the-road productions.
Use it to record vocals and instruments or reamp clean recorded guitars back out through amplifiers for a more realistic tone. With USB 2 and Thunderbolt over USB Type-C, the interface facilitates connection to both Mac and Windows operating systems. ADAT and S/PDIF I/O ports facilitate digital expansion, letting you add up to ten more channels of audio.
The mic preamps provided in this interface are ultralinear, fully discrete designs that work seamlessly with Antelope's mic modeling technology. Should you have a separately available Antelope modeling microphone and software, you'll be able to get the sound of a vintage, prized mic chain, from capsule to preamp. Additionally, the interface offers FPGA Synergy Core FX Processing, so you can run Antelope's FPGA effects.
The Zen Tour Synergy offers a bevy of analog connection points. You'll find four mic/line inputs, four instrument inputs, eight line outputs over DB25 connections, two reamp outputs, two monitor outputs, and two independent headphone outputs. The 64-bit clocking ensures you'll have clean, delineated signal in your recording chain and when you're mixing with monitors or through headphones. An intuitive touchscreen on the interface lets you control the Zen Tour Synergy with ease, while a software mixer offers flexible routing. A power adapter is included along with a USB cable.
Key Features
USB 2.0 or Thunderbolt 3 Interface
4 Ultralinear Transparent Mic Pres
4 Instrument Inputs and 2 Reamp Outputs
ADAT and S/PDIF Digital I/O
Monitor and Headphones Outputs
FPGA Processing
64-Bit Clocking
Desktop Design for Portability
Includes USB Cable and Power Supply
More information – Antelope