Taustiņu Skaits

25

Krāsa

Melna

MIDI Kontroliera Tips

Knobs, Taustiņi

Sintezatora Tips

Hibrīds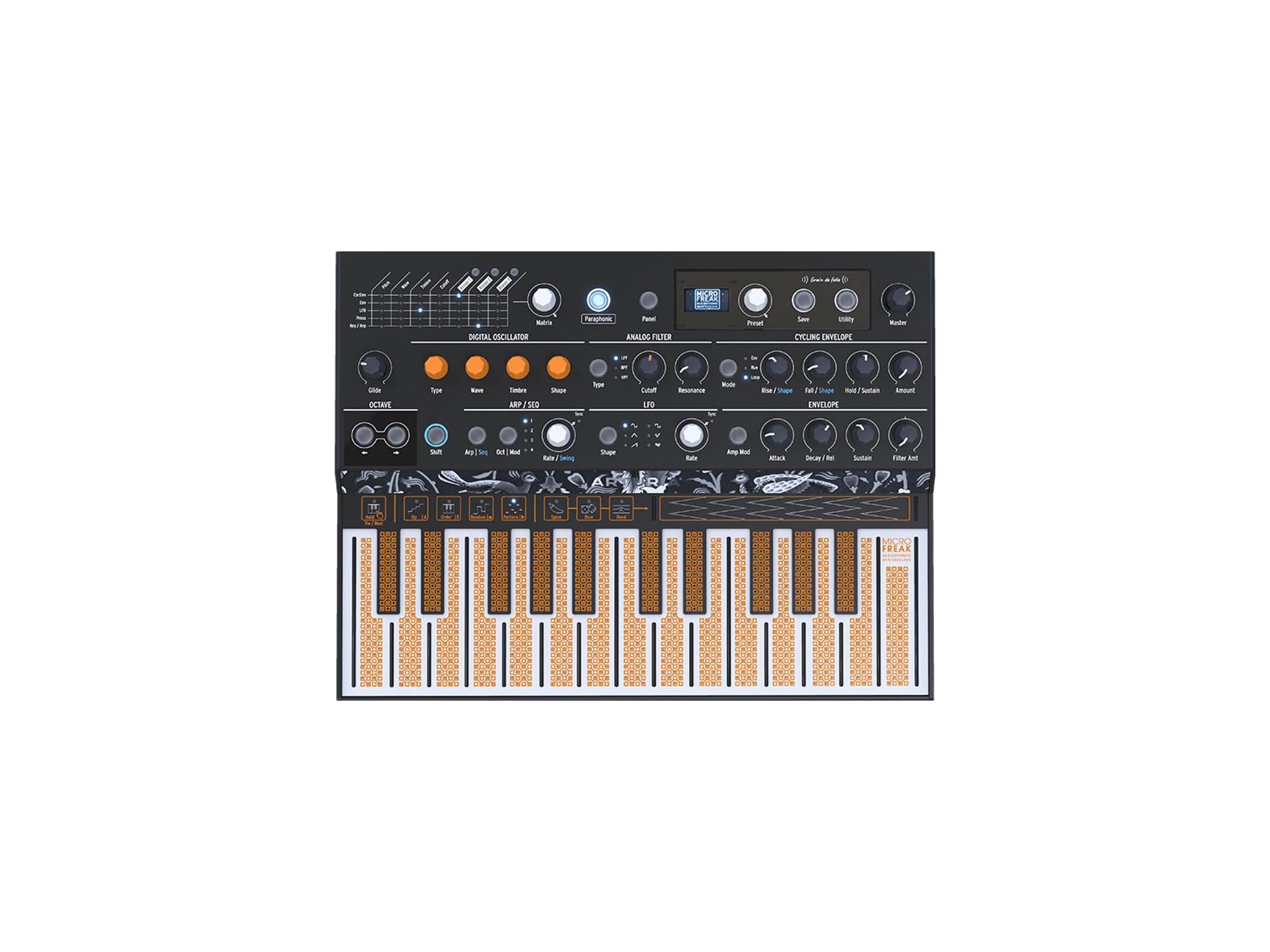 EXPERIMENTAL HYBRID SYNTH
A synthesizer like no other, MicroFreak is a peculiar, exceptional instrument that rewards the curious musician. It blends wavetable and digital oscillators with analog filters. It features a unique poly-aftertouch flat keyboard. It adds controlled randomness to sequences. This isn't a revolution, it's a mutiny.
Exciting presets
While exploring a new synth's capabilities yourself can be hugely fun, it's nice to be able to quickly flick through some presets to get inspiration. MicroFreak contains 128 preset patches, and lets you create, edit, and save your own, too! The clickable Preset knob makes selection, assigning, and renaming a breeze.
Classic synth features
With two unique envelopes and a syncable LFO, you can truly get hands on with MicroFreak with a dedicated control for each parameter. The Cycling Envelope lets you create an advanced looping mode, twisting it into LFO with variable rise, hold, and fall times, with exponential, linear, or logarithmic curves.
Amazing connectivity
It features CV outputs, letting you send pitch, gate, and pressure signals to any outboard or modular synth that's CV/Gate compatible. You can also hook it up to your DAW via USB, or use the included MIDI break-out cables. This lets you hook it up to your favorite controller keyboard, or use MicroFreak's sequencer to control a different synth, for example.
Powerful modulators
That's right. Working hand-in-hand with the modulation matrix, the modulators can be assigned to each other, letting you get really experimental. This is unheard of in a low-cost synth.
Box contents
MicroFreak unit
Power supply
Size & weight
Instrument size : 12.2 x 9.2 x 2.2 inches (311 x 233 x 55mm)
Instrument weight : 2.3 lbs. (1.02 Kg)
Main Features
Synthesizer with 192 preset slots and 128 factory presets
11 Digital oscillators with variable modes, with integrated open source Plaits engine created by Mutable Instruments
Analog State Variable Filter, 12dB/octave, resonant, Low Pass, Band Pass, High Pass
ADSR envelope
Cycling Envelope offering two modes
LFO with Sync: Sine, Tri, Saw, Square, Random, Slew Random
Modulation matrix with 5 sources and 7 destinations (3 custom destinations)
Monophonic or Paraphonic modes – Up to 4 voices
25-key capacitive keybed with polyphonic aftertouch
Capacitive touch strip
Crisp OLED display for editing and parameter values
Powerful arpeggiator

Up, Order, Random, Pattern modes
Spice & Dice Gate randomizers

64-step sequencer

2 patterns per preset
4 automation tracks per preset

CV / Gate / Mod outputs
USB, Clock and MIDI in and out
6.35mm master and 3.5mm headphone output