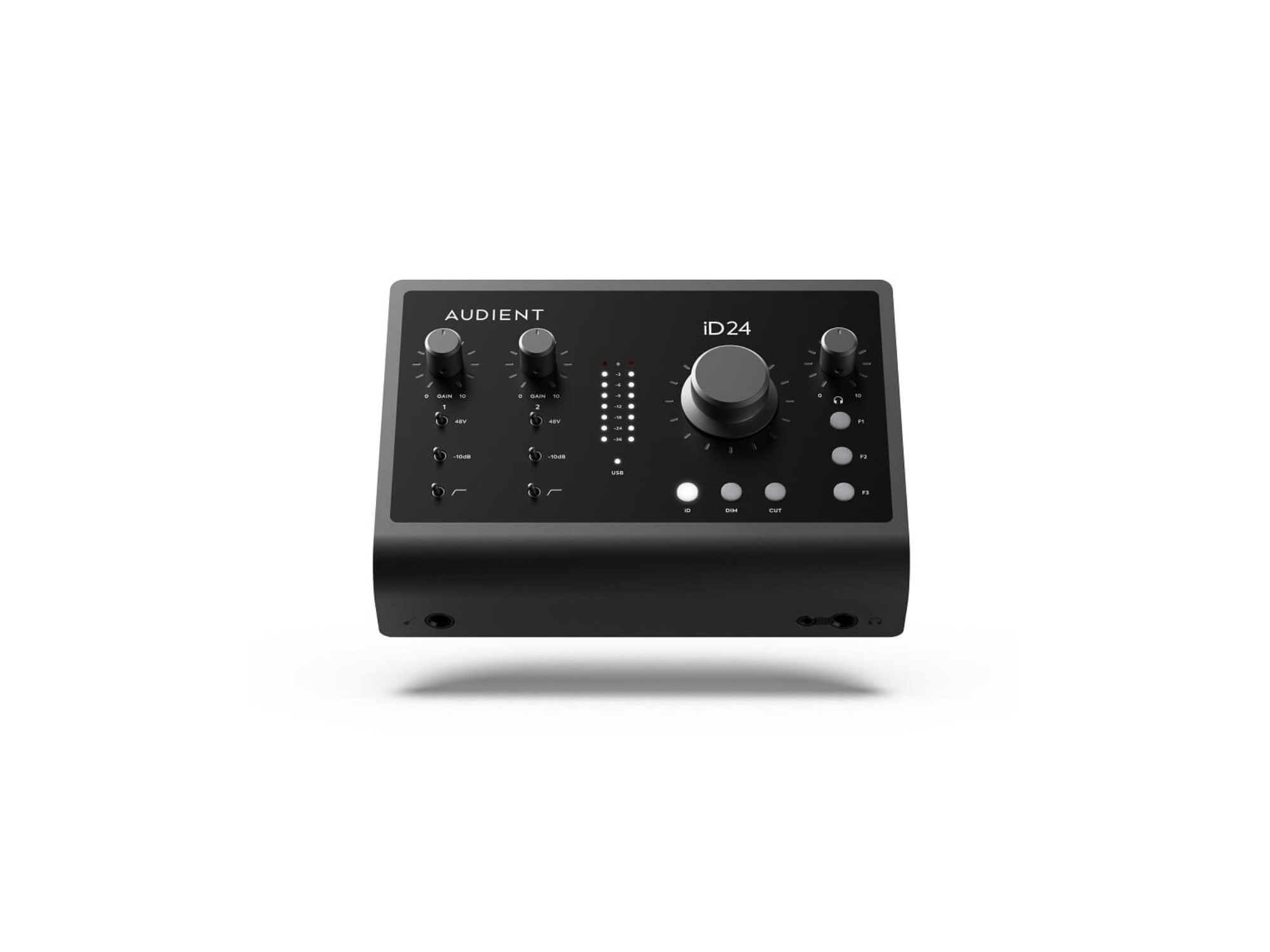 Audient's iD24 takes everything amazing about the company's fan-favorite iD24 and packs it into a streamlined desktop interface.
This 10 x 14 USB-C interface flaunts two of Audient's console microphone preamps, a JFET instrument input, multiple class-leading converters, ADAT expandability, and a DSP mixer. Its mic preamps boast the same circuit design as Audient's renowned ASP8024-HE console, with ultra-low noise and imperceptible distortion while maintaining a hint of the analog character you love. And with 60dB of gain on tap, you can use your favorite low-output ribbon mic on subdued sources. This unit's DI input provides harmonic enhancement modeled after the input stage of a classic tube amplifier. If you've craved the power and features of an iD44 but don't need that much I/O, the iD24 is the perfect audio interface for you.
Massive headroom and low distortion
One of the hallmarks of Audient's interfaces is their high-performance AD/DA conversion. For iD24, Audient's team of engineers pulled out all the stops, imbuing it with 126dB of dynamic range and a THD+N figure of 112 dB. Plug into this USB-C audio interface, and you'll notice more headroom, less audible distortion, and reduced noise in your signal than most other units in its class. With its outstanding conversion capabilities, all you have to do is press record. iD24 does the rest.
Connectivity to handle any recording or streaming situation
With its two optical input and output connectors, Audient's iD24 enables impressive expandability. It supports ADAT and S/PDIF, ensuring flawless integration with your outboard gear. It also adds up to eight channels of mic preamps to your rig. Two fully balanced insert points make it easy to integrate your outboard gear before conversion, letting you quickly insert your favorite vintage mic preamps, compressors, or EQs. Do you host a livestream in your spare time? You're in luck! iD24's built-in loopback functionality makes livestreaming a breeze. Whether you're working on new music or entertaining your followers, iD24 has your back.
Audient iD24 USB-C Audio Interface Features:
10 x 14 USB desktop interface
126dB of dynamic range and a THD+N figure of 112dB yield massive headroom, ultra-low noise, and imperceptible distortion
Livestreaming made easier with loopback functionality
60dB of gain provided by 2 Class A microphone preamps
+48V phantom power, -10dB pad, and highpass filter switches
Mimicry of tube amp character delivered by a front-mounted JFET instrument input
ADAT I/O for digital expansion
Simultaneous monitoring for 2 users provided by dual headphones output
Dedicated talkback, cut, and dim controls for console-style control
Low-latency DSP mixer to create up to 4 stereo artist cue mixes
Word clock output synchronization for outboard devices
USB 3.0 compliant — compatible with USB 2.0 and above
Road-worthy, all-metal chassis durable enough to face plenty of wear and tear
More information – Audient