gaimekla-tips

Dūmu Mašīnas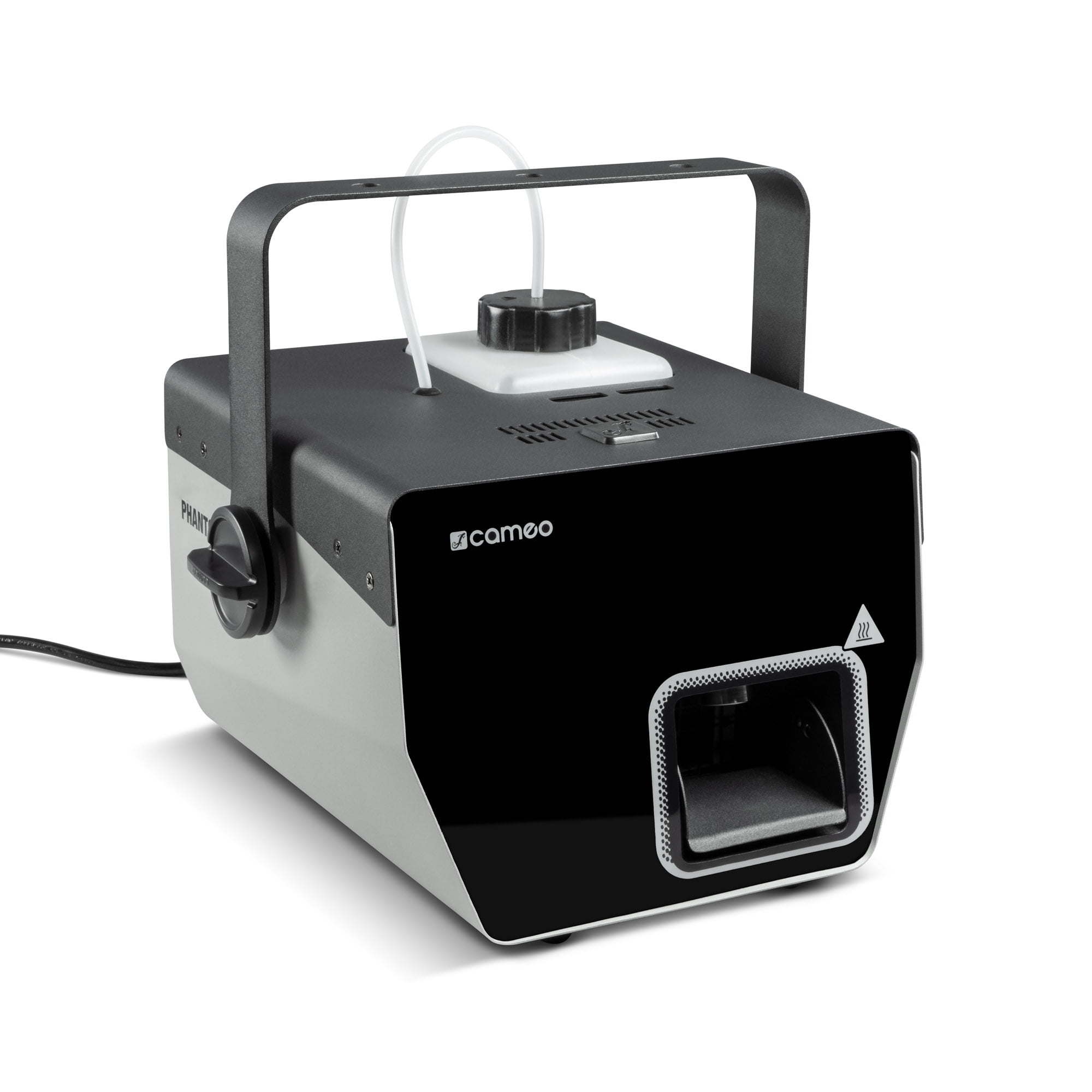 A perfect light show requires evenly distributed fog. The Cameo PHANTOM H2 600 W compact hazer is perfect for this. It produces small fog volumes that are output evenly throughout the duration of its use, thereby preventing thick clouds! The professional execution of sophisticated lighting effects is efficiently realisable for private event technicians, musicians and DJs with this hazer, while its robust design makes it especially attractive to rental companies.
Perfect hazer effects are achieved by its optimally attuned components. The highly efficient heating element facilitates a short preheating time of around 2 minutes and achieves a maximum output volume of 226 m³/min. At the same time, the device consumes a maximum of 3.5 ml of fluid per minute and is suitable for use with environmentally-friendly water-based haze fluid. The bicolour illuminated tank holds 0.8 litres for plenty of available fluid and features a level indicator. Refilling doesn't have to be done at the device as the tank can be easily removed and put back in after filling.
Configuration can be done via the clearly designed LED display and the device can be operated using DMX or the remote controller via a 10 m cable. Built-in overheating protection ensures operational safety.
Even once the hazer has been installed, its output angle can still be adjusted. This is achieved with the deflector, which allows for improved combination of the hazer output and lighting without having to change the hazer setup.
Once it has been installed using the included bracket, the appealing design of the Cameo PHANTOM H2 600 W compact hazer, with bicolour black/cool grey metal housing, makes it an attractive addition to any stage and lighting setup.
| | |
| --- | --- |
| Product type | hazer |
| Type | hazer |
| Power | 600 W |
| Output volume | ca. 226 m³/min |
| Warm-up time | ca. 2 min |
| Fluid tank capacity | 0.8 l |
| Fluid Consumption | ca. 3.5 ml/min |
| Remote connection | DIN 5-Pol male |
| Remote cable length | 10 m |
| Remote functions | Interval, Output, Wind set |
| DMX input | XLR 3-pin male |
| DMX output | XLR 3-pin female |
| DMX mode | 2-channel |
| DMX Functions | Fan speed, Haze emission |
| Controls | Down, Enter, Mode, Up |
| Indicators | 4-digit LED display |
| Operating voltage | 230 V AC / 50-60 Hz |
| Fuse | F5AL / 250 V |
| Power consumption | 620 W |
| Power connector | CEE 7/7, Fixed connection cable |
| Ambient temperature ( in operation ) | 5 – 40 °C |
| Relative Humidity | < 85 %, not condensing |
| Housing material | metal |
| Cabinet colour | Black, grey |
| Width | 242 mm |
| Height | 187 mm |
| Depth | 275 mm |
| Accessories (included) | 4 rubber feet, Cable remote, canister |
| Weight | 7,14 kg |