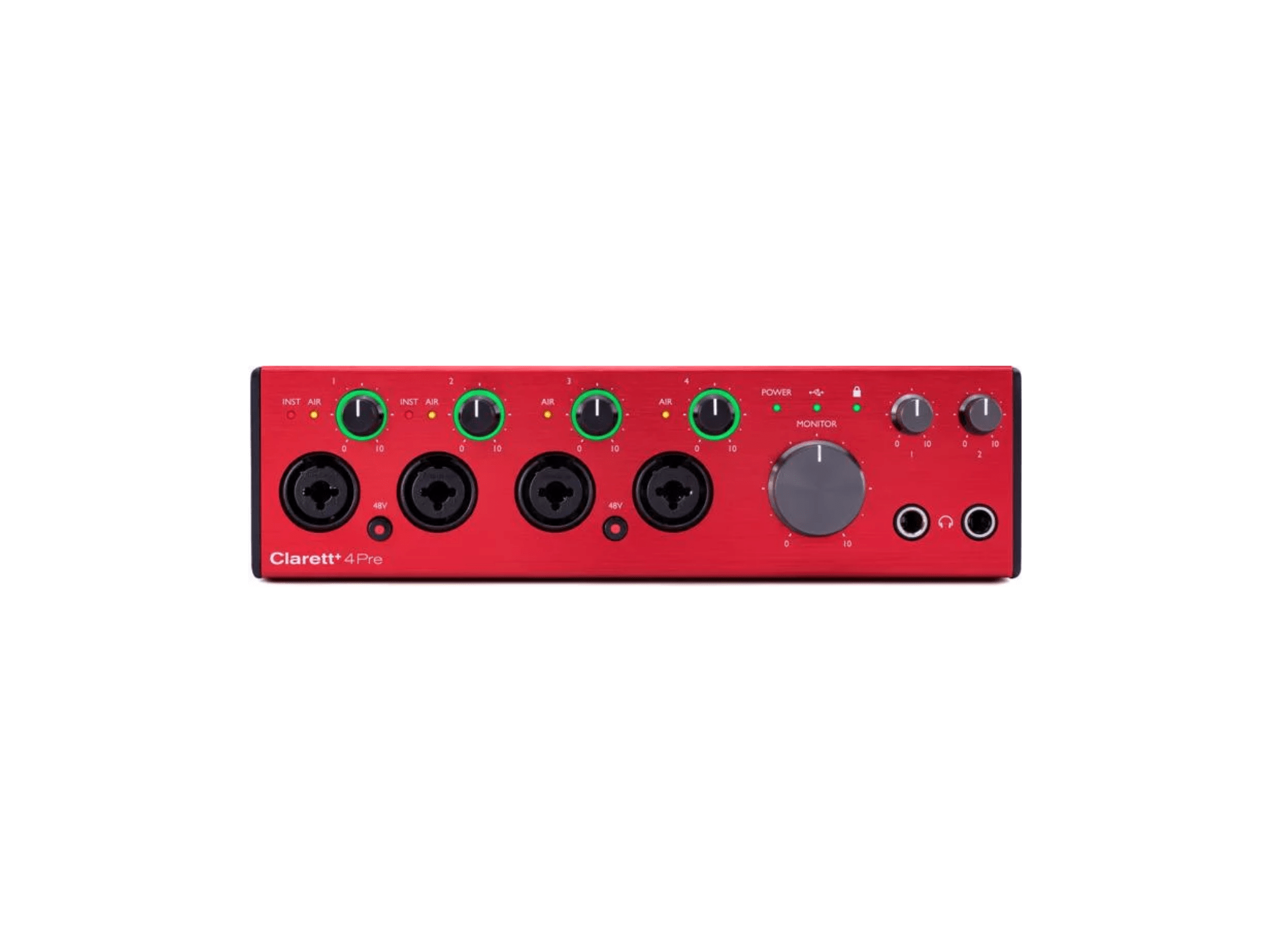 Meet the Centerpiece of Your Home Studio
Focusrite's Clarett+ 4Pre 18-in/8-out audio interface is a powerful foundation for your studio or mobile recording rig. It sports four great-sounding Clarett+ microphone preamplifiers, upgraded conversion, an outstanding dynamic range, and ultra-fast, low-latency performance enabled by USB-C. The magic of the Clarett+ 4Pre starts as soon as you plug your microphones in — the mic preamps feature Focusrite's switchable Air effect, which switches in an analog model of Focusrite's classic ISA transformer-based mic pre. With flexible connectivity including analog and S/PDIF I/O, the Focusrite Clarett+ 4Pre is ready to integrate into virtually any recording rig.
Focusrite Clarett+ 4Pre 18-in/8-out audio interfeiss ir spēcīgs pamats jūsu studijai vai mobilajai ierakstīšanas iekārtai. Tajā ir četri lieliski skanīgi Clarett+ mikrofona priekšpastiprinātāji, uzlabota konversija, izcils dinamiskais diapazons un īpaši ātra, zema latentuma veiktspēja, ko nodrošina USB-C. Clarett+ 4Pre burvība sākas, tiklīdz pievienojat mikrofonus-mikrofona priekšpastiprinātāji ir aprīkoti ar Focusrite pārslēdzamo gaisa efektu, kas ieslēdzas Focusrite klasiskā ISA transformatora mikrofona priekšpuses analogā modelī. Ar elastīgu savienojumu, ieskaitot analogo un S/PDIF I/O, Focusrite Clarett+ 4Pre ir gatavs integrēties praktiski jebkurā ierakstīšanas ierīcē.
Focusrite Clarett+ 4Pre USB-C Audio Interface Features:
4 Clarett+ mic pres with Air circuit
Copious headroom, vanishingly low noise
Focusrite's proprietary Air feature
Focusrite's upgraded 24/192 conversion and sync
Flexible I/O with ADAT input for expansion of up to eight more inputs
"Gain Halo" metering provides clear indication of levels to avoid clipping
Intuitive, easy-to-use Focusrite Control software mixer makes short work of configuring your monitoring and routing and gives you quick access to internal hardware functions
Record and monitor in real time with your favorite DAW plug-ins
Create custom monitor setups for both you and your artists
Included software from Focusrite and Brainworx
4 front-panel mic/line inputs with phantom power
The first 2 combo connectors are also hi-Z inputs
4 rear-panel 1/4-inch line inputs and outputs
Stereo S/PDIF I/O, ADAT input (8 channels), MIDI I/O
Pairs perfectly with the Focusrite OctoPre
More info can be found HERE