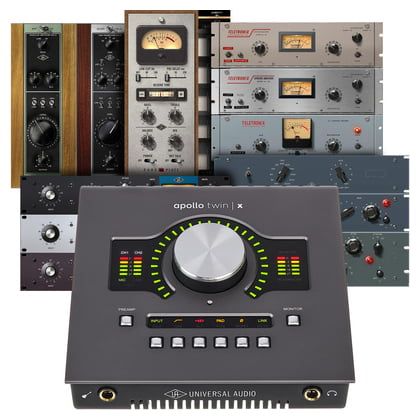 Special offer!
Buy any Apollo Twin X Quad Heritage Ed. and get these plugins for free:
Auto-Tune Realtime Advanced
Neve 1073 Mic Preamp & EQ
Manley VoxBox Channel Strip
Helios Type 69 Preamp & EQ
Century Tube Channel Strip
Fairchild Tube Limiter Collection
Galaxy Tape Echo
Worth 2069 €
For more info ask our Employees!
Ends August 31st, 2023

The Most Powerful Apollo Twin Yet!
Place the Universal Audio Apollo Twin X QUAD at the center of your studio, and it's guaranteed to turbocharge your productivity. The Twin X QUAD's performance rivals UA's rackmount Apollo X audio interfaces, but eschews extraneous features like 5.1 surround monitoring and +24dBu operation for a streamlined, desktop design that's tailor-made for project studios. Track and mix with spot-on emulations of tried-and-true studio classics, thanks to UA's powerful QUAD Core processor. Experience top-shelf sound quality, by way of the Apollo Twin X QUAD's upgraded elite-class AD/DA conversion. Dual Unison preamps allow you to track through models of the industry's most legendary hardware. Beyond that, you get sub-2ms latency and ample expandability, thanks to the Apollo Twin X QUAD's ultra-fast Thunderbolt 3 connectivity. If there was ever a time to upgrade your Apollo Twin, now's the time!
Track and mix with powerful QUAD Core processing
There are times when your computer doesn't have enough power and speed to run all the plug-ins your recording session requires. That's where UA's powerful 4-core QUAD Core processor comes in. This processor enables you to track in real-time with Neve, Manley, or API channel strips, or run large UAD plug-in counts while mixing in your DAW. Everybody appreciates being able to inject guitars with the tube warmth of a Pultec EQ, add the musical limiting of an LA-2A to a vocal, and pump up drums with an 1176 or Fairchild 670 — all in real-time. It's the closest thing to having the real hardware.
Elite-class AD/DA conversion offers ultra-pristine sound
Apollos have always sounded great, but the Apollo Twin X QUAD's AD/DA conversion takes it to the next level. When they were designing the latest generation of Apollos, UA engineers auditioned the latest leading-edge AD/DA technology, ultimately pairing elite-class 24-bit/192kHz converters with overhauled analog circuitry. The result is an ultra-pristine signal path with 127dB dynamic range. Dive in, and you'll hear for it yourself — the Apollo Twin X QUAD's AD/DA rivals any high-end standalone converter on the market.
Capture the sound of legendary preamps with Unison technology
The Apollo Twin X QUAD's Unison preamp technology goes so far beyond traditional software modeling and emulations that it's really in a category all its own. In essence, Unison is a bidirectional communication between the Apollo Twin X QUAD's mic preamp and a Unison-capable plug-in, such as the included 610-B plug-in that re-creates the sound of UA's classic LA-610 preamp.
The plug-in actually adjusts the preamp circuit itself, including parameters such as impedance, analog gain structure, and much more. When you adjust the Apollo Twin X QUAD's preamp gain knob and physical controls, the plug-in adjusts the preamp's behavior to match the target preamp. So you're not simply filtering your audio to approximate the character of a famous preamp — your microphone is now interacting with the Apollo Twin X QUAD's input the same way it would behave with the "modeled" preamplifier.
UAD plug-ins astounded the recording world with their incredible ability to sound like analog processors, eliminating the need for large racks of gear in the studio. Unison preamp technology will do the same thing for your mic inputs, eliminating the need to collect and maintain expensive hardware preamps just for sonic variety.
Thunderbolt: ultra-low latency and unrivaled bandwidth
Thunderbolt is one of the most important technologies to impact audio production in years, and UA was one of the first to adopt it. Thanks to its blazing-fast connectivity, Thunderbolt offers lower latency and greater stability than USB or FireWire, clocking in with the speed and ultra-fast performance of a PCI Express system. In fact, the Apollo Twin X QUAD's Thunderbolt 3 connection runs projects with high track counts at latencies of less than 2ms! On top of that, up to four Apollo interfaces can be networked over Thunderbolt to add fast, high-bandwidth I/O and DSP to your studio. You don't even need a brand-new computer — the Apollo Twin X QUAD's two built-in Thunderbolt 3 ports are backward-compatible with Thunderbolt 1 and 2 Macs (does not support Thunderbolt 1 or 2 on Windows — adapter sold separately).
Universal Audio Apollo Twin X QUAD Features:
10×6 Thunderbolt 3 Audio Interface
Heritage Edition
With UAD-2 Quad-core processor for virtually latency-free recordings via plug-in emulations of classic compressors, EQs, tape recorders, microphone preamplifiers, and guitar amplifiers
24 bit / 192 kHz AD/DA converter
2 Unison microphone preamplifiers
+48 V Phantom power
Integrated talkback microphone
Dynamic range: 127 dB
Monitor functions with controls for Mono, Mute, DIM, and ALT
Design: Desktop
For Mac OS and Windows
Includes software bundles Desktop Heritage Edition & Realtime Analog Classics
Technical Specifications:
2 Microphone/Line combo inputs: XLR / 6.3 mm jack
Hi-Z instrument input: 6.3 mm jack
2 Line outputs: 6.3 mm jack
2 Monitor outputs: 6.3 mm jack
ADAT/SPDIF optical input
Stereo headphone output: 6.3 mm jack
Thunderbolt 3 connector (thunderbolt cable not included)
Input for external power supply
Sensational plug-in bundle included!
UAD Powered Plug-ins have earned their reputation for being some of the most accurate emulations of analog audio equipment ever created. The astonishing processing power of the UAD platform is what makes these plug-ins sound so great. You simply can't get the depth, color, and character these plug-ins have without devoting huge CPU resources to them. Best of all, Apollo Solo lets you record your audio through UAD plug-ins in real time with sub-2ms latency. You'll receive the Realtime Analog Classics bundle, which includes:
UA 610-B
Marshall Plexi Classic Amplifier
Teletronix LA-2A Legacy
UA 1176LN Legacy
UA 1176SE Legacy
Pultec EQP-1A Legacy
Pultec Pro Legacy
Precision Channel Strip
Precision Reflection Engine
Precision Delay Modulation
Precision Delay Modulation L
Raw Distortion
Ampeg SVT-VR
RealVerb-Pro