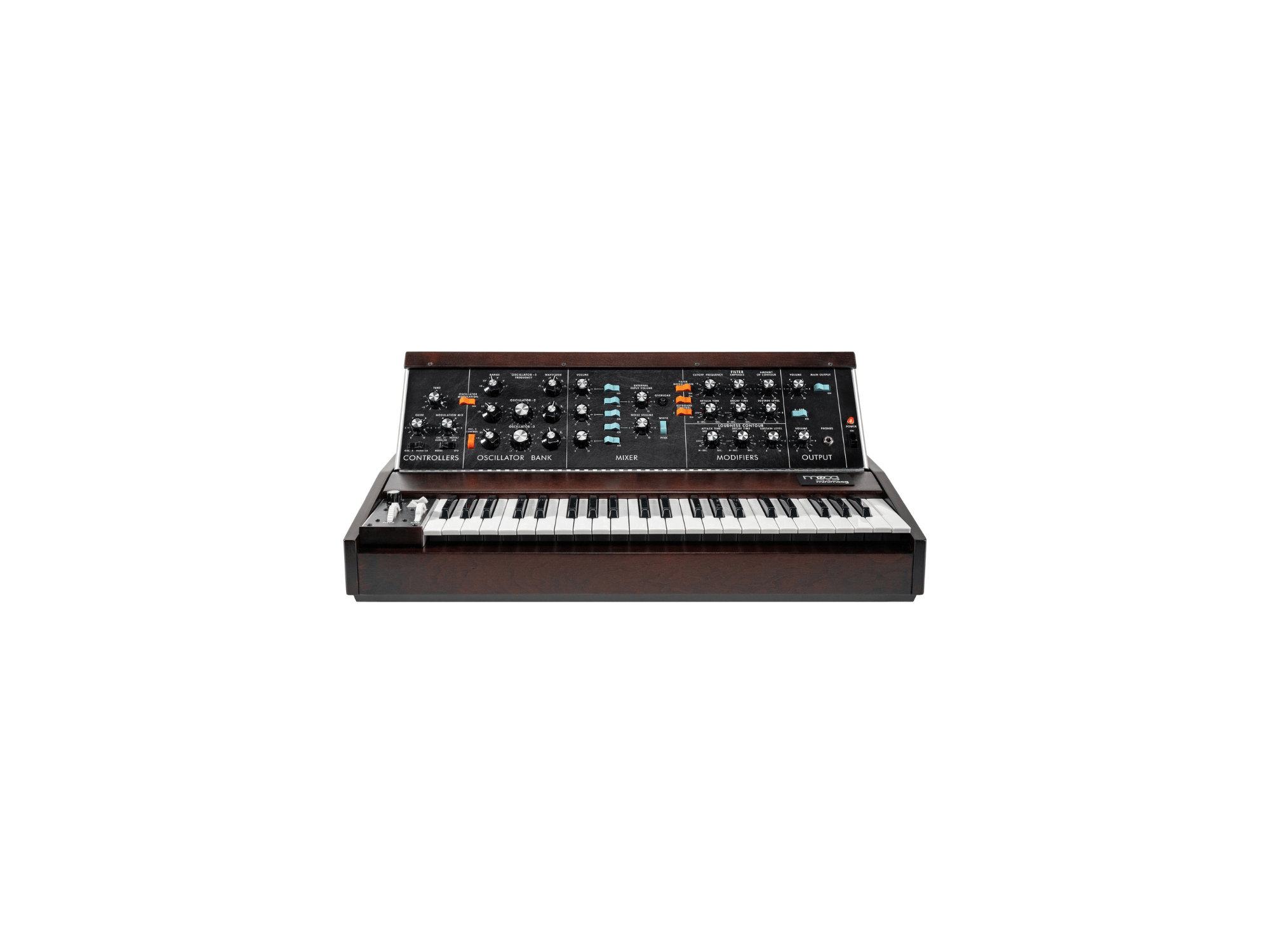 Minimoog Model D: Own the Legend
It's been over a half century since the Minimoog Model D reshaped the sound of modern music, and Moog has resumed production of the game-changing analog monosynth. A meticulous re-creation, the 2022 Minimoog Model D sports the original circuit path with three punchy oscillators and Moog's legendary Ladder Filter. But Moog also added popular modifications such as a dedicated LFO, a CV output, MIDI, custom reissue transistors, a robust modern power supply, and more. You'll also delight to the touch of the Mini's premium velocity- and aftertouch-enabled Fatar keybed and the feel of the silky-smooth pots as you dial in searing leads and basses that rattle the walls.
Modern upgrades onboard
While no changes were made to the original sound engine or audio signal path, the 2022 Minimoog Model D has been refined with modern upgrades. These include a dedicated LFO with triangle and square waveshapes, a premium Fatar keybed with velocity and aftertouch (both available via top panel CV jacks with trim pots), full MIDI integration, and a mixer feedback mod that sends the Mini into screaming overdrive with the simple twist of a knob. And, for the first time ever, the pitch wheel is now spring-loaded with a center dead band, facilitating enhanced playability.
Moog Minimoog Model D Analog Synthesizer Features:
A faithful re-creation of the most iconic synth in history
Mil-spec parts and build quality
Optimized, state-of-the-art update of the original discrete analog circuitry
Added modern features, including MIDI, a premium Fatar keybed, robust power supply, spring-action pitch wheel, and more
44-note Fatar keybed with velocity and aftertouch
Delivers the inimitable power and presence of a vintage Moog
Hand-finished aluminum chassis with locally sourced hardwood cabinet
MIDI in, out, and thru via 5-pin DIN jacks
Receives MIDI Note, Pitch Bend, and SysEx commands
Sends MIDI Note, Velocity, Pitch Bend, and Aftertouch
Control Voltage inputs and outputs
In: Loudness, Filter, Oscillator, and Modulation source
Out: Aftertouch, Pitch, V-Trig, and Velocity
Dedicated analog triangle/squarewave LFO
Highly gigable; weighs only 32 pounds
Handcrafted in Asheville, NC, USA
Includes Power Supply, User Manual, Registration Card, Product Catalog, and Poster
Optional fitted ATA road case, semi-rigid ABS case, and dust cover available separately
More information – Moog