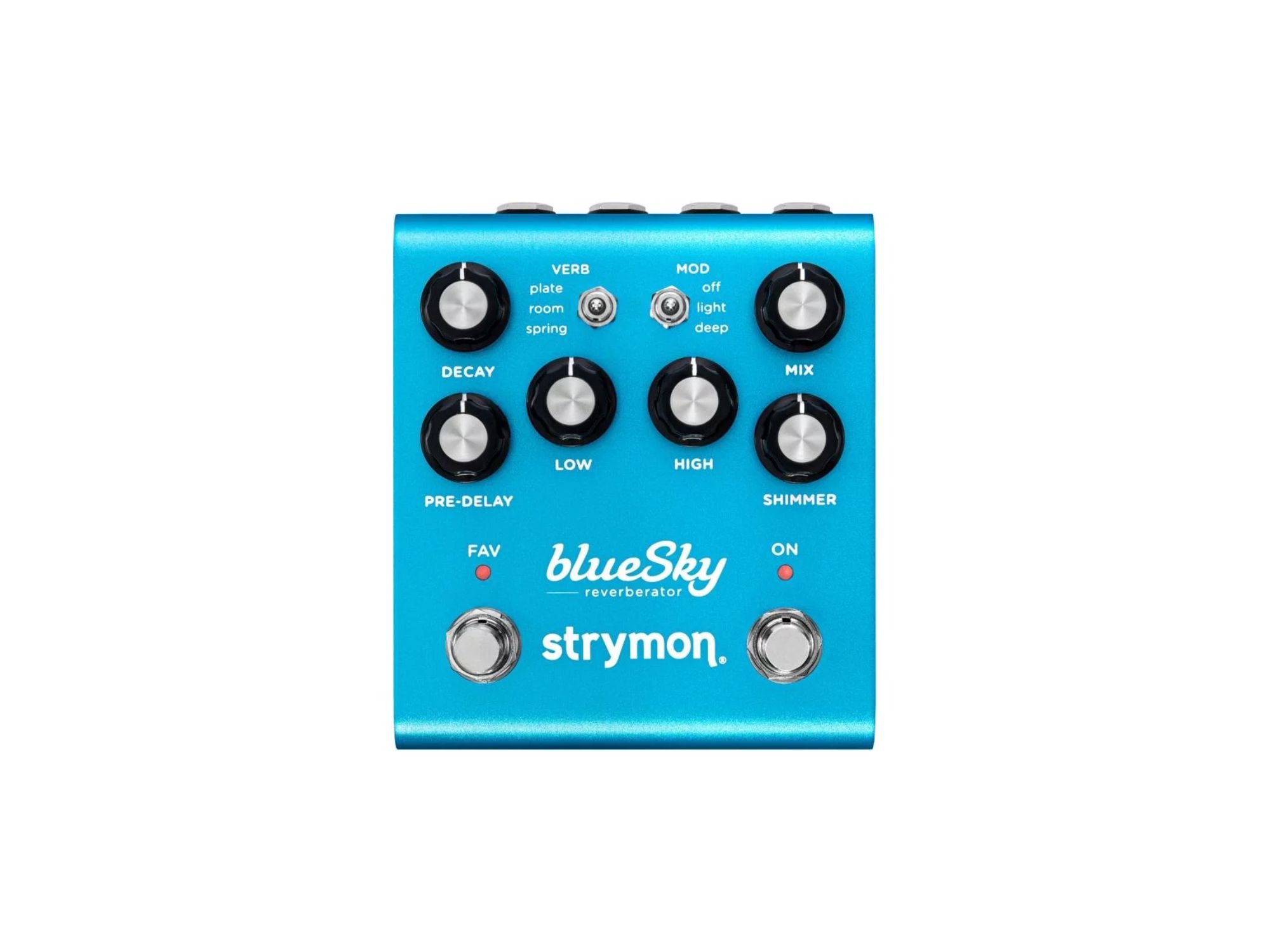 Strymon's Studio-grade Reverb Made Better
Whether it's lush studio plates, subtle room reflections, or the spank and drip of a well-loved spring reverb, Strymon's blueSky Reverberator V2 pedal delivers many of the most-beloved reverbs worthy of studios and stages of all kinds. Three reverb modes — Plate, Room, and Spring — ensure the ideal reverb for any situation is always on hand, with Decay, Pre-delay, Low, and High knobs to tweak your trails and tone to taste. With the blueSky V2, the beloved Shimmer function of the original is given a dedicated knob usable with all three modes and producing unique results for each, not to mention a Mod switch for dialing in modulation as you see fit. Once you lock in that reverb you've been seeking, saving it to the blueSky is a breeze courtesy of the Favorite switch. With its limitless flexibility, enhanced functionality, and sonic superiority, the sky is no longer the limit with Strymon's blueSky Reverberator V2!
24-bit/96kHz stereo plate, room, and spring reverb from your pedalboard
The blueSky has three onboard reverbs in 24-bit/96kHz quality to cover your reflective needs. Plate style takes cues from celebrated studio rack gear for lush and open-sounding transparent ambiance. The Room algorithm adds a shorter, more subtle liveliness to your licks for a sound that's felt more than heard. The blueSky V2 introduces an optimized Spring algorithm to nail those delectable vintage spring reverb tank sounds, complete with the tweed spank and feedback guitarists love. Decay and Damping controls make it a breeze to find that reverb sound you hear in your head, from organic and natural to otherworldly and beyond.
Plate, room, and spring reverb to meet all your stage and studio needs
Standard Decay (size) and Pre-delay (onset time) controls for fast tweaks
High and Low damping controls darkness/brightness
Mix knob lets you control dry/wet signal
Mod switch lets you dial in the perfect amount of modulation
Dedicated Shimmer knob adds sparkle and depth to all three reverb modes; Plate adds in octave-up pitch shifting, Room adds an octave plus a fifth, and Spring adds an octave-down pitch effect with adjustable LFO speed
Favorite switch lets you save and recall your go-to reverb
Stereo ins and outs for primo stage and studio sounds
JFET input circuit enhances responsiveness, dynamics, and feel
Swap from mono to stereo and back via the rear-panel switch
ARM DSP chip significantly increases processing power
24-bit/96kHZ A/D/A conversion
Durable aluminum chassis
USB-C Connection
More information – Strymon