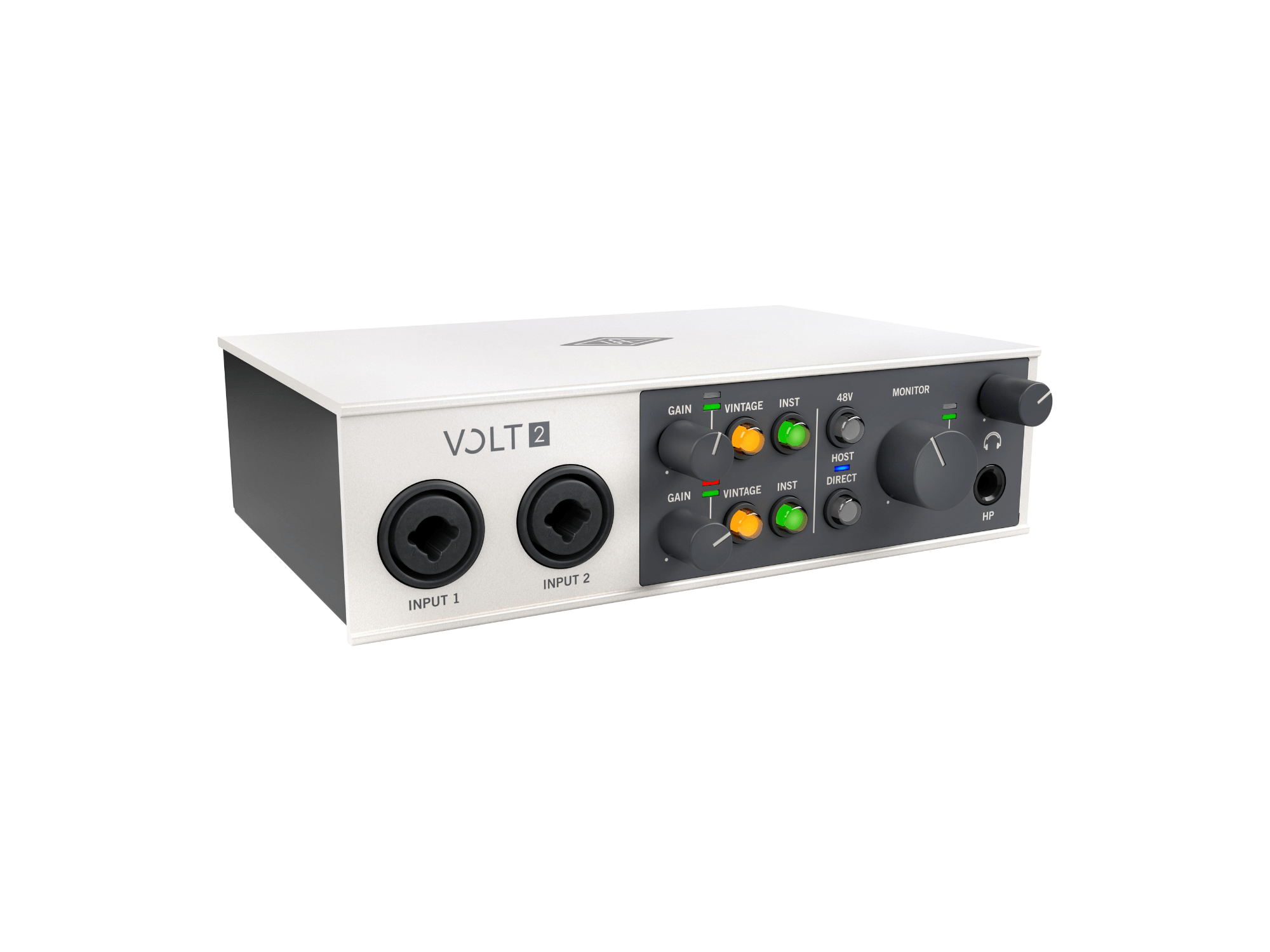 Special offer until 31.12.2023
Buy any Volt USB interfaces and get UA's newest native software bundle – UAD Essentials Edition ($299) – absolutely FREE!
Includes 11 plug-ins:
●  LA-2A Collection (3)
●  Pultec EQ Collection (3)
●  PolyMAX Synth
●  Oxide Tape Recorder
●  Century Tube Channel Strip
●  Pure Plate Reverb
●  Galaxy Tape Echo
The Universal Audio Volt 4 leverages UA's renowned analog expertise to deliver a USB-C audio interface worthy of a decades-long legacy. The Volt 4 boasts top-flight analog circuitry, along with class-leading 24-bit/192kHz AD/DA conversion, enabling you to create professional-sounding music productions, livestreams, and podcasts. This audio interface boasts two microphone preamplifiers with switchable 610-style analog sound, two additional line inputs, and convenient input metering. Beyond that, six analog outputs and a headphones output make monitoring a snap, plus you get direct monitoring for zero-latency operation. You also get MIDI I/O for your synths and controllers. The Volt 4 vaunts a rugged, retro-inspired industrial design and comes with a cutting-edge native software bundle.
Universal Audio Volt 4 USB-C Audio Interface Features:
4-in/4-out USB-C audio interface with 2 microphone preamps
Top-flight analog circuitry and class-leading 24-bit/192kHz AD/DA conversion
Selectable Vintage Preamp Mode employs solid-state electronics for tube-like dynamic saturation and clipping
Convenient input metering makes setting levels a piece of cake
6 analog outputs and a headphones output make monitoring a snap
22W headphone amp easily drives high-impedance headphones
Direct monitoring supplies zero-latency operation
MIDI I/O for your synths and controllers
Rugged, retro-inspired industrial design with wood side panels
Comes with a cutting-edge native software bundle
More information – Universal Audio