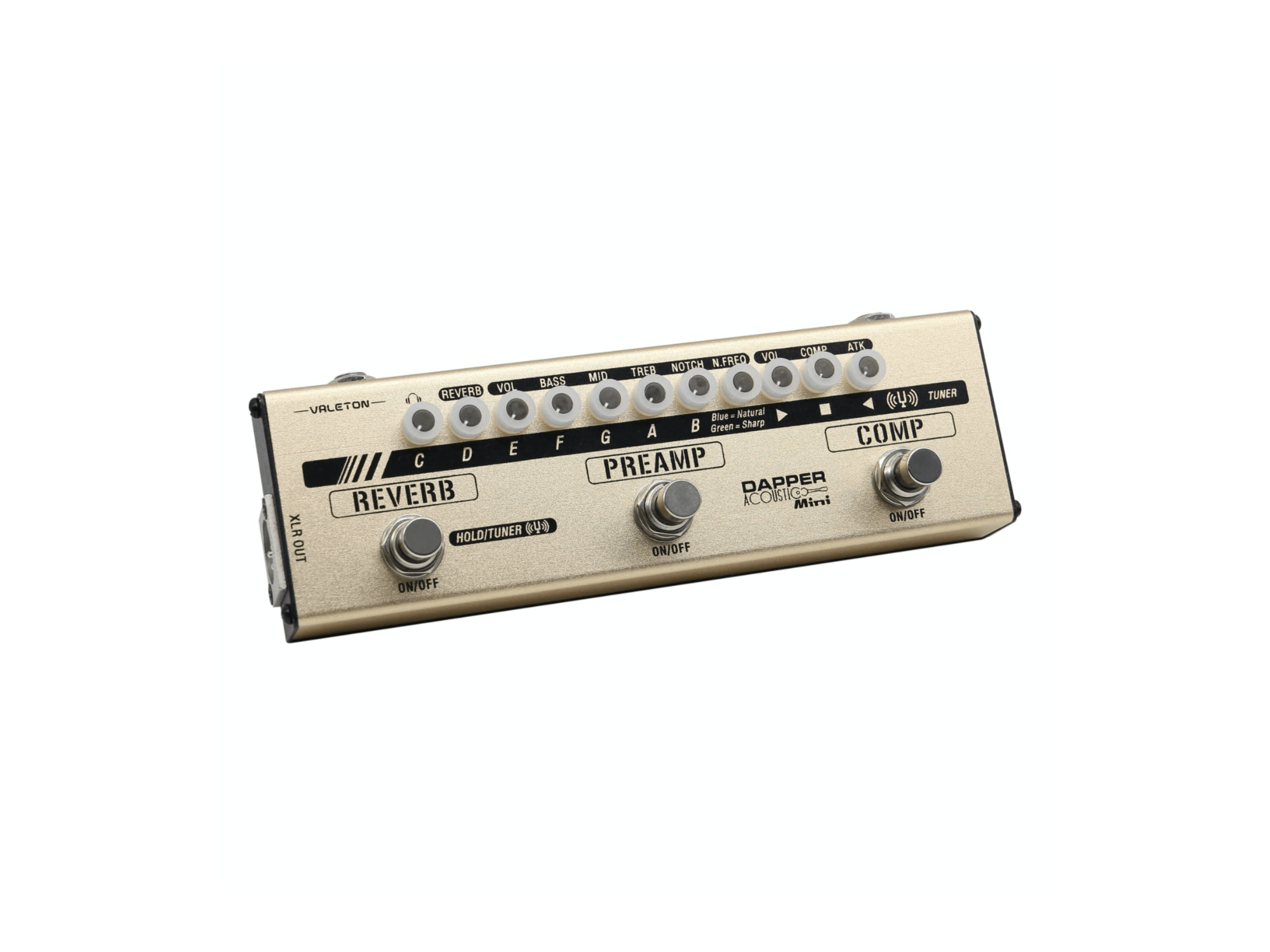 The Valeton Dapper Acoustic Mini is a super-compact effects pedal strip equipped with all of the essential sounds an acoustic guitarist could need! A studio-quality compressor, tone-enhancing preamp, and immersive reverb make this a potent little unit a must-have for live performances — which can easily fit inside your gigbag's storage pocket.
Effect Modules
1. TUNER: First in line is a stealth-fast and accurate tuner so you can play confidently in tune. Press and hold the module's on/off switch to enable the tuner. When this module is activated, Dapper Acoustic Mini will be muted.
2. COMP: Give your incoming signal some focus with the the compressor module, which provides the warm and punchy sound of a classic rack-mount processor. Use the 'COMP' knob to lay the squeeze down and the 'ATK' knob to go from bouncy to tight compression.
3. PREAMP: Enhance your core sound with the built-in preamp module; boasting a powerful 3-band EQ for flexible tone-sculpting, a notch filter to eliminate unwanted feedback, and a volume control so you can stay heard.
4. REVERB: Give your song some sweet depth with this module. This one-knob wonder recreates the ambience of a performance hall with convincing natural decay.
5. PHONES & XLR OUT: Plug your headphones into the dedicated jack for practicing silently with inspiring effects. The 'PHONES' knob adjusts the output volume. Use the 'XLR OUT' jack to feed a balanced signal to your audio interface (for recording) or to a mixer (when you go straight to the front-of-house PA system).
Specifications
Power: 9V DC (Center Negative)
Current Draw: 140mA
Dimensions: 65mm (D) x 197mm (W) x 42mm (H)
Weight: 435g
More information – Valeton