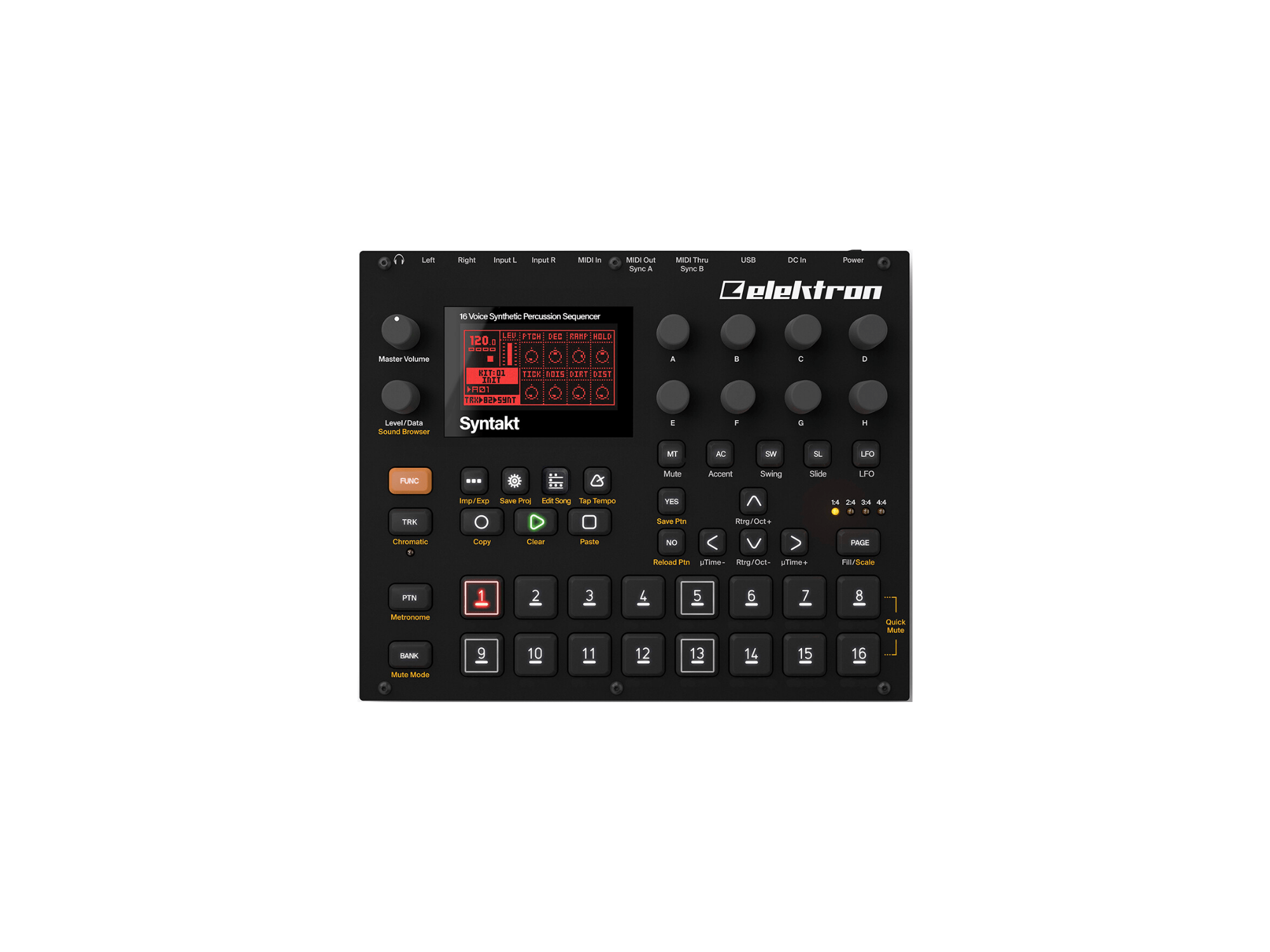 Syntakt is a drum specialist, full of percussive possibilities, but its 12 tracks can be used for melody, harmony, and bass sounds too. Experience epic sounds from the past, pulling others into existence from the future.
To call the Syntakt a "drum computer" succinctly articulates its unique, hybridized functionality as a true drum synth. Analog and digital FM synthesis operate in concert with another to yield exquisite, almost-paradoxical soundscapes. Its form factor elicits a sort of cyberpunk veneer, blending a slick exterior with a satisfying tactility that is both responsive and resilient. All 12 synth tracks have the ability to be individually routed through the FX channel, where modifying parameters can be assigned, and even locked into the sequence for that specific project or pattern. All 12 tracks can function as either audio or MIDI, with the latter capable of 4-note polyphony, adjustable velocity, pitch bend, and aftertouch parameters, in addition to up to eight freely assignable control change parameters.
Syntakt's distinctive sound architecture allows for a complex, fulfilling array of production possibilities, including digital and analog sound-generation, alongside digital and analog FX. Over 30 machines populate the cybernetic infrastructure of Syntakt's hybrid voicing, with the sound pool holding up to 128 sounds, and a heftier 2048 sounds being able to be held in the library. Speaking to the "synth" side of its drum synth designation, Syntakt features a keyboard mode that allows the trig keys to function along a scale, with any host of user-defined qualities dictating scale, root note, range, octaves, and more. Syntakt can also accommodate external MIDI devices, both to send and receive information for an active track even if the Syntakt isn't in keyboard mode. Elektron's Overbridge software enables an even tighter integration between Syntakt and DAW software, letting you dial in exactly how Syntakt can fit best into your rig.
8 digital and 4 analog voices generate a unique blend for 12 voices of compelling sound design and percussive possibilities
30+ synthesis machines are utilized for creating distinctive audio and patterns
Dedicated FX channel can track, sequence, and lock parameters for use within a pattern or project
Each of the 12 tracks can function as an audio or MIDI track, allowing for flexible integration into your performance or production setup
64-step sequencer means ample opportunities for sonic chains and implementation of digital and analog effects, as well as trig modifiers
3 MIDI ports (In/Out/Thru) with DIN sync mean robust compatibility with external devices
Keyboard mode enables 4-note polyphony and pitch bend, velocity, and aftertouch programming directly from Syntakt or to an external device (to control or be controlled)
2 x 1/4-inch audio inputs and 2 x 1/4-inch impedance-balanced audio outputs enable diverse integration of external audio through Syntakt's impressive suite of sound design features
Overbridge software aids in forming tight relationships between Syntakt and your DAW of choice
More information – Elektron