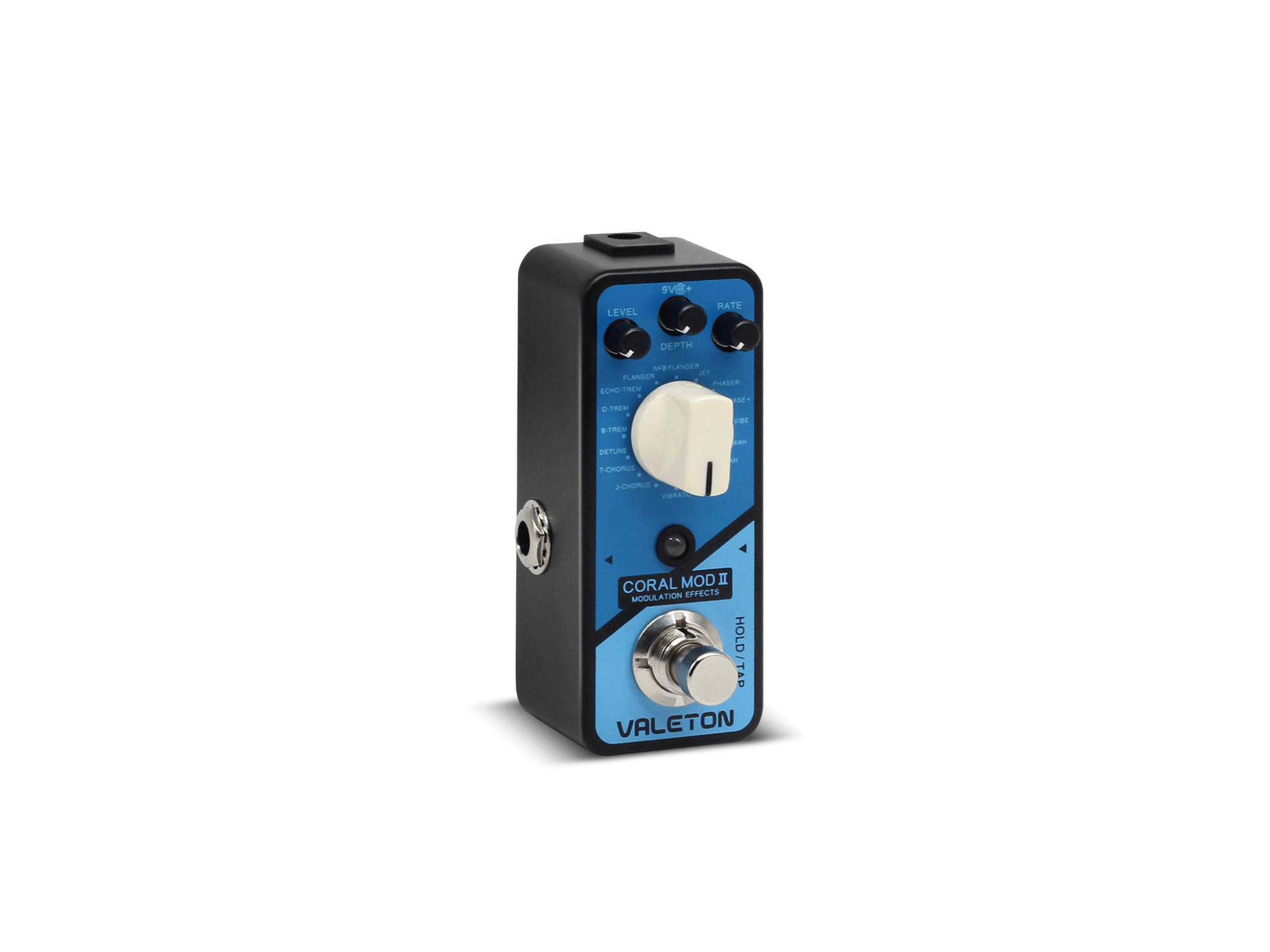 Valeton's Coral Mod II is one of the most versatile mini pedals on the market. Crammed with 16 different guitar modulation effects — including favourites like chorus, flanger, phaser and tremolo — this tiny multi-fx stompbox is like having a Swiss army knife on your pedalboard!
With an advanced 24-bit digital platform, the Coral Mod II delivers pristine audio quality with low noise — to ensure that your playing and guitar tone is beautifully embellished by the various built-in effects.
Key Features
16 carefully-selected modulation algorithms in one stompbox.
'Tap Tempo' function for real-time effect speed control.
LEVEL, DEPTH and RATE knobs for precise effect control.
Specially-designed buffer bypass circuit keeps your sound clear.
Robust aluminium-alloy die cast chassis.
Modulation Sounds
J-CHORUS: Simulates the vintage chorus sound from the legendary "jazz" amplifier.
T-CHORUS: Produces a lush chorus sound modulated by a triangle wave.
DETUNE: Mixes dry signal with a slightly pitch-shifted sound to produce a chorus-like effect.
B-TREM: Emulates the bias tremolo sound from vintage tube amps.
O-TREM: Creates a classic optical tremolo sound.
ECHO-TREM: Combines tremolo and delay in one to produce a step-like effect.
FLANGER: Provides a classic flanger tone.
NFB FLANGER: Offers a flanger tone with negative feedback.
JET: Produces a massive flanger tone with plenty of feedback.
PHASER: A bright, sharp phasing tone.
PHASE+: Simulates the legendary one-knob orange phaser pedal.
U-VIBE: Emulates the legendary 4-stage phasing/rotary vibe effect.
T-WAH: Creates wah effects depending on your picking dynamics.
A-WAH: Produces an automatically-varying wah effect.
LOFI: Generates a sample reducing effect.
VIBRATO: Creates a natural, warm vibrato sound.
Specifications
Power: 9V DC
Current Draw: 100mA
Dimensions: 93.5mm (D) x 42mm (W) x 52mm (H)
Weight: 150g
More information – Valeton