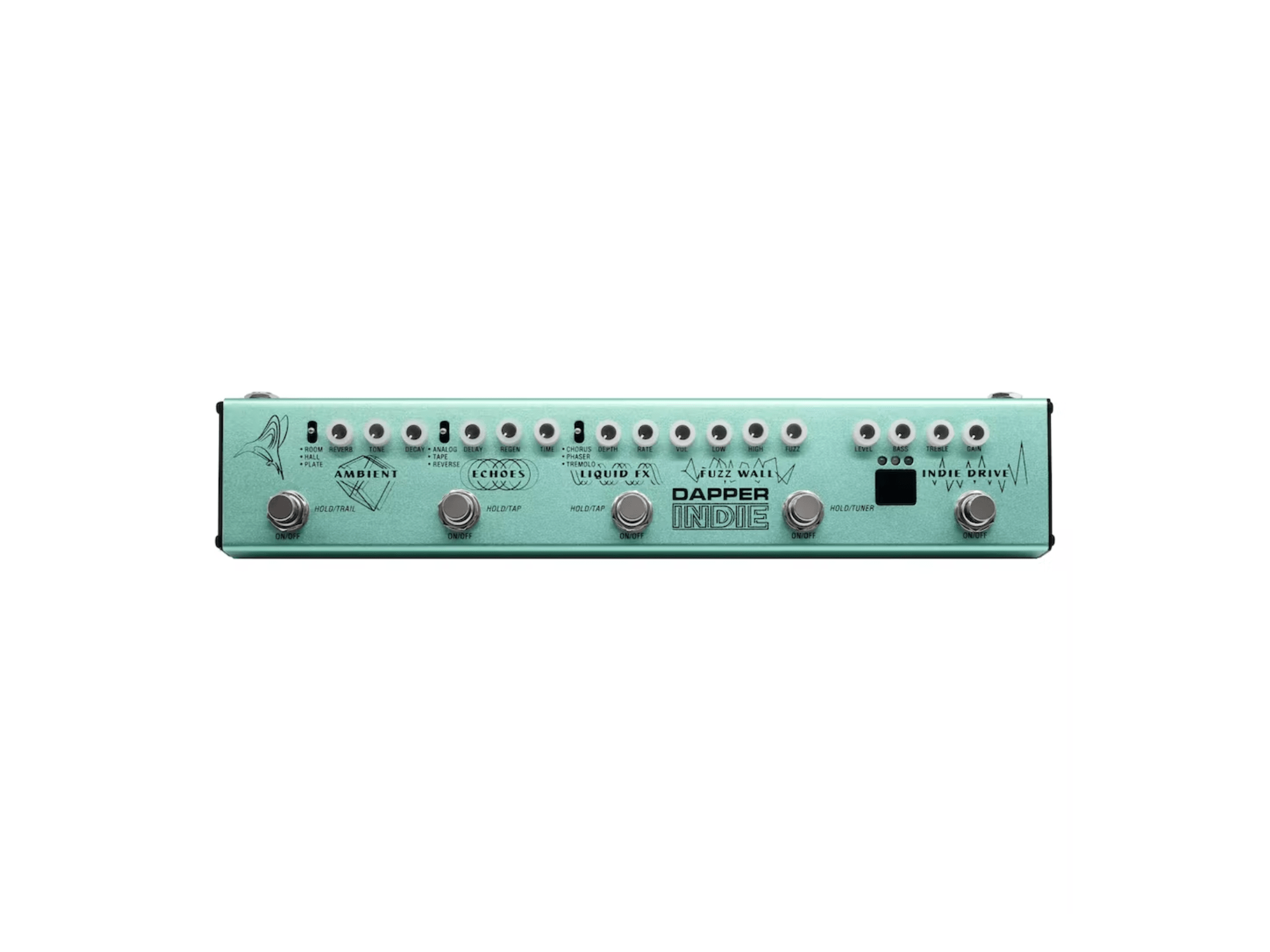 The Valeton Dapper Indie allows you to create the ultimate fly rig on a budget, and as its name suggests — it's designed specifically for alternative/indie/experimental rockers!
This ingenious, compact multi-FX strip encompasses everything you need for a successful performance: an accurate tuner, a natural-sounding overdrive, huge fuzz, 3 modulation flavours, inspiring echo effects and immersive reverb.
But it doesn't end there! There's a headphone output for silent practice too, which doubles as a cab-emulated output that lets you connect the unit straight to a PA system or audio interface with convincing amp speaker tone. It does a lot!
Effect Modules
1. TUNER: First in line is a big, bright, fast and accurate tuner so you can play confidently in tune. Hold the 'Fuzz Wall' module on/off switch to enable the tuner. When this module is activated, Dapper Indie will be muted. The note name appears on the screen.
2. INDIE DRIVE: Reminds you of the classic underground rock 'n' roll scenes. Onboard controls offer you wide tonal possibilities, from warm clean-ups to wild grinding solos.
3. FUZZ WALL: Kick this module on when you need to build an aggressive wall of distortion. Like the 'Indie Drive' module, the onboard controls provide you a wide sonic range with some real "muffy" power.
4. LIQUID FX: Combines 3 high-quality, popular modulation effects in one — from classic to modern. Use the 3-way toggle to pick between chorus, phaser and tremolo sounds. Hold the footswitch to enable the 'Tap Tempo' function.
5. ECHOES: 3-mode delay section offering analog, tape and reverse sounds. Hold the footswitch to enable the Tap Tempo function. Tap to the rhythm of your song, and the 'Time' LED will pulse to indicate the delay time you set. Hold the footswitch again to return to knob-controlled tempo.
6. AMBIENT: Give your song some epic spaciousness with this module; providing 3 different reverb modes with natural, musical decay. Hold the footswitch to switch effect trail on/off. The LEDs under the knobs will pulse to indicate the change.
7. PHONES & CAB SIM: Plug your headphones into the 'Phones' jack for silent jams. It's equipped with a cab simulator, so you can run Dapper Indie right to your headphones and sound like you're playing through an amp stack! You can also run a line out of this jack for direct recording, or straight to the front-of-house PA at a venue.
Specifications
Power: 9V DC (Center Negative)
Current Draw: 150mA
Dimensions: 65mm (D) x 320mm (W) x 42mm (H)
Weight: 650g
More information – Valeton